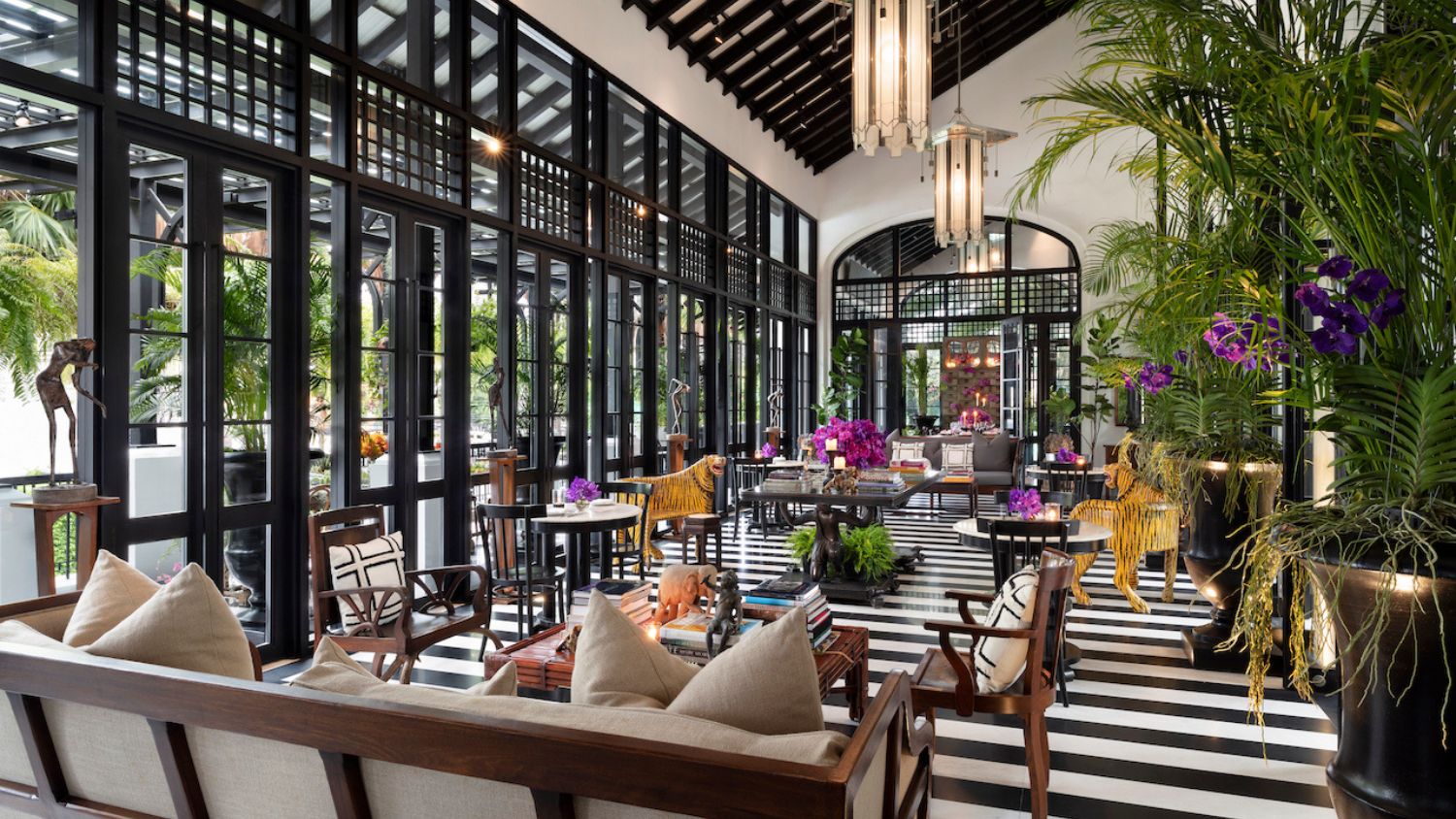 The Siam Hotel, Bangkok: an urban resort on the banks of the Chao Phraya River
Nestled in a cushy rattan basket chair on the pier of Bangkok's Siam Hotel, succulent amuse-gueule in one hand, flute of perfectly  chilled champagne in the other, pleasure craft drifting up and down  the Chao Phraya river and central Bangkok's sweltering 24/7 carnival a half-hour private-launch cruise away, yet there's a cool breeze on my face and the air's pellucid. I'm beginning to grasp how the Siam isn't simply a hotel, it's a destination. Once ensconced here, why would you ever leave?
Opened in 2012 in Bangkok's leafy Dusit district, home to Thai royalty and other Hi-So ("high society") celebrities, the Siam sounds small – 39 rooms, including 29 suites, some actually villas with their own private pools – but manages to be elegant, spacious and luxurious without ever tipping over into stuffiness or decorative excess. The hotel's all-white Main Residence centres on a vast glass-roofed atrium – inspired by Paris's Musée d'Orsay – and a monolithic black granite fountain bordered by verdant palms and giant ferns. The open-air corridors leading to guest rooms give onto the atrium, their subdued palette of grey, white and black achieving a kind of Art Déco minimalism, with period Art Déco furniture arranged on staircase landings and along the corridors themselves.
My congenial butler shows me about my Riverview Suite which, with its high windows and higher ceilings, offers warmer tones and textures – celadon-coloured walls, plum velvet loveseats in the sitting area and a commanding bed the size of Cleopatra's barge.
Would someone please peel me a grape? The open bath is almost as large as the bed, with an oval free-standing tub that's lighted from within, wardrobes big enough to conceal a lion, a witch and another wardrobe and a party-size black granite shower. The art on display is original, from neolithic pottery to striking black-and-white abstract paintings to Jazz Age Thai movie posters and hand-tinted photos of Bangkok in the first half of the 20th-century.
Going down for dinner I stop by a beautifully proportioned book-lined salon given over to a superb collection of movie memorabilia, and a small screening room with belle époque red velvet cinema chairs imported from Paris. The airy billiards room, with a black, grey and white mosaic floor, holds a massive old school billiards table, its green baize surface expansive enough to play polo on, let alone billiards.
In the private dining room of Chom Thai ("Thai Spoon"), the Siam's in-house restaurant, the center of attention isn't the food, however delicious – deep-fried soft shell crab, pomelo salad and pork ribs, sour orange curry with sea bass – but rather Kamala Sukosol, president of Siam Hotels and Resorts. A tiny dynamo in a silk brocade robe slung with great loops of gold chainmail, Madame Kamala exudes power and influence. When she invites the Thai for dinner, they all show up except the exiled one who now wishes he had. Gesturing with a small hand weighed down by an emerald the size of a door knob, Madame Kamala explains to me that every good business needs a boss, a money man and an asshole. Her daughter, at the far end of the table, a former Wall Street banker, handles finances, Madame Kamala's the boss, and her record-producer son, sitting across from me, proudly admits to being the asshole.
A second son, a Thai pop-star and avant-garde film actor ("The Adventures of Iron Pussy," about a transvestite secret agent) sadly can't be with us tonight. It was he who oversaw the design concept for the Siam. The old Thai collectibles in my suite come from his private collection, while the terra cotta pots and sculpted figures come from Madame Kamala's collection.
From the sound of it, the hotel chain may be the least of the family's holdings, which include real estate, finance, investment and insurance portfolios. And if that isn't enough, Madame Kamala informs me that she is also a renowned Thai jazz singer. Catching my incredulous look, she proves her pipes by bursting into song. Could there be a more appropriate ballad for her? She belts out "Goldfinger."
thesiamhotel.com | rooms start at $530 CND 3/2 Thanon Khao, Vachirapayabal, Dusit, Bangkok 10300, Thailand | T +66 (0) 2206-6999  | F +66 (0) 2206-6998 |  E info@thesiamhotel.com