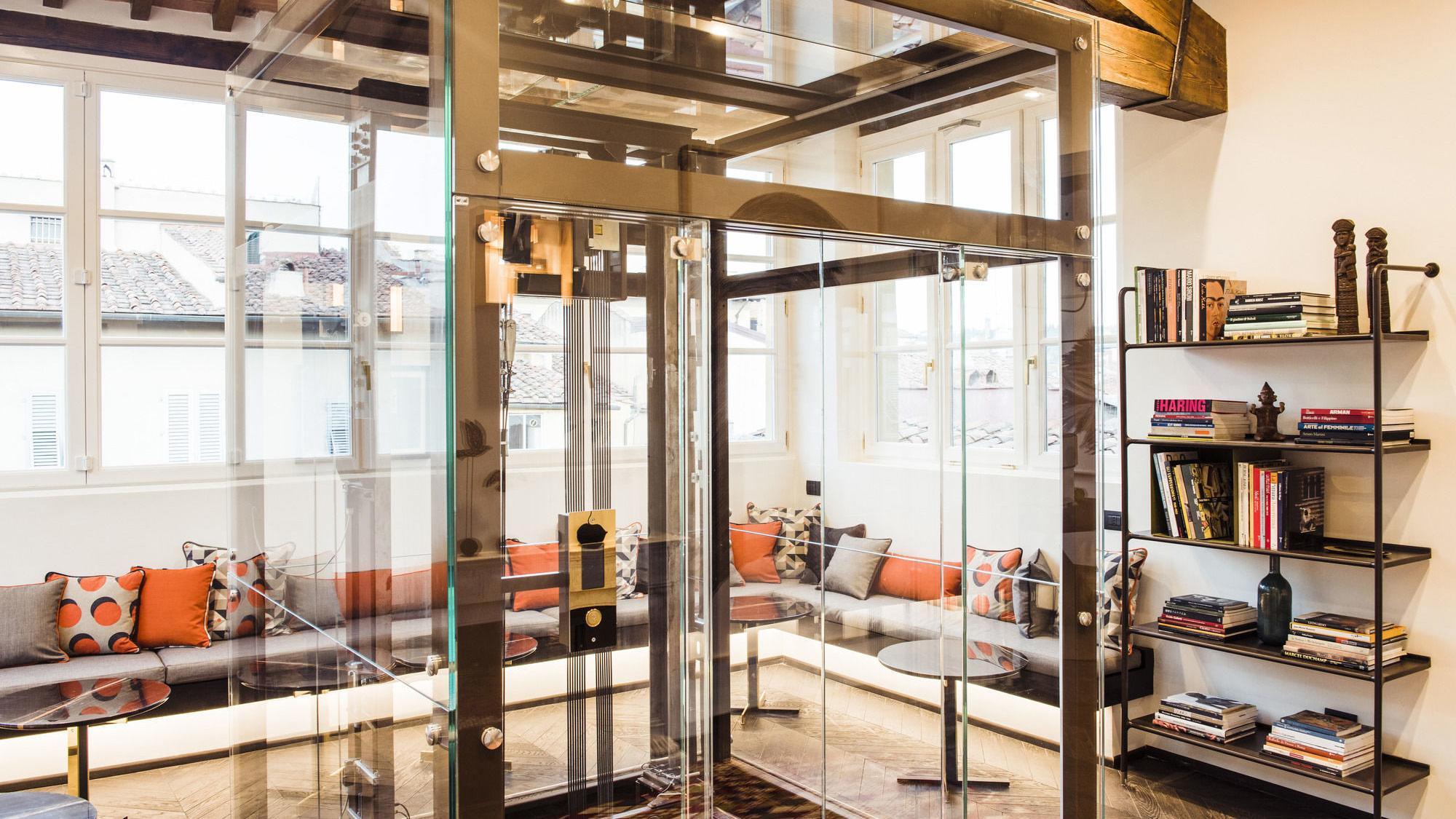 The Milu Hotel, a boutique property in Florence, offers guests the best of old and new worlds – and a whole lot of art.
Florence is widely considered Italy's most beautiful city, largely for the magical sense of history woven into each cobblestone and iconic red roof. The city is home to world-renowned wonders such as Michelangelo's David, Botticelli's The Birth of Venus and the largest duomo in Italy. But the best things about Florence aren't all relegated to the past. Tasteful modern design – in the form of high-design shopping and cutting-edge art galleries – complement the ancient character. And the latest addition to Florence's chic and modern landscape is the Milu Hotel, a boutique property that combines both old and new elements.
The Milu Hotel, is housed in a meticulously restored 15th-century building, originally part of a handsome row of private residences belonging to the Florentine elite. Preserved period details include arched windows and large stone slab flooring. The property was in the centre of bourgeois life, and even once housed the Café Doney, a fixture for aristocrats and socialites – like the Kardashians of yesteryear, but classier.
The contemporary five-floor building weaves together complementary visions of traditional Florentine heritage and classic hospitality with modern design based on a playful and minimalist aesthetic. A grand central 19th-century staircase, which doubles as a gallery space for work by international artists selected by the hotel's in-house curatorial team, connects all the floors. From the moment Milu opened its doors, common spaces were elevated by art from around the world and of multiple disciplines, including installations, paintings and sculpture work by artists such as Maya Gelfer, Ronen Sharabani, Galia Gur Ziv and Carmel Ilan.
View this post on Instagram
 There are 22 individually designed rooms that emphasize understated style within a distinct colour palette. Rooms are spare and tasteful, with pops of colour, exposed wooden beams or interesting objets against a neutral canvas. Modern marble bathrooms with rain showerhead complement more classic design features, like wooden shutters and plump patterned throw pillows. Rooms include air conditioning, complimentary wifi and cable television, a workstation with printer, and Egyptian cotton linens. Each room acts as a showcase for Italian furniture, lighting and design pieces by local brands like Moroso, Rimadesio, Minotti, Desalto, MDF Italia, Molteni, Magis, Bonaldo and Gubi. Some rooms have balconies overlooking the bustling Via de Tornabuoni – possibly a perfect place to relax with a delicious glass of Tuscan wine.
View this post on Instagram
The services at the Milu are in line with an au courant image. A 24-hour "hyper local" concierge is on deck to make recommendations for exploring Florence's art, culinary, fashion and music scenes. Staff will also assist with booking museum tickets, private transfers and day trips to nearby Siena, Pisa and Lucca. Daily breakfast is offered in the Library Lounge, which is a chic mix of spare white walls, marble fireplaces, candy-apple-red chairs and oversize art books. The spread includes fresh fruit, vegetables, yogurt, pastries and breads, plus locally cured meats. (Expect good coffee – this is Italy, after all.) When the sun is shining, Milu has a charming terrace lined with boxes of fresh herbs.
The Milu is a boutique property, so amenities are less plentiful than at larger hotels. But the Via de Tornabuoni is in the heart of Florence's fashion and design district, so guests can just walk out the front door and discover terrific restaurants, bars, cafés, museums and luxury shops like Fendi and Giorgio Armani. Milu doesn't have an in-house spa, but appointments can be made at a luxurious venue close to the hotel. The nearby Palazzo Strozzi plays host to international art exhibitions – be sure to stop into the charming Strozzi Caffe for spritz – and the Uffizi Gallery, one of Florence's most beautiful art museums, is a must see. Several other key sightseeing landmarks are also close by. The famous Basilica of Saint Mary of the Flower is just five minutes away on foot, as is the Bell Tower by Giotto. The Ponte Vecchio – the iconic and highly romantic medieval enclosed arch bridge – is also just minutes from the Milu.
Rooms from CAD$225/night.