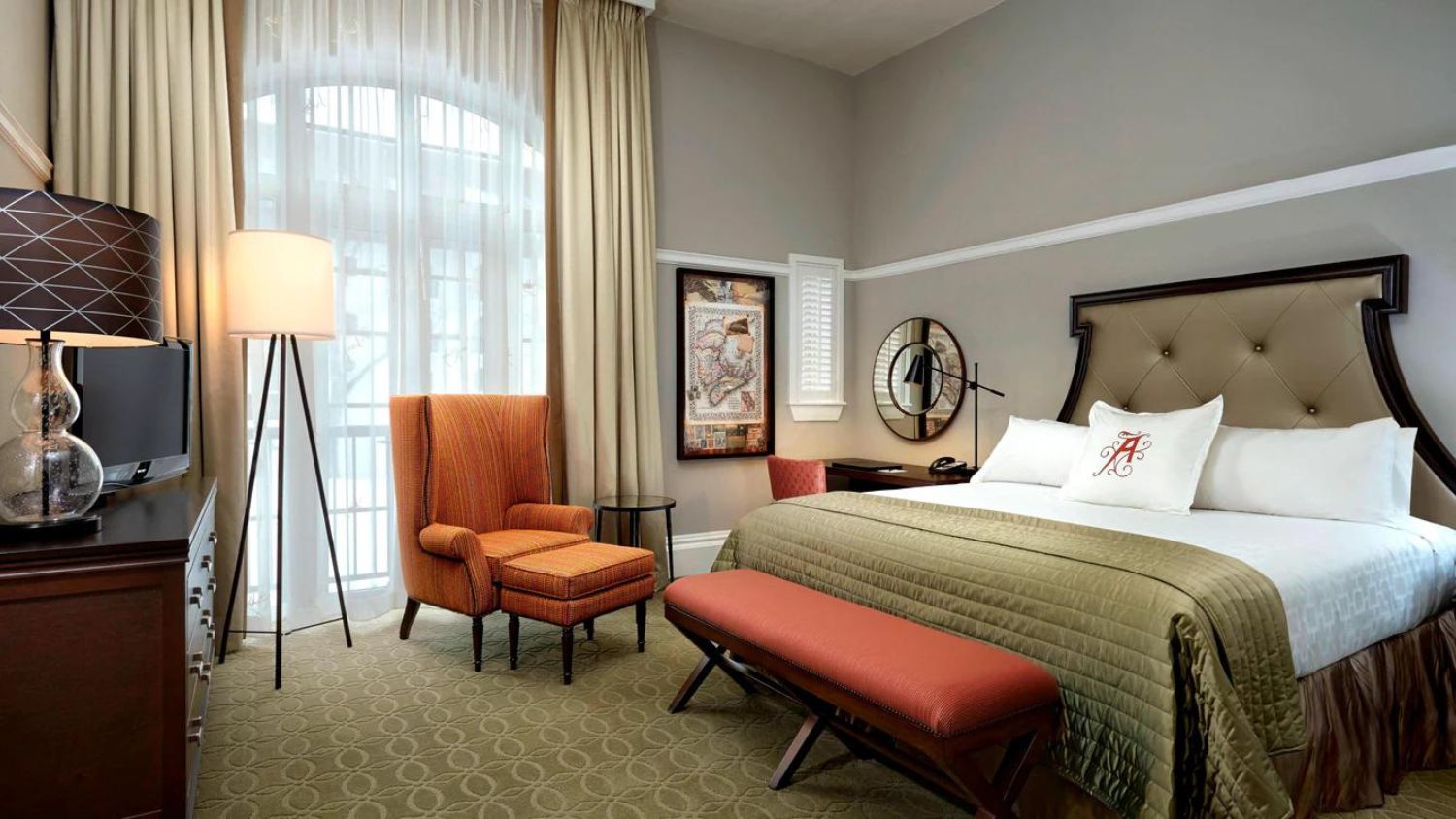 The Algonquin is one of Canada's most luxurious and legendary resorts. Rich in history, this year-round destination truly offers the best of the past with contemporary amenities.
"I love this spot. It's my favourite place in the world," says tour manager Susan Goertzen, standing outside Covenhoven, a 50-room stone mansion from 1891, where she has worked for more than 20 years. We're looking out toward Passamaquoddy Bay off the southern coast of New Brunswick. Piercing the view is a circular stone tower, Covenhoven's bathhouse, which extends several metres down a red sandstone cliff to the shoreline below. "I used to try and work here," says Goertzen, who has a tattoo of the tower on her leg. "But I couldn't get anything done. The views are too distracting. The light, the water… it's always changing."
Located on an island only accessible at low tide across an exposed gravel bed, the Covenhoven estate is, indeed, a beautiful, beguiling place. It was built as the summer residence of William van Horne, the larger-than-life second president of the Canadian Pacific Railway. (More impressive than the residence is the estate's giant barn, architect William Maxwell's cathedral to agriculture.) Van Horne led a wave of wealthy Montrealers and Bostonians who turned the town of St. Andrews, a stone's throw from Covenhoven, into Canada's first seaside resort. They came initially for extended stays at The Algonquin, a big fancy hotel built in 1889, which was soon taken over by the CPR. Like van Horne, many visitors fell in love with the town, snapping up properties and becoming perennial part-time residents.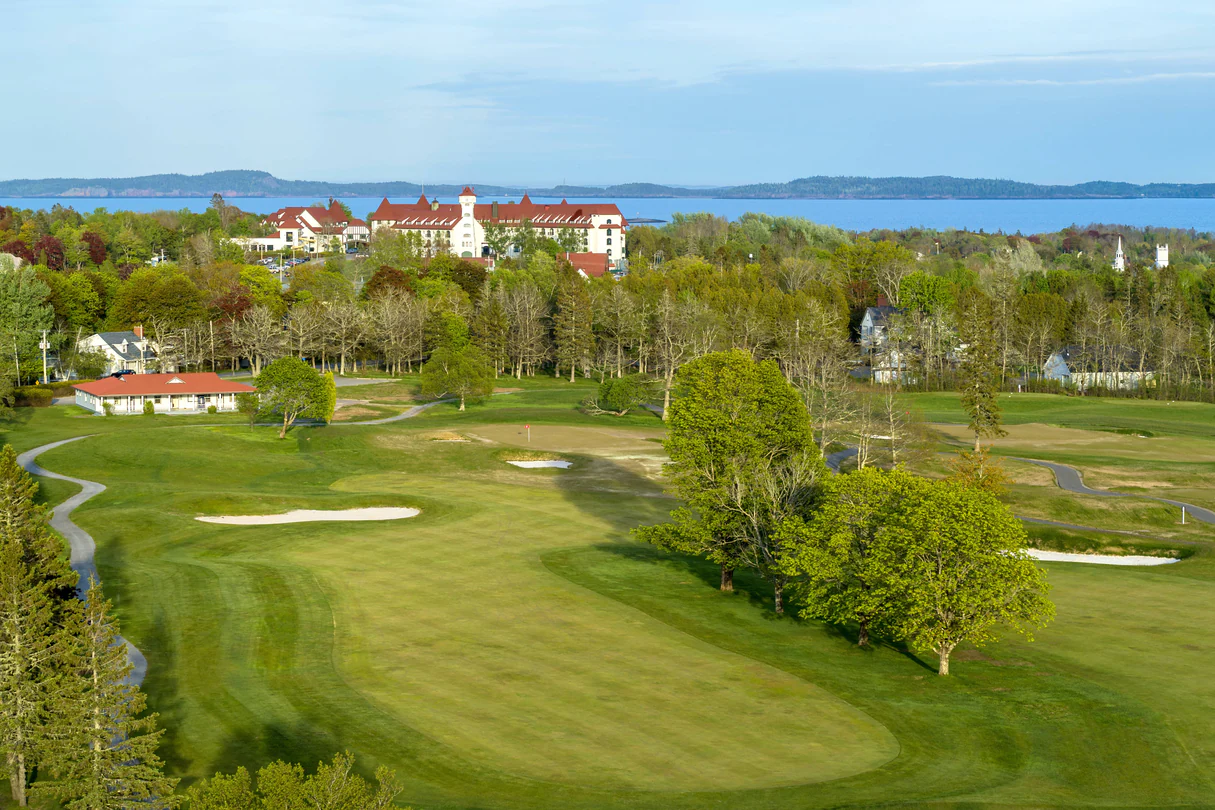 Perched above St. Andrews with views to both Passamaquoddy Bay and the mouth of the St. Croix River, The Algonquin still commands a central role in the community. Rebuilt in a grand Tudor style in 1915 following a fire (only the Painter Wing, Kitchen Wing and tower were spared), and now Algonquin Resort St Andrews by-the-Sea, Autograph Collection, the Marriott property is an impressive edifice, dripping with historic charm.
A $50-million renovation in 2014 means the hotel, open year-round, offers every modern creature comfort… literally: Guests are welcomed by two very friendly black labs whose "office" is right beside the reception desk. The kilted bellhops are friendly, too; they do triple duty as dog walkers and guides on regular ghost tours that explore the hotel and its fascinating history.
With three swimming options (indoor pool with a three-storey water slide, outdoor pool and nearby Katy's Cove), spa, oceanfront golf course (reconfigured by Thomas McBroom), tennis courts and pretty walking paths, the resort's 130-year reputation as a healthy retreat is as strong as ever. After a day whale watching or exploring the town, however, a Minister's Island ice tea on the hotel's long verandah might be the healthiest choice.
Despite the resorts amenities and famed golf course, it's also an ideal base for exploration. St. Andrews might be the prettiest town most Canadians have never heard of. With only 1,800 full-time residents, it's blessed with scores of attractive 18th- and 19th-century homes, churches and businesses, all packed into 50 small blocks arrayed alongside the historic harbour. The town includes a number of Loyalist cottages barged up from Maine after the American War of Independence, as well as fanciful mansions built by leading architects of the day (like Maxwell). St. Andrews has remained in a remarkably quaint state of preservation partly because the residents never wanted it to change.
There is a wonderful profile of St. Andrews published in Maclean's magazine back in 1952. Written by Ian Sclanders, the story playfully critiques the town's stuffy, change-averse nature. There's an anecdote of a house-hunting new arrival frustrated by the affluent residents' mania for tall, thick cedar hedges that block all views of their properties. So he hires a small plane and is rewarded with a bird's eye view of the extraordinary residents doing ordinary things like gardening and gossiping. The hedges are still here. But thanks to an inundation of wild deer over the last couple of years, they are greatly diminished, the lower branches devoured by ravenous ungulates. The wealthy can't hide behind their hedges anymore.
Even though philanthropist Lucinda Flemer is a third-generation summer resident—her grandfather is mentioned in the Maclean's article—she embodies a new attitude. She wants to change things: bring more tourists to town and provide better employment and recreational opportunities for locals, all the while giving back to under-serviced communities like veterans and the visually impaired.
Flemer supports a number of projects that play an outsize role in St. Andrews. Kingsbrae Garden is a public garden and horticultural training facility that Flemer began with her husband in 1998. Located on what used to be part of her grandparents' estate. In 2016, Flemer expanded Kingsbrae's footprint by purchasing a neighbouring mansion and turning it into an artist centre.
With around 150,000 tourists now flocking to St. Andrews annually, the town has opened itself up to everyone. Rural charms, fascinating history, bounteous sea—to visit St. Andrews is to fall in love. And hope to return.
Rooms from $260/night in high season, from $124/night off-season. algonquinresort.com