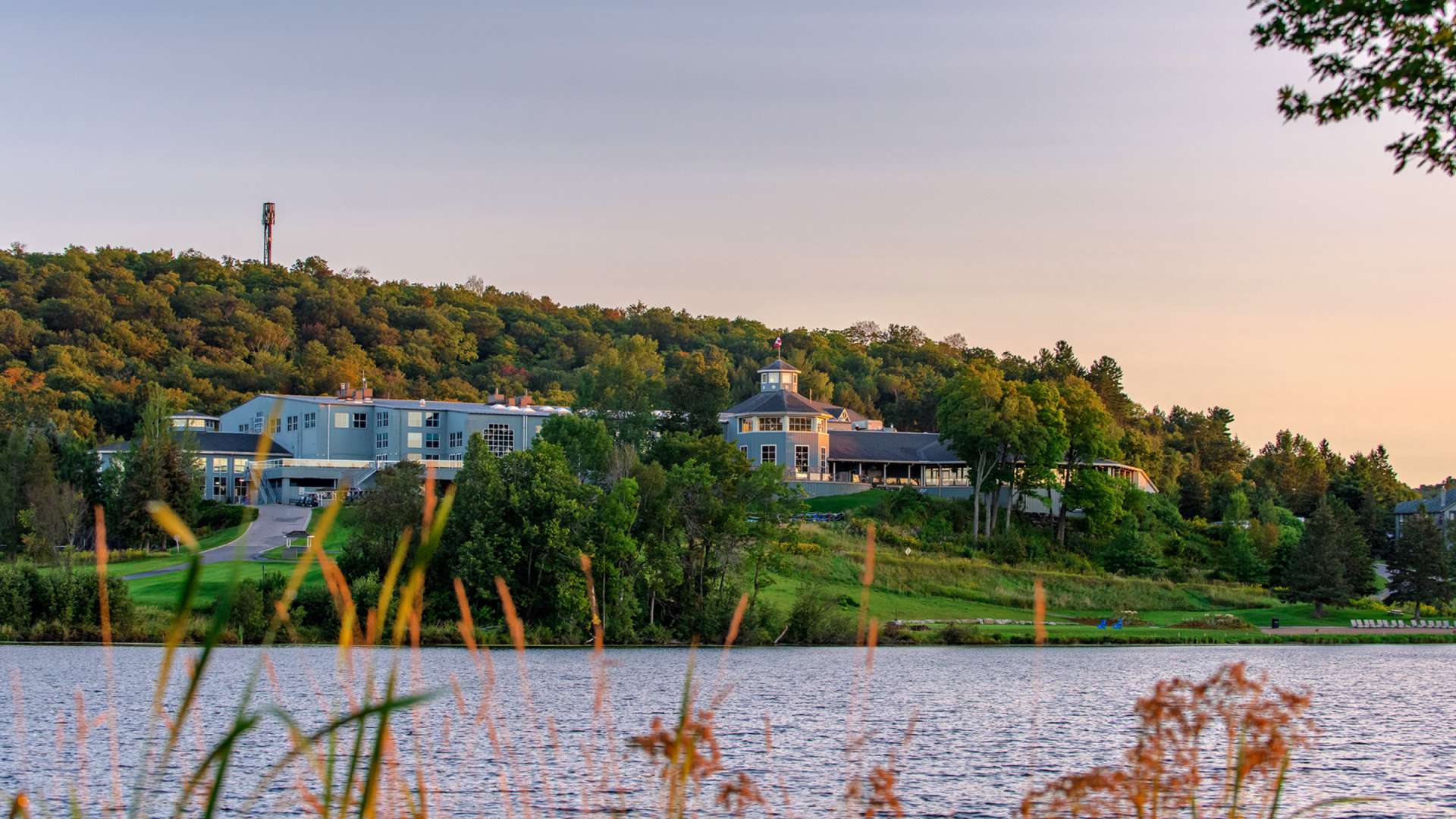 Deerhurst is bringing luxury to rustic Muskoka with the debut of their all-new Lakeside Lodge
Deerhurst is bringing luxury to rustic Muskoka with the debut of their all-new Lakeside Lodge. Offering spectacular views and cottage-meets-modern interior design, Lakeside Lodge represents a contemporary take on Muskoka's grand hotels. Each of the 150 units within Lakeside Lodge sports an inspired interior designed to evoke classic cottage comfort. Neutral colours, natural wood, warm fabrics, and views of the lake, bay and woods imbue each space with an organic sense of calmness. A variety of one, two and three-bedroom layouts offer the perfect complement to the resort's existing hotel and condo accommodation enclaves. Each unit is individually owned with approximately 100 units expected to be enrolled in the hotel guest room rental pool by their owners.
Once relatively modest in size, Deerhurst has historically been described as a 'fine English tourist house'. Today, Deerhurst has grown into one of Ontario's largest vacation and conference resort destinations. The Lodge was originally built in 1896 by Charles Waterhouse, whose family owned and operated Deerhurst for three generations. Throughout its 120-year history, Deerhurst Resort has welcomed generations of guests, hosted world leaders at the 2010 G8 Summit and played a role in the early career of one of Canada's most successful recording artists, Shania Twain. The new Lakeside Lodge is the first waterfront hotel experience to open in Muskoka in a decade.
After two summers of construction, this venerable resort's idyllic lakeside setting has received new life as a commanding landmark with accenting rock terraces leading down to the shore, echoing the aesthetic of the surrounding Canadian Shield. With the Lodge now complete, Deerhurst has gained a lake-facing presence befitting its magnitude in the province's tourism sector.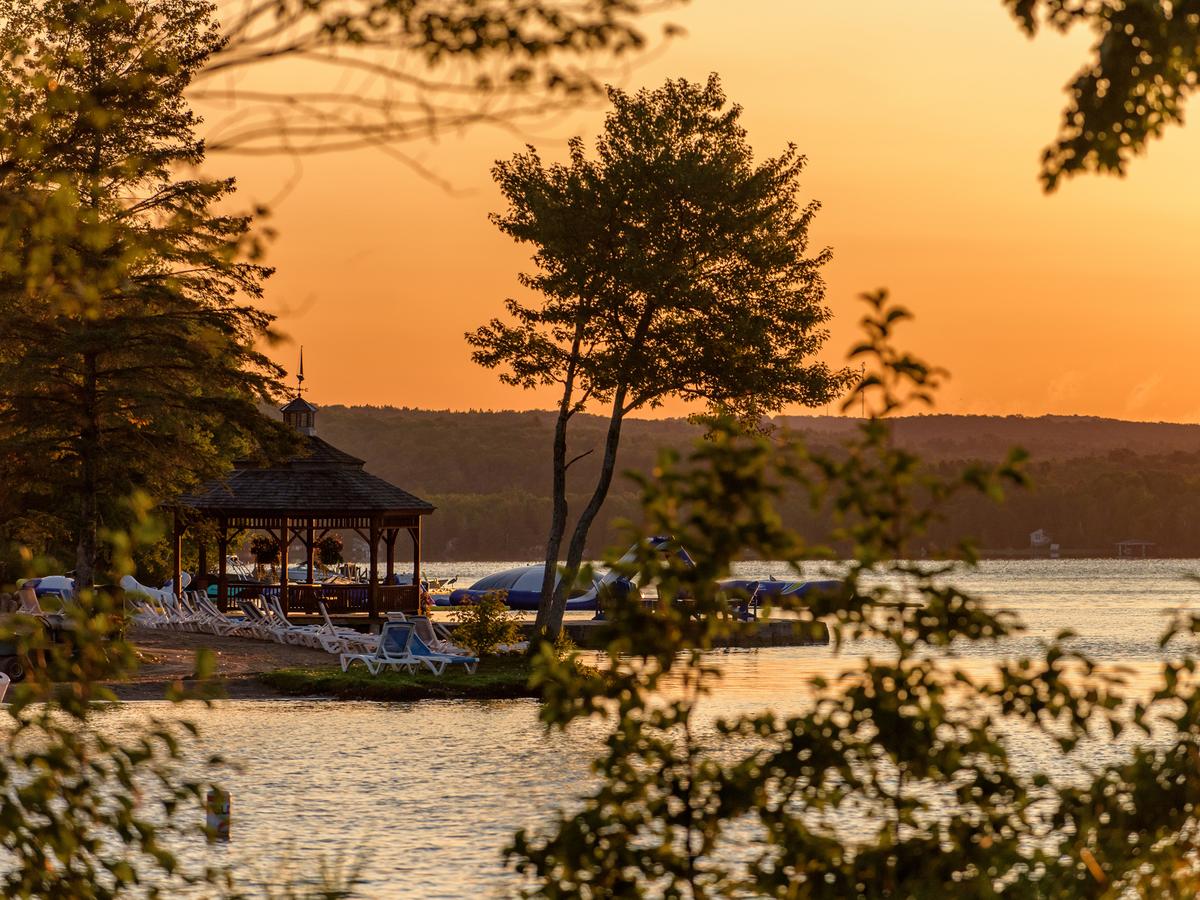 Lakeside Lodge is the first phase of Skyline Investments' 10-year, $500 million master planned community, which is set to incorporate residential, retail and mixed-use buildings. The Lodge's design was created by architect Robert Wengle in conjunction with interior designer Marlene Card and landscape consultant Mark Pettes. Architectural theming is still in the conceptual phase for the Deerhurst village plan, which received municipal approval in 2015, cementing Deerhurst's continued growth as a top Canadian tourism and lifestyle destination.
While the Lodge may be brand-new, Deerhurst's existing portfolio of activities and attractions remains as robust as ever. In the summertime, family-friendly excursions like canoeing, ATV riding, treetop trekking, indoor rock climbing, and escape cabins top a long list of exciting adventures. In the winter months, you can expect breathtaking scenery and cold-weather fun in the form of ice skating, cross-country skiing, snowshoeing, and sleigh rides, to name a few. Whatever the season, you can expect to be entertained: a piano and smoking lounge provide a great place to unwind, while rotating musical acts provide a dynamic incentive to book another stay.
Those looking to experience Lakeside Lodge can avoid the (in)famously hectic cottage country commute by opting to fly with Porter. The regional carrier based out of Billy Bishop Airport on Toronto Island has rolled out flights to and from Muskoka during the months of July and August. With Muskoka's charms and the comfort of Lakeside Lodge now just a half-hour away from the GTA, it's never been easier to get away for a weekend in the woods.
Address: 1235 Deerhurst Dr, Huntsville, ON P1H 2E8
Hours: Open today · Open 24 hours
Phone: +1 800-461-4393
How to get there
 Porter Airlines launched seasonal service into the Muskoka Airport (located about 30 minutes south of the resort). Travellers from Toronto now have an easy, fast and affordable way to get to Deerhurst Resort for some sun and fun this July and August.
Flights are just 35 minutes from one airport to the other!
Arrive and depart at Billy Bishop Toronto City Airport on Thursdays and Mondays*during this 10-week seasonal service that starts on June 27, 2019 through to September 3, 2019. (*On holiday long weekends flights take place Tuesdays instead of Mondays – so July 2, August 6 and September 3.)