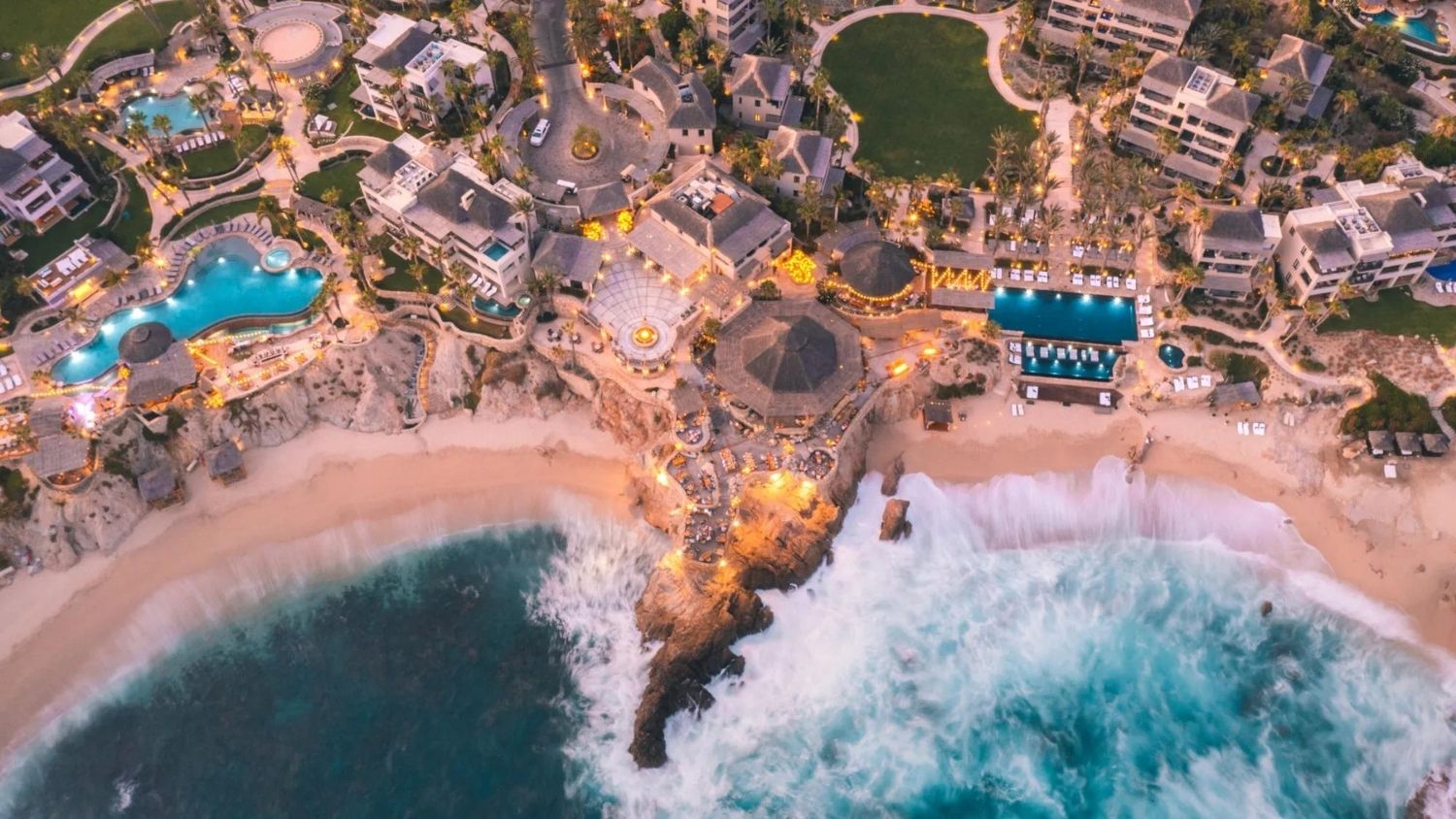 Never be at a loss as to where to stay in Los Cabos. Here, 5 Of The Best Resorts in Los Cabos
Los Cabos, located at the tip of the 1,000 mile-long Baja Peninsula, is one of the world's most diverse tourism destinations. Boasting a dramatic desert backdrop nestled by coastlines of the Pacific Ocean and Sea of Cortez, Los Cabos is home to award-winning resorts and culinary offerings considered some of the finest available anywhere. A growing list of championship golf courses, rejuvenating spas, world-renowned sport fishing tournaments and state of the art convention facilities add to the destination's unmatched appeal. Here, our pick for the best resorts in Los Cabos.
1. One&Only Palmilla
Long a hideaway of the rich and famous, this waterside resort belies its Baja California Sur surroundings. Here, at One&Only Palmilla Los Cabos, the arid desert landscape of this Mexican peninsula has been gently coaxed and nurtured into a jungle of every shade of green imaginable. Spiky saguaro cactus trees stand tall, sentries along the meandering paths that wind their way through Palmilla,while agave and all manner of tropical flora add sculptural elements and riots of colour.
The suites blend seamlessly between the gardens and the stretches of sandy beach, with views of the Sea of Cortez and of the Pacific Ocean. Blue Mingles with gold, green with cream. It is tradition and the landscape that inspire the guest rooms' interiors, travertine floors stay cool underfoot, while colourful embroideries and time-honoured patterns decorate the furniture to enliven the spirit. A butler assists in the everyday, from unpacking to booking a table at one of the seaside restaurants–or ensuring delivery of breakfast in bed or on the guestrooms private terraces.
On the grounds of the resort, atop a hill just a climb away, sits the historic chapel, whitewashed and majestic, casting its blessed gaze over Palmilla, and out to the sea.
More ancient, but no less steeped in local lore, is the spa's latest offering, a Temazcal healing ritual. Think of this nod to indigenous culture as an age-old sauna of sorts–heat,steam, medicinal herbs and native music meld together to create a treatment like no other. A blend of history and modernity, like Palmilla itself.
2. Waldorf Astoria, Los Cabos Pedregal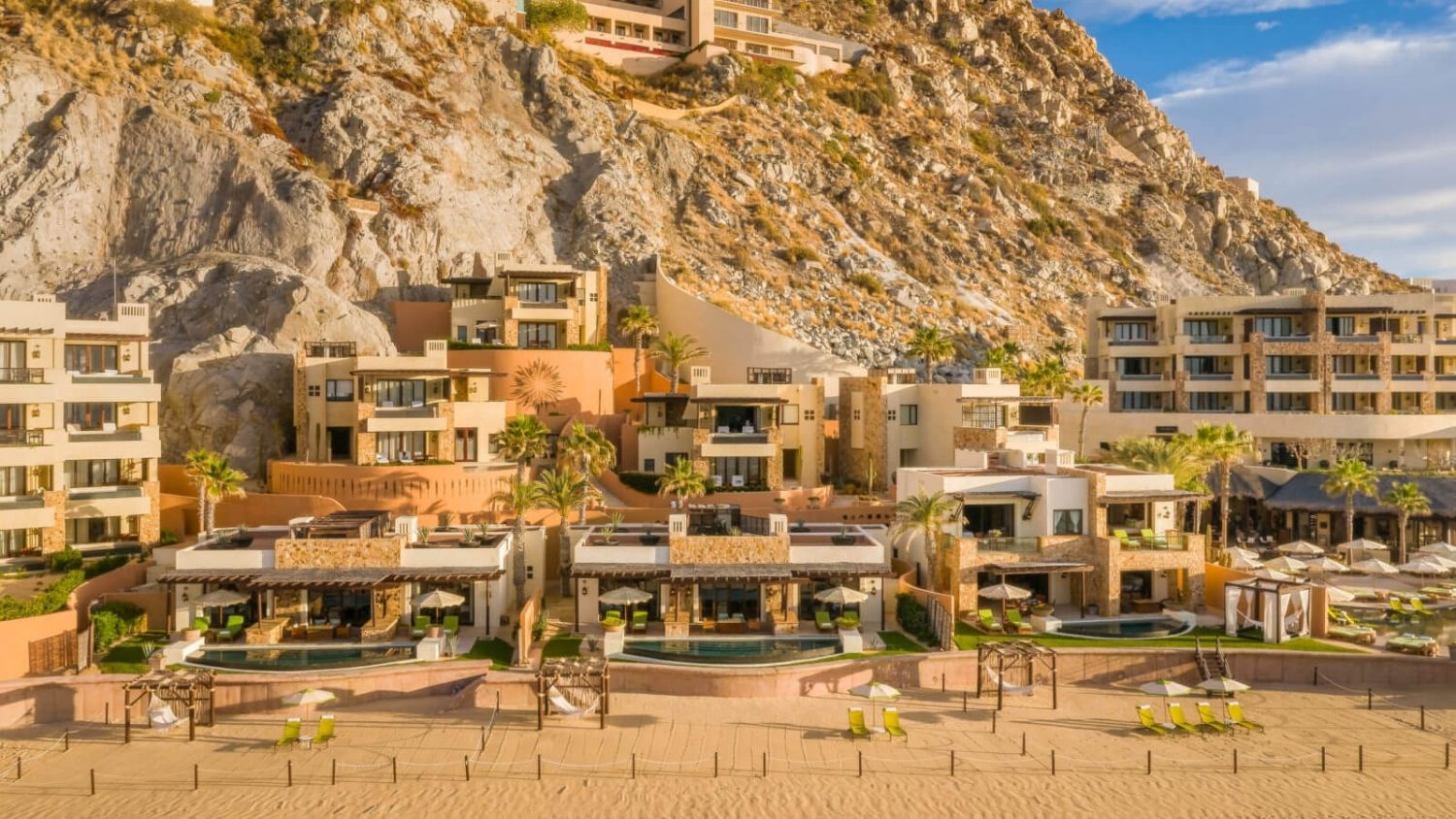 Located along 24 acres of stunning beachfront and majestic mountain range, the Waldorf Astoria Los Cabos Pedregal is an award-winning, world-class hotel. Boasting a Forbes five-star signature "Waldorf Astoria Spa," it features 10 private treatment rooms. The spacious and relaxing resort is a great retreat for couples looking for a romantic getaway, but it can also be a family fun paradise!
Find yourself lounging at one of the four on-site pools (two infinity pools, a saltwater relaxation pool, and kids pool) or taking a dip in the refreshingly cool waters of the Sea of Cortez.
Let the kid inside of you come on out and enjoy fun land and sea activities all making for endless fun. And don't forget about the delectable culinary options at the five on-site restaurants, lounges and bars! This hotel is a can't miss!
3. Montage Los Cabos
Looking out to the vivid azure Santa Maria Bay waters, find yourself immersed in true rest and relaxation at the Montage Los Cabos. The stunning 122 guestrooms, suites and casas, as well as 52 Montage Residence, lie on 39 stunning acres of seafront. Specializing in personalized guest experiences of all ages, try any one of the many amazing on-site amenities, including the signature Spa Montage, tennis courts, three pools, the Baja inspired two signature restaurants, marketplace and more! The Forbes Five-Star and AAA Five-Diamond resort is an experience like no other!
4. Esperanza, Auberge Resorts Collection
Set on Cabo's Punta Ballena, what resembles a whale's tail, lies a resort where the waves crash, the mist flies and harmony fills the air. One of the 19 world-class hotels and resorts under the Auberge Resorts Collection, Esperanza features four different room classes. The "Casitas and Suites" combining comfort and gorgeous views of the Sea of Cortez (925 square feet casitas and 1,200 – 2,000 square feet suites), the "Villas" for groups, families and extended stays (one-bedrooms at 1,800 square feet and four bedrooms at 4,000 square feet), "Oceanfront Villas" that bring you a feeling of home on the sea's edge (2 and 3 bedroom villas – 2,000-3,000 square feet) and the "Haciendas" which offer a true luxury experience!
Esperanza also offers incredible dining at any of the four on-site restaurants. Breath it all in and dine on delicious seafood by the seaside at "Cocina del Mar," enjoy traditional Baja cuisine poolside along with family and friends at "Las Estrellas," have a bite followed by a refreshing dip at "La Palapa" and gaze at the majestic stars whilst dining on world-class cuisine at "La Terraza Americana."
5. Las Ventanas Al Paraíso, A Rosewood Resort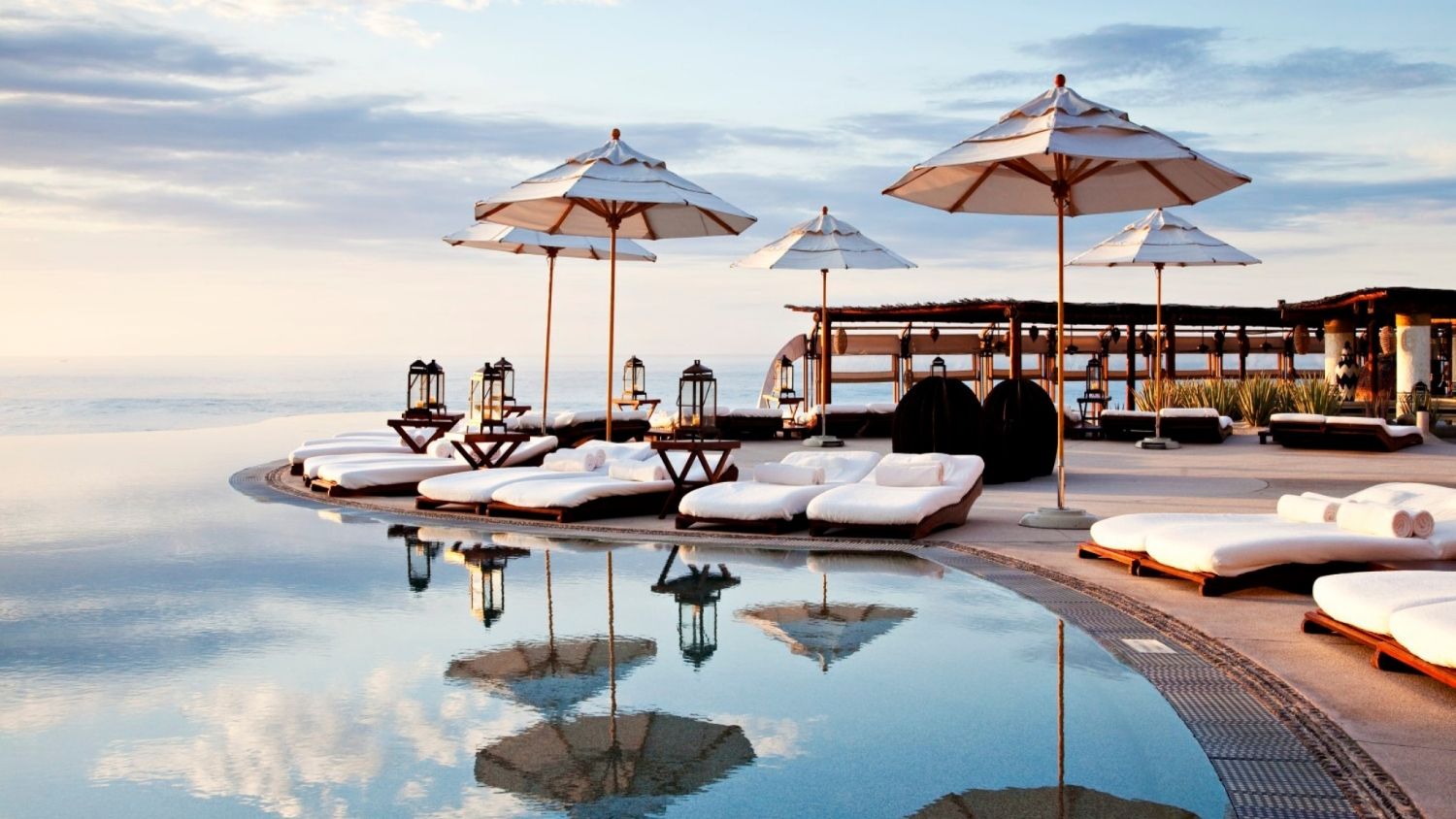 Situated between Cabo San Lucas and the storied town of San José del Cabo Las Ventanas al Paraíso first opened its doors in 1997. Since then, the resort has continued to implement state of the art service and amenities. Widely admired for its impeccable architecture and constant striving for improvement, the resort hosts 84 lovely suites, villas and residences for its guests, including the 28,000 square-foot beachfront Ty Warner Mansion.
Its on-site dining offers six restaurants, lounges and bars, including the "Arbol" (Asian Style Coastal Cuisine), "Alebrije" – a tribute to Mexican heritage and a mystical journey through Oaxaca. Inspired by the gastronomic capital of Mexico, Alebrije pays homage to Oaxaca's namesake, The Land of Seven Moles, by incorporating each style of mole into innovative dishes. Fusing exotic spices, aromas and techniques of ancestors that are still used to this day with a local touch, guests enjoy a culinary adventure. "Seagrill" (Casual Continental), "Tequila & Ceviche Bar" (Fresh Sea Fare), "La Cava" (Private Dining) and "La Botica Speakeasy Piano Bar" (Cocktails and Light Bites).
Along with the inspired ancient healing techniques at The Spa at Las Ventanas, Las Ventanas al Paraíso, where the sun, sand and sea meet, is the perfect vacation retreat!