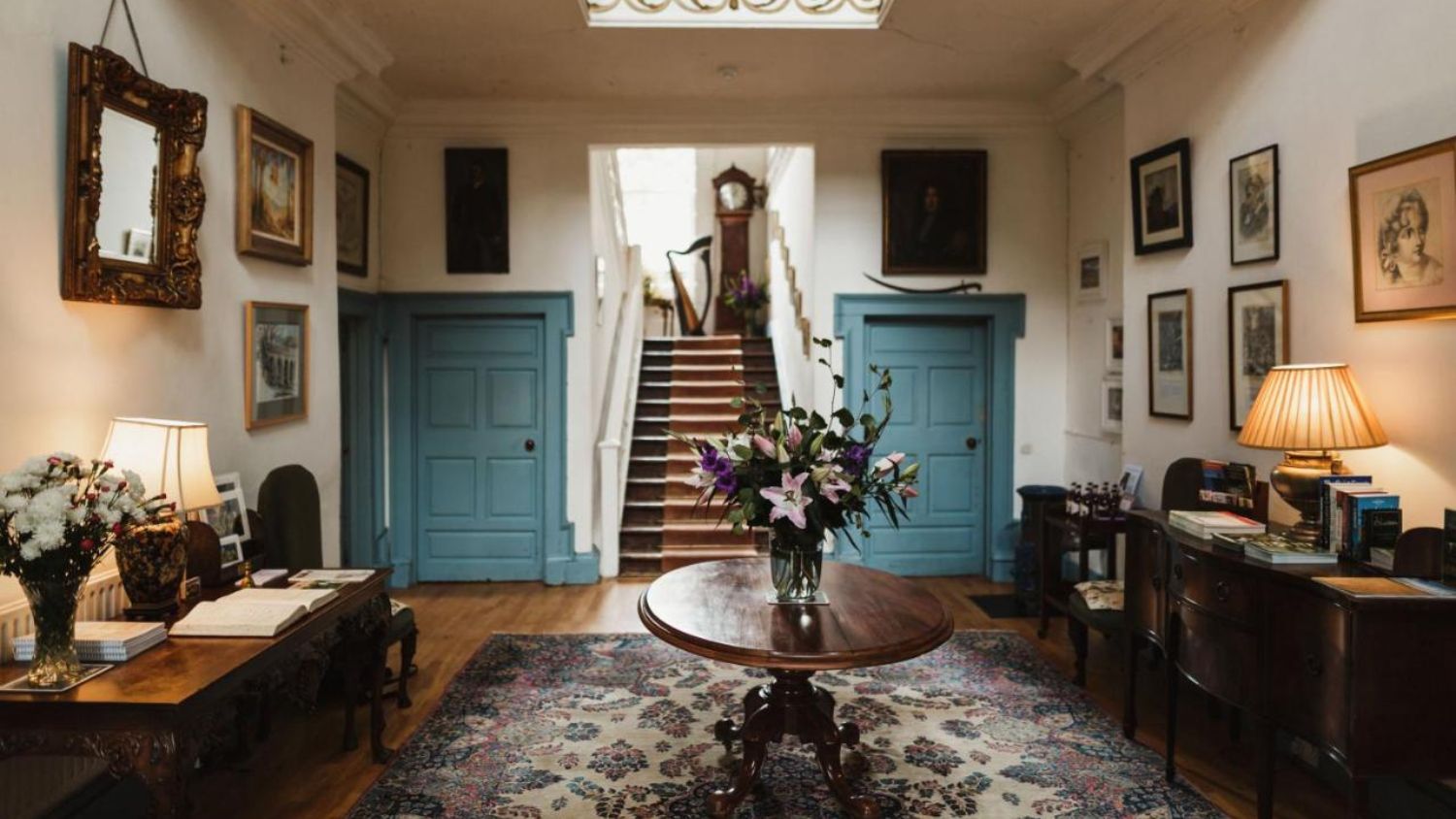 Nestled at the foot of the Slieve Bloom Mountains, Roundwood House offers Irish hospitality in a historic home of architectural interest.
The classic components of a great Irish story: colourful characters, history, magic, a bit of exaggeration and the feeling that anything is possible. And sometimes the great Irish story is a place, maybe one in Ireland's County Laois, filled with history but very much about now.
Nestled in more than seven woodland hectares, just over an hour from Dublin, Roundwood House is a B&B with six bedrooms in the main house, four in the second house, two cottages, a library, a dog who gives a walking tour, two little girls, some hens and ducks to greet you on your arrival, three cats in various Irish sunbeams, two guinea pigs and a rooster named Brewster. Obviously, the colourful characters in Ireland don't stop at people.
When Hannah and Paddy Flynn took over Roundwood House from Hannah's parents 11 years ago, they were both in their late 20s. Paddy, a musician from Canada, met Hannah in Galway where she was in school. Hannah's parents had purchased the house in 1988, but its history goes back much, much further. It was likely built in 1741 to fit the demands of a prosperous family of cloth makers. The home itself retains all the charm and feel of when it was originally built, but Downton Abbey stuffy this is not. The Flynns have kept it a warm and welcoming, charming escape from the hustle and bustle. Many original features remain intact, including chimneypieces of black Kilkenny marble in many of the rooms.
Upon arrival at Roundwood House, home-made biscuits, tea and coffee are served in the drawing room, followed by a walking tour of the land and the outbuildings, usually accompanied by an extra tour guide, Rococo, the Flynn family dog, a floppy yellow lab, named after an Arcade Fire song. She who knows the route by heart and may just nudge you back on course should you stray from the itinerary.
A popular destination for weekenders from Dublin, Roundwood House also provides the opportunity for immersion in Irish life by providing communal dining. Breakfast is a Full Irish or vegetarian option and in the evening, guests are treated to a five-course dinner by Paddy, who acts as chef, as well as owner.
"At first the idea of communal dining made me nervous," says Hannah, "like I was throwing a party every night and would my guests enjoy it. But it's proven to be one of the features everybody loves." While she's in the kitchen, she'll hear the sounds of laughter, as people who have just met become old friends across the dinner table.
With so much woodland to explore, the house is surrounded by walking paths filled with mature trees and wild grass paths lined by daffodils, bluebells, cornflower, fuchsia, rhododendron and lilac, all set amidst serene vistas. "People always remark on how quiet the place is," says Hannah. "We're set quite far from anything else." Indeed, the nearest town is five kilometres away and there are, quite purposefully, no televisions in the rooms.
Venturing off the property, there are eco walks through the nearby Slieve Bloom, the most unspoiled mountain range in Ireland. Extensive trails wind through woodland and forestry, by rivers and waterfalls and over blanket bog covered in beautiful brown, purple and green wild heather. There are looping walking paths and trails for every level of hiker.
Then it's back to Roundwood for pre-dinner drinks in the drawing room and your five-course dinner. Your sixth course? A song. Performed in the dining room by the chef himself, Paddy, along with his sous chef Ted, a fellow musician who came to Roundwood for a visit and never left. You may not want to either. Rooms from $165/night. roundwoodhouse.com
Sign up for our weekly newsletter and never miss the latest in travel news!