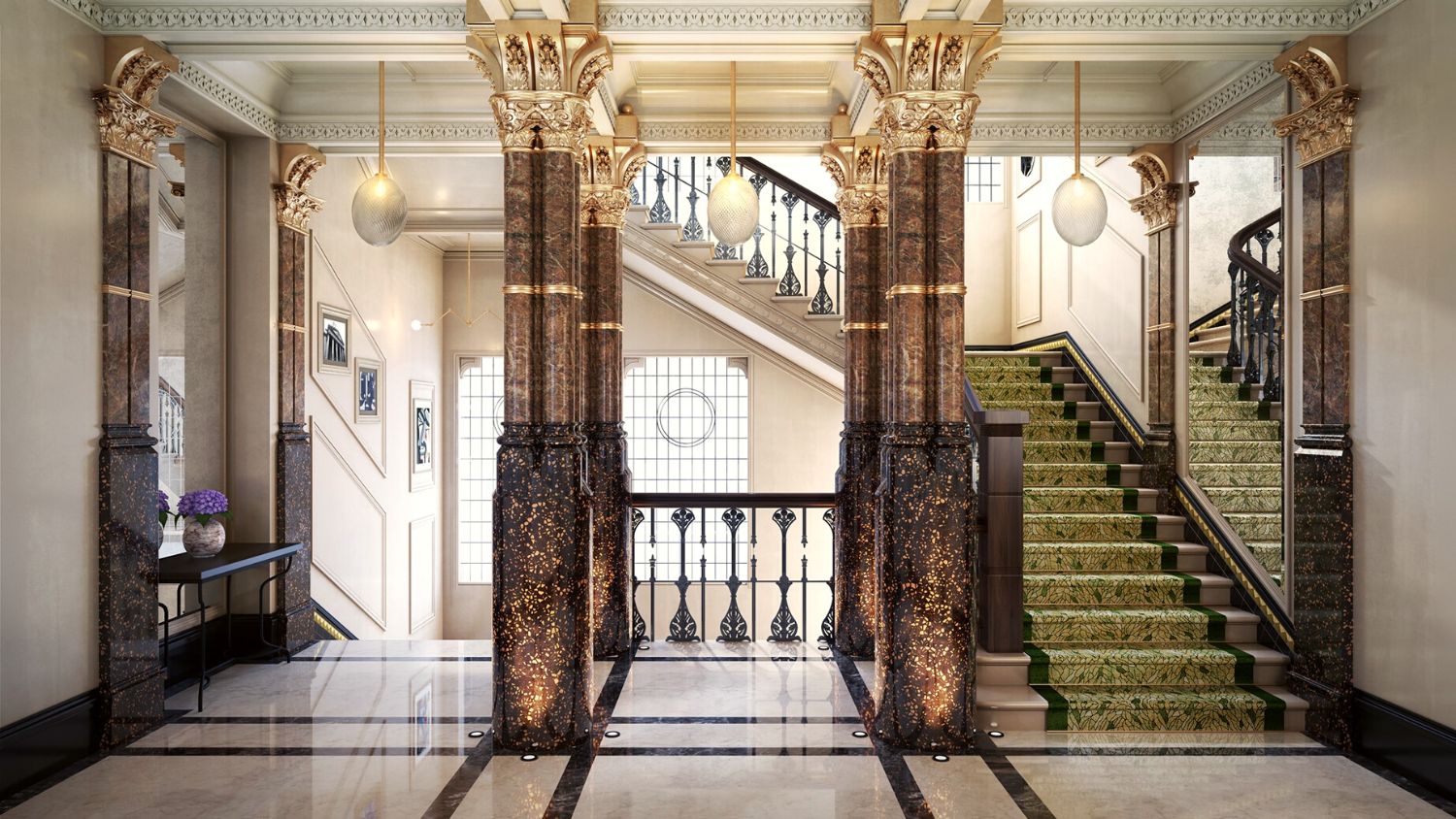 Hotel check in/check up – our intrepid editors booked a room at Birmingham's most storied and newly refined luxury hotel, a place for royals and celebrity royalty alike, and why you should too.
Smack dab in the centre of Birmingham, The Grand Hotel lives up to its name on multiple fronts. It's a Grade II-list building from 1879, which means it has the poshness you'd expect from architects of the Victorian era. Think ornate stonework, uber-high ceilings and gilded marble columns. 
The five-star property has a history of attracting A-listers – Hollywood royalty, like Charlie Chaplin and more recent stars, alongside true royals, like George IV and King Charles. With Birmingham on the rise as a tourist destination, the hotel serves as a convenient hub for exploration, thanks to its proximity to popular draws, from the winding canals and the Black Sabbath bridge (an Instagram favourite) to the historic Jewellery Quarter. As the UK's second biggest city, it has buckets to offer visitors.
The Property:
The Grand Hotel, Birmingham, UK.
What brought you to this hotel?
I kept hearing what a great, and affordable, food destination Birmingham was, with 19 Michelin-recognized restaurants and authentic Indian balti. I had to go. And as a lover of historic hotels, The Grand ticked all the boxes and it allowed me to walk to many local culinary hot spots.
When did it open?
It's complicated. It did open in 1879 but closed in 2002, then sat crumbling for more than two decades amid rumours it was too costly to fix and should be knocked down. Fast forward to May 2021 and 50 million pounds later. The Grand welcomed its doors once again and started a fresh chapter as an elegant 185-room property.
Any history to the place?
The Grand has been around for more than 144 years, so it has oodles of history behind. It opened as a modest 100-room property, built in French Renaissance-style, which was aimed primarily at attracting businessmen coming to the city. A decade later, when it was struggling financially, the owners poured cash into it to transform it into a luxury hotel. They added more rooms, fancy billiard rooms and Louis XIV-inspired décor. In its heyday in the early twentieth century, it hosted the who's who of society, from Winston Churchill to James Cagney. 
Today, it's a hangout for all. Locals linger in Madeleine, its beautiful main bar, over expertly crafted cocktails. Gal pals stay for the weekend to shop 'til they drop at the Bullring. Pop stars, actors and celebs often bed down for long stays when performing, working and visiting the area. They include Johnny Depp, who was swarmed by mobs of fans as he left the hotel in the wake of his legal showdown with Amber Heard, and Tom Cruise, who needed assistance finding a place to park his helicopter. The hotel's diverse clientele is a testament to its warm hospitality.
Location, location, location:
The property sits on Colmore Row in the heart of the city, just across the street from St. Phillips Cathedral. A quick stroll brings you to top restaurants, like the Michelin-starred Purnell's (led by celebrated chef Glynn Purnell) and Fazenda, which offers an authentic Argentinian barbecue experience. New Street station is less than five minutes away, so you can hop across the city and other spots in the West Midlands area. Cultural institutions, like the Birmingham Museum and Art Gallery, are close, too.
Designed for everybody?
The Grand appeals to a wide variety of guests, from families to pet owners. (It accepts pets up to a maximum of 36 kilos.) The room décor imparts bliss with a soothing palette of cream, brown and grey, plus accents of royal blue or soft green to add some glamour. It blends contemporary furnishings and modern artwork with retro touches, like a cute push-button rotary phone.
Breakfast in bed?
Sure, get room service, but tear yourself out of that comfy bed for the breakfast buffet at Isaac's, its New York-style brasserie. It's well worth it, serving an impressive selection of hot and cold options, plus cooked-to-order fare, like omelettes and pancakes.
What you loved:
I adored the grandeur of the public spaces. They transport you into another time and adds to that holiday vibe. The staff were super and came to the rescue when my phone charger died. I also salute the hotel for having highly soundproofed rooms. I didn't even notice the bells ringing at the church right next door or traffic noise until I opened my window. And the spicy margaritas I sipped at Isaac's were better than those I've had in many Mexican resorts.
What you thought could be better: 
I found that my husband and I had to fight for bathroom space for all our stuff. A little more counter space would help keep the peace in our relationship. 
Need to Know
In-room Nespresso machines (with real milk in the mini-fridge) and complimentary chocolates.

Molton Brown 1971 Collection toiletries

Free WiFi.

10 adapted rooms for those with mobility issues

Heated towel racks. 

Luxurious bathrobes.

Yoga mats.

Personal safe.

Smart TVs with Chromecast.

Iron and ironing board.

Blackout drapes.
Reserve directly or through most hotel booking sites.