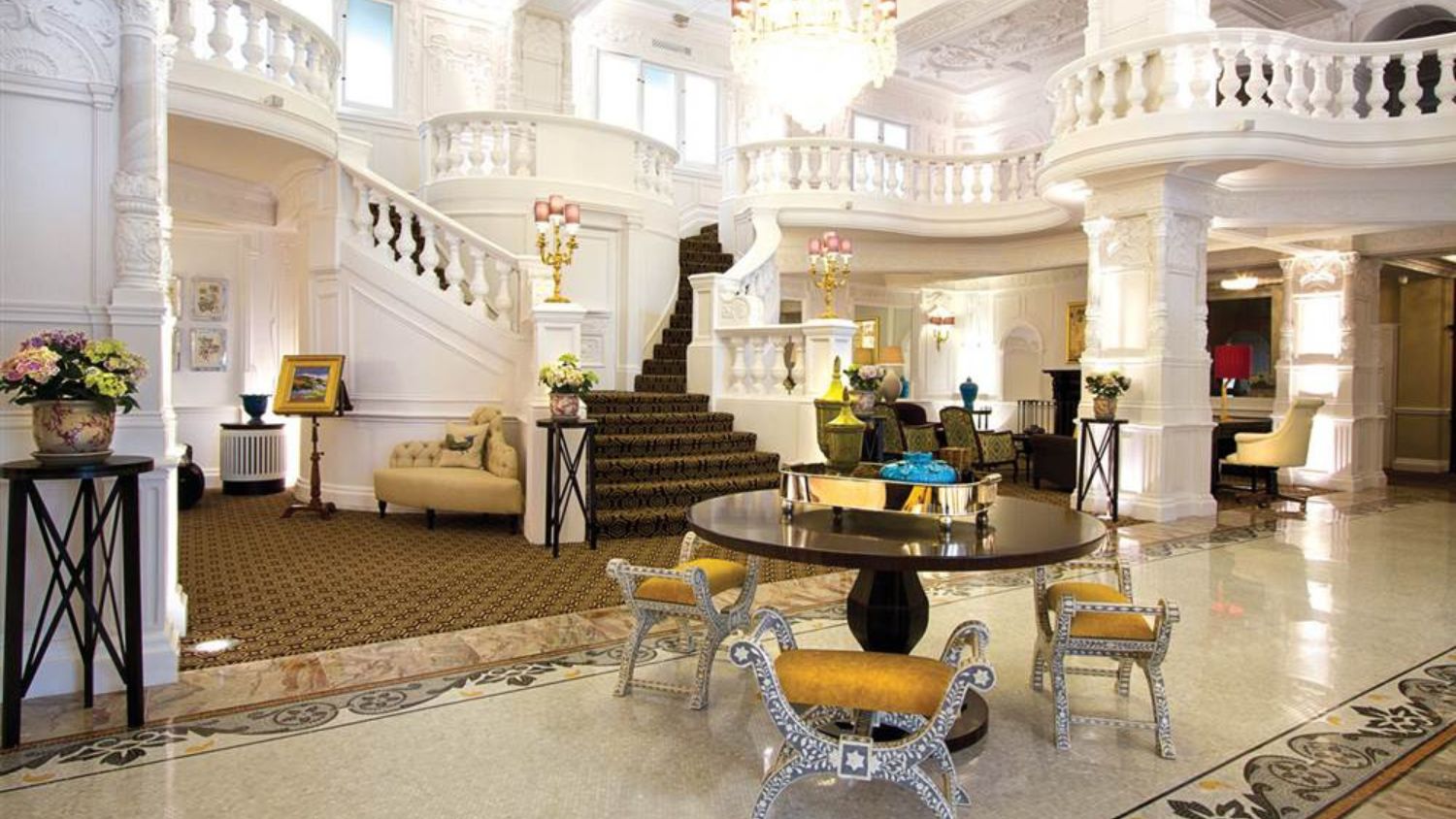 Hotel check in/check up – our intrepid editors booked a room at one of London's notorious secret hideaways for the likes of Winston Churchill and his spy network, and why you should too.
Nearby, throngs of tourists are crowding the sidewalk to take selfies with Big Ben in the background, lining up to get into Westminster Abbey, or tour Buckingham Palace. Just a five-minute walk from that scene is the St. Ermin's Hotel, a luxe oasis of calm in the heart of Westminster with 331 rooms (including 41 suites). A tree-lined courtyard beckons you to the front door where friendly doormen welcome you.
Once inside, you feel like you've entered one of London's grand historic theatres. The lobby is truly OTT with its ornate Art Nouveau plaster work, twinkling chandeliers, sweeping staircase and sinewy balconies with more curves than any Kardashian sister. You can credit the dramatic décor to its creator, JP Briggs, one of the city's most renowned theatre designers and the designer behind the Savoy Theatre built in 1881. 
The Property: 
St Ermin's Hotel, London, UK
What brought you to this hotel?
There are just so many hotels in London, but I knew what I wanted. Give me comfort, some luxury, a convenient location, uniqueness and essential amenities, like a chic cocktail bar and spacious rooms, and I'm happy. St. Ermin's offered it all in one gorgeous package. 
When did it open?
St. Ermin's welcomed its first hotel guests in 1899. Before that, the horseshoe-shaped building was a mansion block with fashionable private homes around 1887. 
Any history to the place?
History? Buckets of it and notoriety, too. Winston Churchill took over an entire floor for his Special Operations Executive, a secret organization dedicated to espionage and sabotage in occupied Europe during the Second World War. The British prime minister was a frequent guest of the Caxton Bar, where he'd sip champagne (Pol Roger) or G&Ts. He once said about his cocktail of choice that it "has saved more Englishmen's lives and minds than all the doctors in the Empire." 
During the Cold War, a Soviet double agent Guy Burgess, a British diplomat and a member of the infamous Cambridge Five spy ring, used the bar to hand over secret government files to his Russian counterpart. The hotel recognizes its historical ties to espionage with cocktails named after the members of the notorious Cambridge Five spy ring and a display off the main lobby featuring spy gadgets that would make James Bond envious.
A bell would ring in the lobby to let MPs know it was time to head back to the Houses of Parliament nearby. Perhaps via a secret tunnel behind the main staircase.
Location, location, location:
St. Ermin's is close to many A-list London attractions so you can walk to them and stroll by the Thames, if you wish. The St. James's Park tube station is a five-minute walk, so getting to other popular spots is easy peasy. The Grade II-listed hotel is on a quiet commercial street, which doesn't have many restaurants, shops and such, but you'll find them a block or so away.
Designed for everybody?
Families, tourists with fanny packs, couples, businesspeople, visiting politicians and diplomats, Gen X, Y and Zs all came through the doors during my stay. The property, part of Marriott's Autograph Collection, even has a canine concierge to ensure pups enjoy their stay, too. 
Breakfast in bed?
Of course, you can lounge in bed and eat blood sausage and delicious streaky English bacon. I wouldn't blame anyone because the bed was one of the best I've ever slept in, plus linens as silky as melted butter. (My husband is a flip-flopper so any mattress that reduces motion transfer and bounce is my hero.)
When you book, opt for the all-inclusive rate, for access to the breakfast buffet at Caxton Grill. I was super impressed with the range of hot and cold dishes – everything you need to fill up your tum-tum before a big day of sightseeing. Or go à la carte for made-to-order fare.
What you loved: 
St. Ermin's elegant rooms were created by geniuses. The shower with digital controls was a hit. All you need to do is press a couple of buttons to get the water flowing and to adjust the temperature. I can't tell you how many times I've scalded myself in unfamiliar hotel showers with a cornucopia of mysterious knobs and levers. Kudos also for proper blackout curtains, large windows and the bee-shaped chocolates left on the nightstand at turndown service. 
And speaking of bees, the hotel has its own rooftop hives with 300,000 buzzing residents. The honey produced, along with botanicals grown on-site, is used to create its St. Ermin's London Dry Gin. It's phenomenal. 
What you thought could be better:
I can't think of anything. Perhaps a longer stay so I could fit in afternoon tea?
Need to Know
Toiletries from White Company 

Marble bathroom

LED TV entertainment system

Free WiFi

Radio with MP3 docking station

Hairdryer

Coffee- and tea-making essentials

Mini-fridge with complimentary mineral water and chocolate bar

24-hour room service

Fluffy bathrobes

24-hour gym access

Multinational plugs/sockets (no adapter needed)
Reserve directly or through most hotel booking sites.