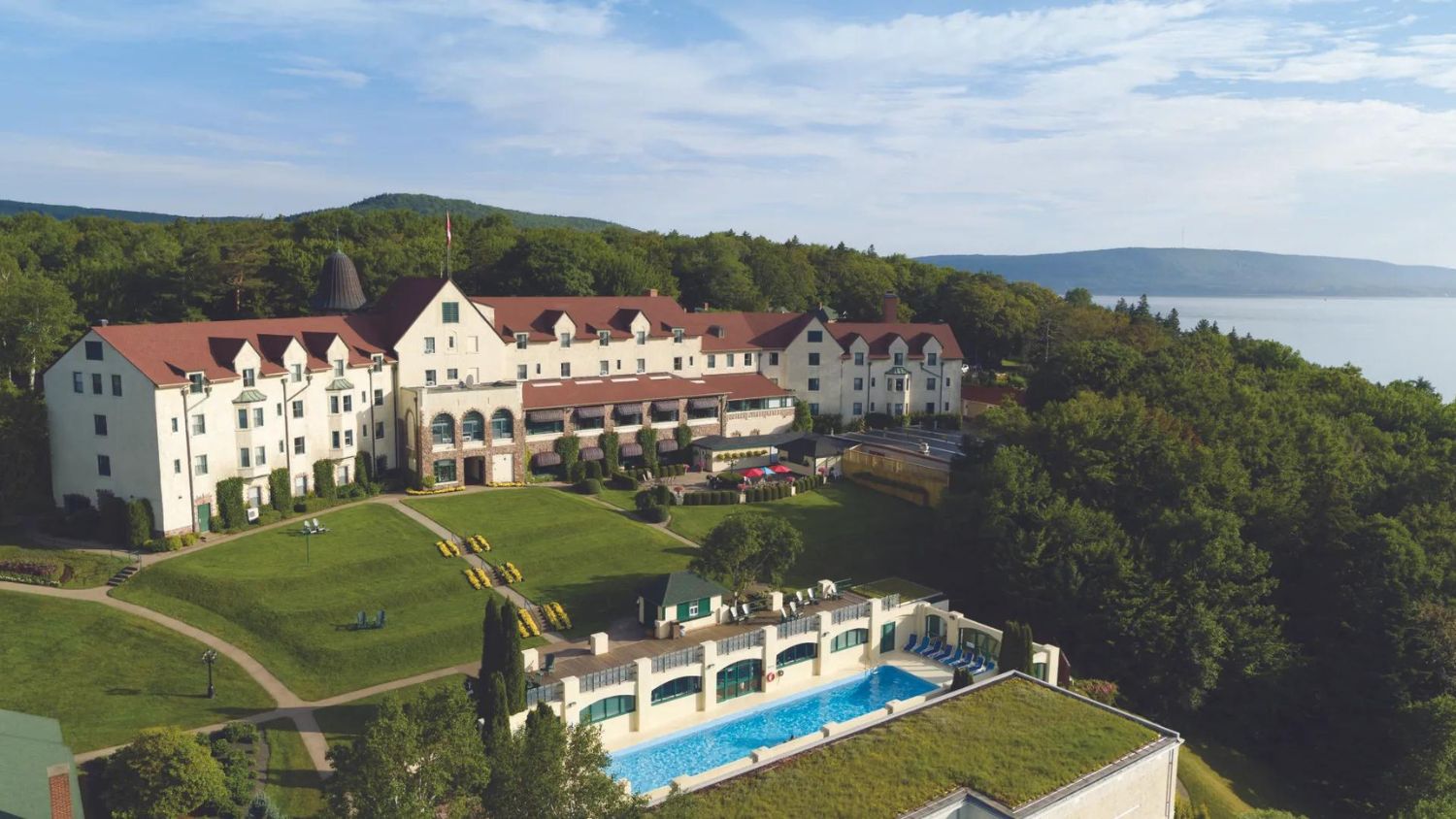 Our intrepid editors booked a room at one of Nova Scotia's most venerated golf resorts, which has partnered with local Indigenous communities for an all-round experience, and why you should too.
Hotel check in/check up – our intrepid editors booked a room at one of Nova Scotia's most venerated golf resorts, which has partnered with local Indigenous communities for an all-round experience, and why you should too.
Nearing its one hundredth birthday, this classic Nova Scotia golf resort, spa and family getaway just opened year round for the first time in its history. When a partnership including the local Bear River First Nations band took ownership recently, they immediately began winterizing, restoring and upgrading the Norman-inspired central chateau and 30 cabins. Everything from the rooms to the Grecian inspired outdoor heated pool to the 18-hole golf course was rethought for year round use. While there's still work to do, this Canadian classic is experiencing a revival. 
The Property
Digby Pines Golf Resort and Spa 
What brought you to this hotel?
When the European style Digby Pines came under new management with Indigenous partners and announced major renovations, I had to check it out.
When did it open?
The current version of the hotel opened in 1928. 
Any history to the place?
In 1903, a three-storey wooden hotel opened on the grounds and thrived until the First World War, when it was turned into soldiers' barracks. After the war, a subsidiary of the Canadian Pacific Railway took it over. In 1928, the railway replaced the previous hotel with the Norman chateau-style hotel we see today. Renowned golf course architect Stanley Thompson designed the Pines' golf course, completed in 1930. 
Soon after, legendary baseball player Babe Ruth stayed here and played a round of golf, which itself became the stuff of local legend. A display case in the lobby tells the full story. Over time, management added about 30 cottages, an events venue, the pool and a spa. The Province of Nova Scotia owned the Pines from 1965 until it sold to the current owners in 2019. 
Location, location, location:
The Pines is set amidst hundreds of acres of woodland and green, rolling fairways between the town of Digby and the terminal where the daily car ferry from Saint John, New Brunswick, docks. 
Designed for everybody?
Absolutely everyone will enjoy something about the Pines. Family-sized cottages, 85 romantic hotel rooms, the outdoor swimming pool, the excellent seafood at Churchill's Restaurant with a new outdoor patio overlooking the Annapolis Basin, a classy bar, the golf course, the spa and lots of special events attract a wide variety of guests. 
Breakfast in bed?
Room service is available, but breakfast downstairs at Churchill's, with the sun streaming through the tall windows, beats breakfast in bed.  
What you loved:
I love the chateau look and feel of the main building that's nearly a century old. It takes me back to a time of railway and steam liner travel when European design was synonymous with luxury. 
What you thought could be better: 
Much has improved at the Pines in a very short time, but there's more work to do, especially in the cottages, which were never built for winter occupancy. New management is serious about modernizing the Pines, spending millions on new heating systems, for example, but upgrades don't always fit an older building. Accessibility is also a challenge with older properties. 
Need to Know
18-hole golf course, clubhouse and a golf simulator in winter. 

Spa, sauna, steam room, heated outdoor pool, fitness centre and walking trails.

Golf, spa and special event packages are available.

Dine at Churchill's Restaurant in the chateau and The 19

th

Hole at the golf course clubhouse. Sunday brunch is recommended. 

For families, childcare is available and there's a playground.

Pet friendly with dog owner packages.

Book stays and packages through the hotel or on your favourite hotel booking site. 

Check in after 4 p.m. Check out by 11 a.m.  

Parking and WiFi are free.