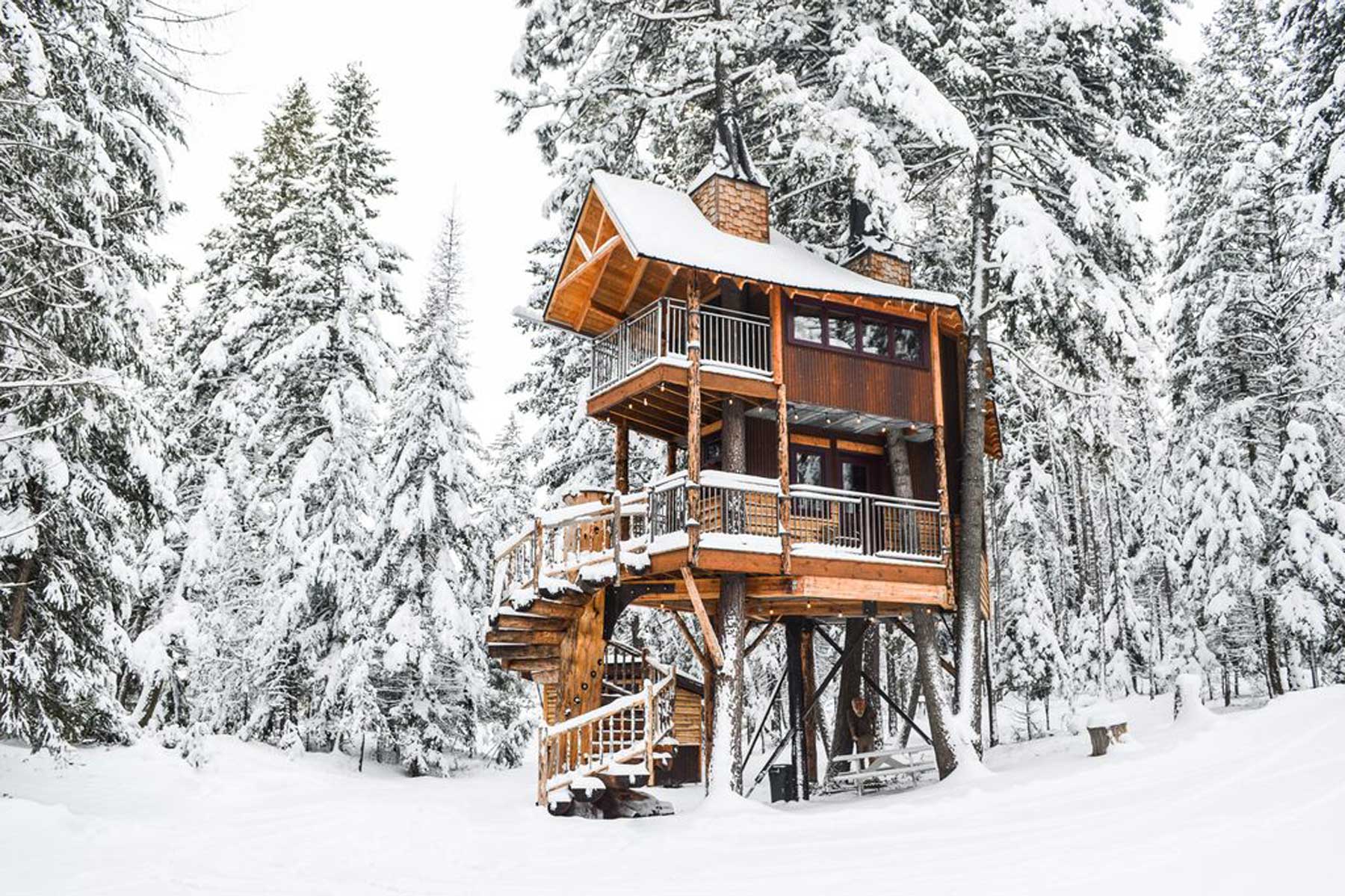 The artistically designed Montana Treehouse Retreat located in Whitefish, Montana will take your breath away and will have your inner child screaming with glee – and any actual children you may bring with you too.
Nestled in the mountain allure of Montana and the gateway to Glacier National Park, this marvelous two-story Montana Treehouse Retreat with a grand spiraling staircase entrance, has approximately 500 square feet of living space. Perfect for a couple, a writer looking for inspiration, a small family, or a group of close friends – even pets are welcome.
It features a one bedroom master suite with an attached deck that's easily accessible through a sliding glass door – what a perfect place to start the day with a cup of coffee in hand, or at night, winding down and looking at the stars. It has two bathrooms however, one is technically a half, a stunning living area with a second spiral staircase and padded benches for entertaining that also turn into beds, two deck areas with the most extraordinary forest views and four living larch and ponderosa trees that literally grow through the centre of the house and deck areas.
The treehouse itself does not touch the earth therefore, the house has been steadily and naturally growing with the trees and is known to slightly move on the windiest of days. Fully equipped with wi-fi, a television, bathrobes, books, toys for kids as per request, washer and dryer, a complete kitchen with a stove and dishwasher, and an outdoor campfire pit, air conditioning and heating, this adventure glamping accommodation type combines childhood fun with adult amenities.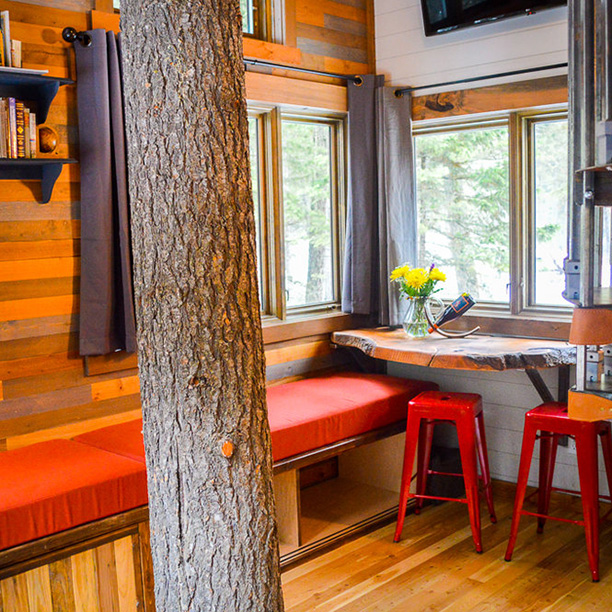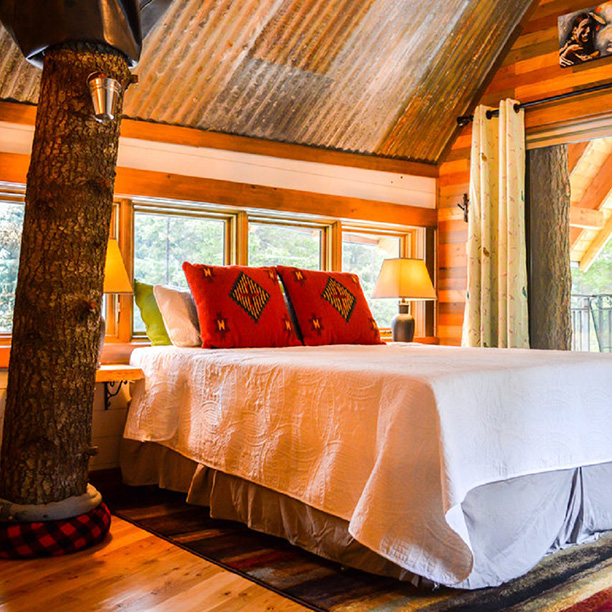 Sitting on its own private seven acres, you have access to five acres of incredible forestland to explore through adjoining hiking and cross-country ski trails, exclusive to the treehouse. Conveniently located, it is also minutes away from Whitefish Mountain Ski Resort, close to Flathead Lake, golf courses, additional hiking trails, horseback riding, rock climbing, sledding and snowshoeing activities.
View this post on Instagram
Kati O'Toole and Darin Robison, both fourth generation Montanans, had been toying with the idea of building their own custom luxurious treehouse when they had stumbled across a casting call for the DIY Network. Shortly after, and with the coercion of family and friends, they had decided to apply and were later selected to take part in an episode of The Treehouse Guys.
About four years ago, The Treehouse Guys production team flew out to document through film the treehouse framework construction process. "We wanted to create a little utopia," O'Toole said. "We wanted people to come and have a real, unique Montana experience." They had enlisted the expertise of their friend, John Colliander of the Treeworks Log and Timber Construction, to help make the striking 18-foot wooden spiral staircase crafted out of Douglas fir.
Most materials used for building or furniture for the inside were locally sourced or repurposed such as the bedside tables and shelving. The breakfast nook table was made from the base of a tree located on their property. The pieces of art which can be seen adorning their wood paneled interior walls are from local artists. The industrial chandelier adds a modern charm and the expansive windows make you feel more submerged in nature than ever before.
The infamous grand entrance spiral staircase had been created out of Darin's grandmother's 60-foot long tree remains after having been struck by lightning. They had the 80-plus year old Douglas fir trucked in from Echo Lake, Montana, after her passing. It appears as though not only blood, sweat and tears had been put into this project but a lot of love too.
"We've always wanted to build a treehouse," O'Toole said. "It's been a dream for a long time. But never in our wildest dreams did we think it would look like this." The current nightly rate for the Montana Treehouse Retreat is listed at $399 USD which is around $540 for Canadians – a minimum stay of three nights is required and, the pleasant surprise is they do not charge extra for elopements.