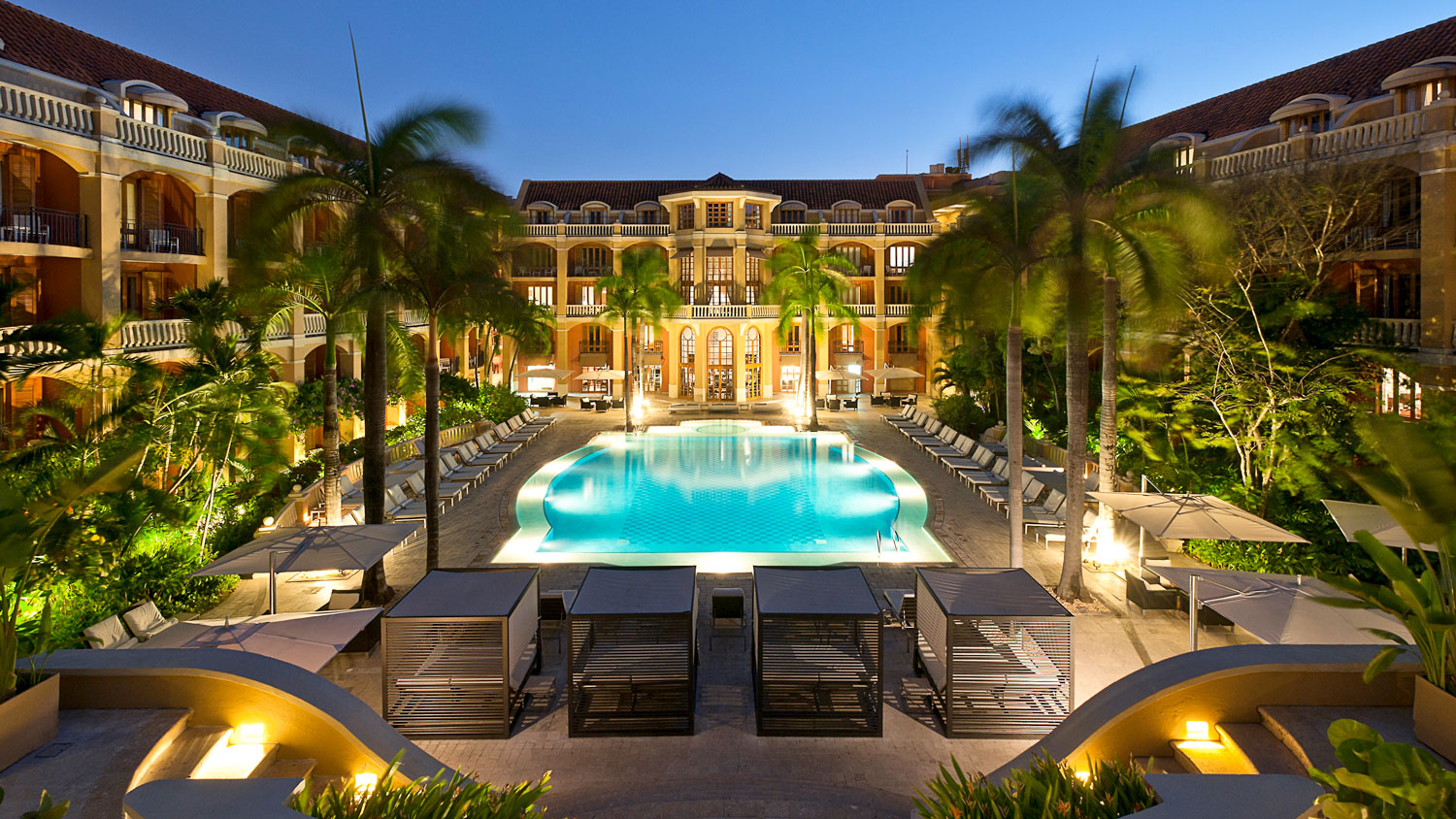 Cartagena's Sofitel Legend Santa Clara hotel reveals its stories through the eyes of literature, religion and its former incarnations.
In the middle of Hotel Santa Clara's El Coro Lounge Bar, there's an unusual glass barricade, protecting guests from taking a fall and also guarding what's down below. The bar itself once was part of the chapel choir for a convent, built in 1621 as the home for the Nuns of the Order of St. Claire, and below it lies what was once the crypt where senior nuns were interred. 
As a young reporter, Gabriel García Márquez wrote about the emptying of the burial crypt here. When one of the bodies was found to have a head of long, flowing hair, the late literary giant was inspired to write the Of Love and Other Demons, arguably one of García Márquez's most romantic works. Making the descent from the busy lounge to the sombre crypt that unlocked the author's imagination is a truly magical experience. 
Now a Sofitel Landmark property, the space has been preserved and honoured with the care one expects from a brand dedicated to authenticity and attention to detail. Aracataca's most famous son spent much of his adult life in Paris, New York, Barcelona and, finally, Mexico City, but García Márquez's inarguable bond with Cartagena is celebrated throughout Hotel Santa Clara. His most memorable quotes line the hallway facing his Cartagena home, which is right across the street and still owned by his family. The "secret passage" reminds guests that others before them have come in search of seeing the world through García Márquez's eyes. 
Likewise, the stories of the Santa Clara nuns are also captured in the historic property. Pieces found during restoration, both colonial and pre-colonial, are carefully displayed in the convent's old courtyard as a reminder of what's come before. The decorative colonial-style ceiling of the hotel's entryway has barely changed since it was finished in 1788. History also touches the very operation of the hotel. The kitchen, for example, maintains the tradition of serving sweets, breads and cakes. "This reflects what the nuns made and sold right here, to support themselves," Carmen Otero de Millán, sales and marketing director for Hotel Santa Clara Cartagena, tells me as we tour through the property. 
Not that the current proprietors are above making some history themselves. When the hotel opened 26 years ago – the building had been in the meantime, among other things, a hospital and a penitentiary – the project kickstarted a major rejuvenation of Cartagena's walled Old Town, transforming the barrio into the chic destination it has become. The Republic wing of the hotel, though also a heritage property, is more modern and is home to the pool, spa and fitness facilities.
As a hub for major events, including some impressive destination weddings (about one a week, usually hosted in the room that was once the convent chapel), the hotel offers even more to talk about. During 2016's Ibero-American Summit, King Felipe VI of Spain held meetings in the Presidential Suite Fernando Botero, named after one of Colombia's most famous painters and designed by his daughter, the celebrated interior designer Lina Botero. Who knows what was discussed when Mexican President Enrique Peña Nieto came to lunch with the king? Perhaps one day it will be part of the legend. Botero, whose spends much of her year in Mexico City and in Europe, was delighted to bring her vision to the Santa Clara.
"To have had the opportunity to recreate that most important space in such an important hotel was such a privilege," says Botero, who also works to support her father's artistry, organizing exhibits and working with publishers. "And when they said the suite would be dedicated to my father—you can just imagine." Botero included select pieces from the hotel's colonial collection, as well as the work of contemporary Colombia creators (and photos of her father) to create a space that's both intimate and elegant. 
Certainly Hotel Santa Clara's executive chef, French import Dominique Oudin, has his eye on creating a lasting legacy. Coming from the same region of France as Michel Bras, the chef who invented the "Fondant au Chocolat," Oudin is equally ambitious. A Sofitel veteran who has run kitchens in Dubai, Morocco and Mauritius before his move to Colombia in 2015, he's just the man to find synergies amongst far-flung global cuisines.
When I first arrived in Cartagena, I knew it was nice, but it is very, very nice. I've found people to be very motivated. They have a big commitment and want to do the best … 
"I love to walk in Old Town and see the houses painted in bright colours, smell the smells. You really know you're in a Caribbean place." he tells me.
Emphasizing a health-based menu that prioritizes fruits and vegetables, Oudin brings considerable inventiveness to his role. His "French twist" ceviche sees the fish marinated with carrots, other vegetables and tropical fruits like pineapple, rather than the conventional lime juice. "We can play a lot," he says. 
For a property with so much history, the job of keeping everything shipshape for the expectations of modern guests is almost unending. This is a team focused on constant improvement behind-the-scenes. A six-year plan to reinvent some of the key suites – including the Botero suite and a brand-new sea-oriented suite with an enormous amount of outdoor space – has come to an end, but the team is also focusing on showcasing its two new suites. One is dedicated to Enrique Grau, a Panamanian-born artist who called Cartagena home and whose magical realist paintings celebrate the city and region. The other will be a spa-inspired suite for guests who can't get enough of the hotel's stylish So Spa.
THE DETAILS
Sofitel Legend Santa Clara Cartagena has rooms from CAD $425. For weddings, the hotel offers planning services that can take care of everything from cuisine and accommodation to flowers and themes. The So Spa has eight treatment rooms and can accommodate groups of up to five people. 
PHONE: (+57)5/6504700 
CONTACT: reservation.santaclara@sofitel.com
_________
Never miss a story. Sign up for our #BOLDTraveller newsletter.