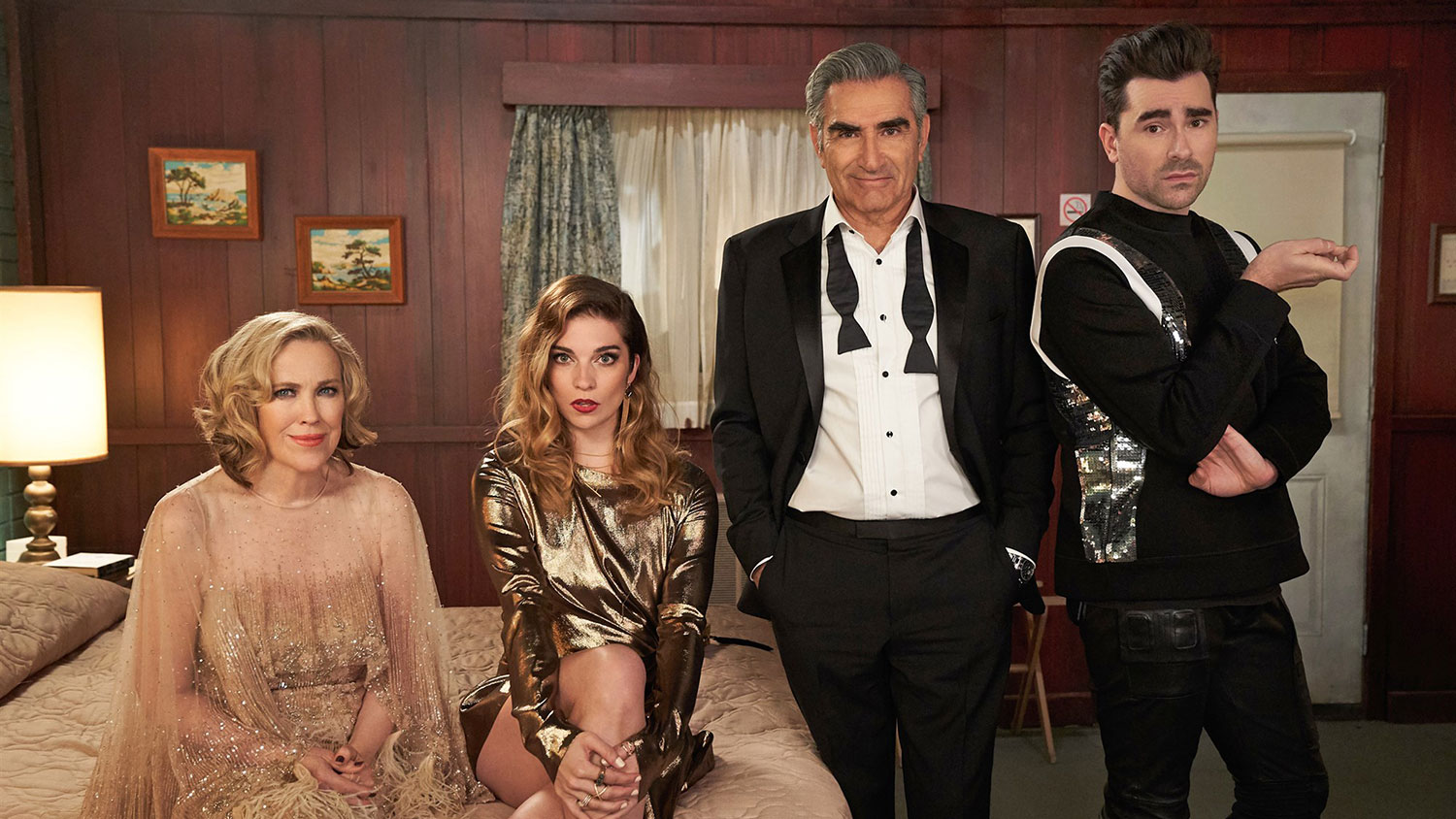 The quaint but quirky, Schitt's Creek, is a fictional town - you can't book a night at the Rosebud Motel, have breakfast at Cafe Tropical, or buy decadent lotions from Rose Apothecary however, you can still virtually visit these buildings and locations where it was filmed mostly in small town, Ontario.
"Who knows what will befall us tomorrow, John? You could be hit by a Mack truck or bopped on the head by a tiny piece of space debris." – Moira Rose (Catherine O'Hara) 
Well isn't that the truth – cue the spring of 2020 and onward. The premise of Schitt's Creek is somewhat a familiar concept to us these days, allowing us to laugh at the fragility of life which is occasionally needed.
A family's life as they knew it having come to a screeching halt, no more travel, no work, less work or maybe even a different type of work, having to spend copious amounts of time together in cramped quarters. In a way, there are various aspects of the show that does strike a chord with us having been quarantined in a global pandemic. The show also teaches us how to reflect, to take matters in stride, find the silver lining and goodness is every situation, and to be grateful for the basic things in life we have and may take for granted. 
It is uncommon for a television show to take place in a real town, but with Schitt's Creek most of their exterior scenes were filmed in Goodwood, Ontario and surrounding areas. Goodwood is a quaint little place with a population of 700 people and is only 40 minutes north of Toronto. Many of the interior shots were filmed in Toronto studios, Pinewood and Dufferin Gate. Goodwood stated they have seen a significant tourism boost since the show commenced their filming. "I remember season one, we had to approach this town and tell them, 'You are going to be Schitt's Creek.' And I think it took a lot of blind faith on the part of the town to believe us when we said, 'We will be doing this place justice and we will be honouring small-town life in your city.'" said Dan Levy, the actor behind the spunky and sassy role of David Rose.
Created by Dan Levy and his father Eugene Levy, this storyline is based on a formerly rich family who loses their entire fortune and is forced to move to the town in which the father of the family, Johnny Rose (Eugene Levy), had purchased as a gag gift. The first episode aired on January 13th, 2015 on CBC, and lasted a good stretch of 6 hilarious seasons. Most recently having made us proud, sweeping the Emmys with 15 nominations and a historical 9 wins. Schitt's Creek was a moderate hit until it was featured on Netflix and became the talk of social media due to the comically exaggerated expressions and zingy one-liners of the show's characters. Choosing to make a cultural impact, they featured a same-sex love story embraced by the rural town that had us all swooning. And they showed us in the funniest way possible how two groups of people that had very different upbringings could come together and find common ground. 
Where to start your Schitt's Creek virtual expedition via Google Maps:
The Blouse Barn which is shown as the first job David Rose landed in Schitt's Creek is actually a pottery studio by the name of Crock a Doodle. They're located at 159 Main St. in Unionville, Ontario.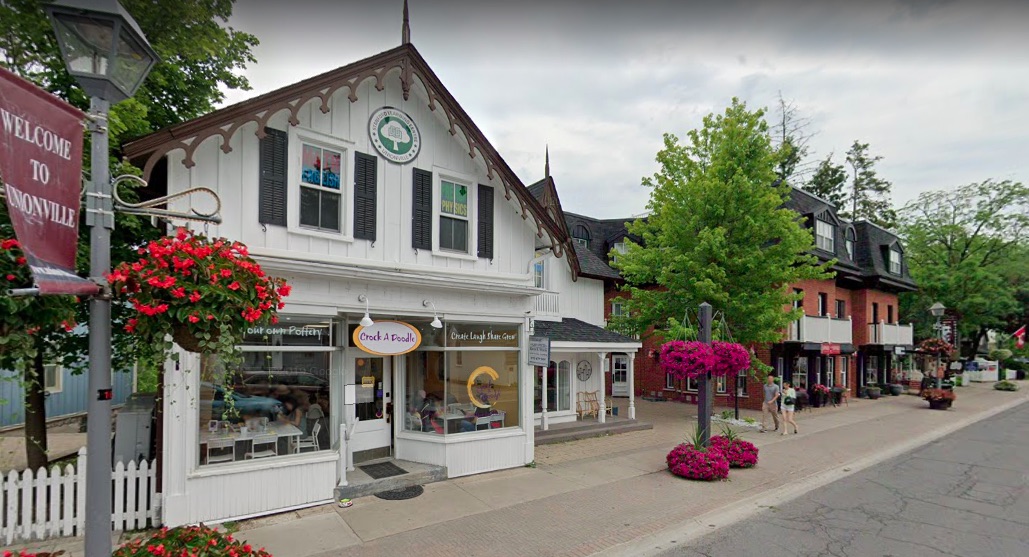 The veterinary hospital where Alexis Rose's (Annie Murphy) beau, Ted Mullens (Dustin Milligan), worked is a real life veterinary hospital. The Thicketwood Veterinary Hospital is located on 6324 Main Street in Whitchurch-Stouffville, Ontario.
The spa shown in the eight episode of the fourth season is the Monte Carlo Inn at 705 Applewood Crescent in Vaughn, Ontario. 
Cafe Tropical, where the Rose family would consume almost every meal, is not an actual restaurant. It is a vacant space on the bottom floor of a building that has apartments on top. Located at the corner of Front St. and Durham Regional Highway 47 in Goodwood, Ontario. 
The Rose Apothecary, the business owned in the series by David Rose (Dan Levy) and his partner, Patrick Brewer (Noah Reid), is a fully operating wool shop called, Romni Wools. It is located directly across the street from Cafe Tropical at 299 Durham Regional Highway 47 in Goodwood, Ontario. 
brb exploring Schitt's Creek https://t.co/dFQT2ofSt8 pic.twitter.com/ylrzVG8JBl

— Schitt's Creek (@SchittsCreek) May 19, 2020
Bob's Garage, where Johnny Rose (Eugene Levy) rents space from, is an actual functioning garage located next to Cafe Tropical on the other side of Durham Regional Highway 47. 
Schitt's Creek Town Hall, where Moira Rose (Catherine O'Hara) was a council member, is the Goodwood Lions Club. This building is on the same street as Cafe Tropical on the other side of Durham Regional Highway 47, a little past Bob's Garage. 
The blue home of Mayor Ronald Schitt and his wife Jocelyn is a real and private residential home in Goodwood, Ontario, just a few doors down from the Rose Apothecary. 
Saving the absolute best for last, the infamous Rosebud Motel was filmed on a private property located at 308399 Hockley Road in Orangeville, Ontario. 
As exciting as this all sounds, please keep in mind that we urge you to not physically travel to these location spots at the moment. Even Dan Levy is urging fans to not visit Goodwood amid the COVID-19 pandemic. "The towns where we shot Schitt's Creek were so lovely and accommodating to us," the actor tweeted. "Show them the same respect. Visiting right now is a threat to the residents' health and safety."