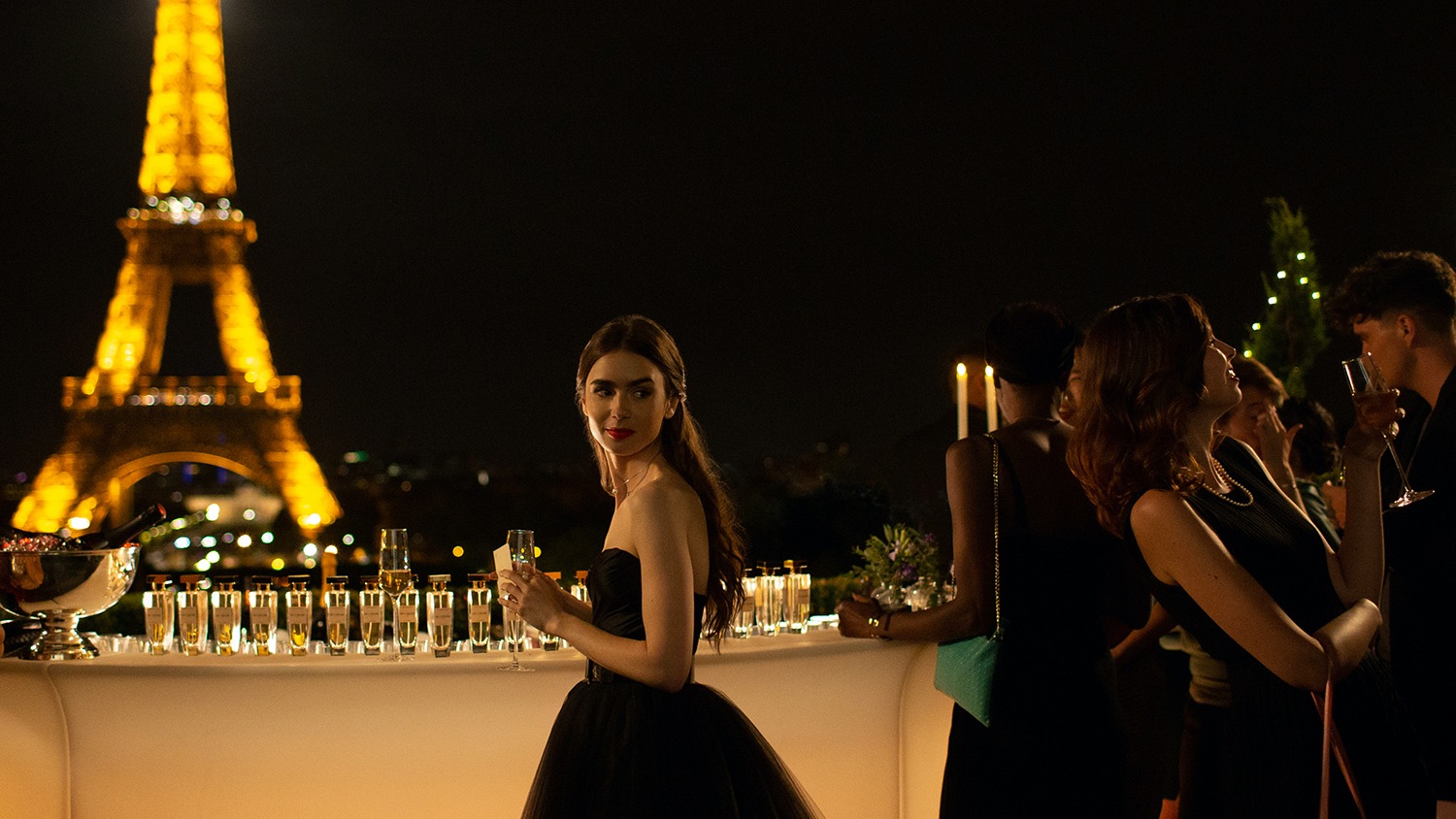 Netflix's Emily in Paris is a feast for the eyes and a trip we can all take in our minds for now, but we can still take notes for the future.
Voila! C'est Emily in Paris! American college grad and non-french speaking, Emily Cooper (Lily Collins), is an ambitious Marketing Executive who's life in Chicago was starting to weigh her down. Granted a transfer to work for the Savoir agency in Paris, she finds herself under the Devil Wears Prada-like authority of her new boss, chain-smoker Sylvie (Philippine Leroy-Beaulieu). Emily starts a new blog titled, "Emily in Paris," and becomes a social media influencer. Hilariously juggling these abrupt new changes, Emily tackles challenging tasks, new friends and love interests as gracefully as she can. 
Darren Star, the genius behind Melrose Place, 90210, and Sex and the City, has created a new series to lose yourself in and it could not have come at a more perfect time. We desperately could use more giggles, and a lot more fun. Legendary Patricia Field who was Sarah Jessica Parker's costume designer for her Sex in the City character, Carrie Bradshaw, could not help but jump onboard to dress Lily Collins for her role as Emily Cooper. 
An authentic viewing experience having been almost entirely filmed in Paris, boasts a whole French crew to boot. Even the actors and actresses were a balanced blend of French and American talents – a genuinely diverse treat, and an homage-like love letter to the "city of lights." Emily in Paris is a full 10 episode long series at half an hour each which makes for a pleasant escape from our daily quarantined, somewhat hunkered down lives. 
It is easily apparent the onset magic and chemistry which unfolds between the characters and the locations they journey to and through. If you think you already know Paris, think again! Emily in Paris allows viewers to re-discover locations as if for the very first time. Also, you will see and hear of hidden gems you may not have previously known about – however, some location names have been changed in the script for the production. Emily in Paris is a feast for the eyes and a trip we can all take in our minds for now, but we can still take notes for the future. 
Foodies will appreciate the scenes filmed at some of Paris's oldest and most luxurious Michelin-starred restaurants such as Le Grand Véfour on Rue de Beaujolais. Founded in 1784, it was a favourite haunt of Napoleon's. Known for its 18th century decor, and it's delicious creations by Chef Guy Martin who takes great passion in spinning dishes offered over their 250 year history – menu pricing starts at $178.17 CAD. 
View this post on Instagram

You will also notice that Emily attends a Savoir launch party at Le Café de L'Homme, the 1930's art deco-inspired Parisian brasserie with stunning terrace views of the Eiffel Tower. And she meets her new French boyfriend, Thomas, at one of Paris's oldest coffee houses, Café de Flore, which is a magnet for famous clientele – a people watching paradise.
Name a better place than the Palais Garnier to watch Swan Lake! Emily can attest to that statement as she can be seen at one of their ballet performances trying to win over a fashion client, while dodging a relationship kerfuffle with Thomas. We smell drama – and we like it. You may have heard that's where the Phantom of the Opera novel written in 1910 took place. If you find yourself wanting to follow in the footsteps of Emily, and you wish to visit the Palais Garnier, you don't necessarily need a performance ticket. They offer tours where you can take your time admiring the marble staircases and neo-baroque architecture. 
Another fabulous place, the neo-classic Monnaie de Paris on the banks of the Seine (a 775km long river) can be seen in episode 9. This specific location was used for it's exterior as a venue for a fashion show by the Emily in Paris crew. Founded in 864, it is the world's oldest running mint. Today, in addition, it is an innovative museum where they hold manufacturing workshops, give tours and hold temporary exhibitions.
Remember when Adele came out with her Someone Like You music video filmed on the Pont Alexandre III bridge? Emily gets tasked with creating a new perfume ad, so that same exact bridge is where the filming took place. Adele wasn't naked when the cameras started rolling but we can't say the same for the model who struts the bridge for Emily's controversial campaign. What is interesting about the Pont Alexandre III bridge is that you can glance up at the Champs-Élysées and then look down to Les Invalides golden domed hotel. You are literally surrounded by so much beauty (or booty if you're Emily). 
Emily's apartment just so happens to be around the corner from Place de L'Estrapade which has a dark history of having been the site for public torturous punishments. Rest assured, it is now a peaceful and a delightful place to spend time. It marks the border between quartier du Val-de-Grâce and la Sorbonne and is quite close to the Panthéon. The inside of her apartment was the exception, as it was shot on a soundstage in the studio. In addition, her handsome neighbour, Gabriel, works at a restaurant in that square, in real-life known as Terra Nera. 
Emily's new office, the Savoir agency is above Galerie Patrick Fourtin in Place de Valois which is close to Jardin du Palais Royal. The Galerie Patrick Fourtin showcases decorative arts and opulent furniture pieces from the 20th century. The Jardin du Palais Royal park is lushly lined with lime trees and neatly trimmed hedges like boxes, that is where she meets her new best friend, Mindy (Ashley Park). This garden-like park is a hop, skip and jump away from the Louvre which is not only a historic monument, but the world's largest art museum.  
View this post on Instagram
The Musée des Arts Forain on Avenue des Terroirs de France, is a private museum of funfair paraphernalia and its featured in the show too. An old-fashioned eclectic attraction, you can book seasonal guided tours of their cabinet of curiosities, play old arcade games, ride their wooden merry-go-round and their 120 year old carousel. How fascinating would it be to visit this reconstruction of a traditional European funfair reminiscent of the mid-1800s to the mid-1900s.
There are many more of the French capital's iconic landmarks seen in Emily in Paris, what is mentioned is only a small percentage of what is actually shown. We don't want to ruin the viewing experience for you either – no spoilers here, just a few enticements. If you have already watched the series, then you will know what we mean. If you haven't, well, what are you waiting for? Grab a pain au chocolat, get cozy, and then hit play. Joie de vivre!
Darren Star already has his sights set on a second season, "if we get picked up, I hope we'll be back in Paris next spring and things will ease up a little bit," he told Glamour. "I think hopefully we'll be in a better place by next spring. I really hope so."
And remember, non-essential travel is still strongly advised against. If Emily in Paris leaves you pining for the cobblestone streets of beautiful France, please be patient and continue to visit https://travel.gc.ca/destinations/france  for updated travel advisories, policies, and entry requirements when it is safe to travel again. 
View this post on Instagram
Emily in Paris was made available to stream on Netflix on 2 October 2020