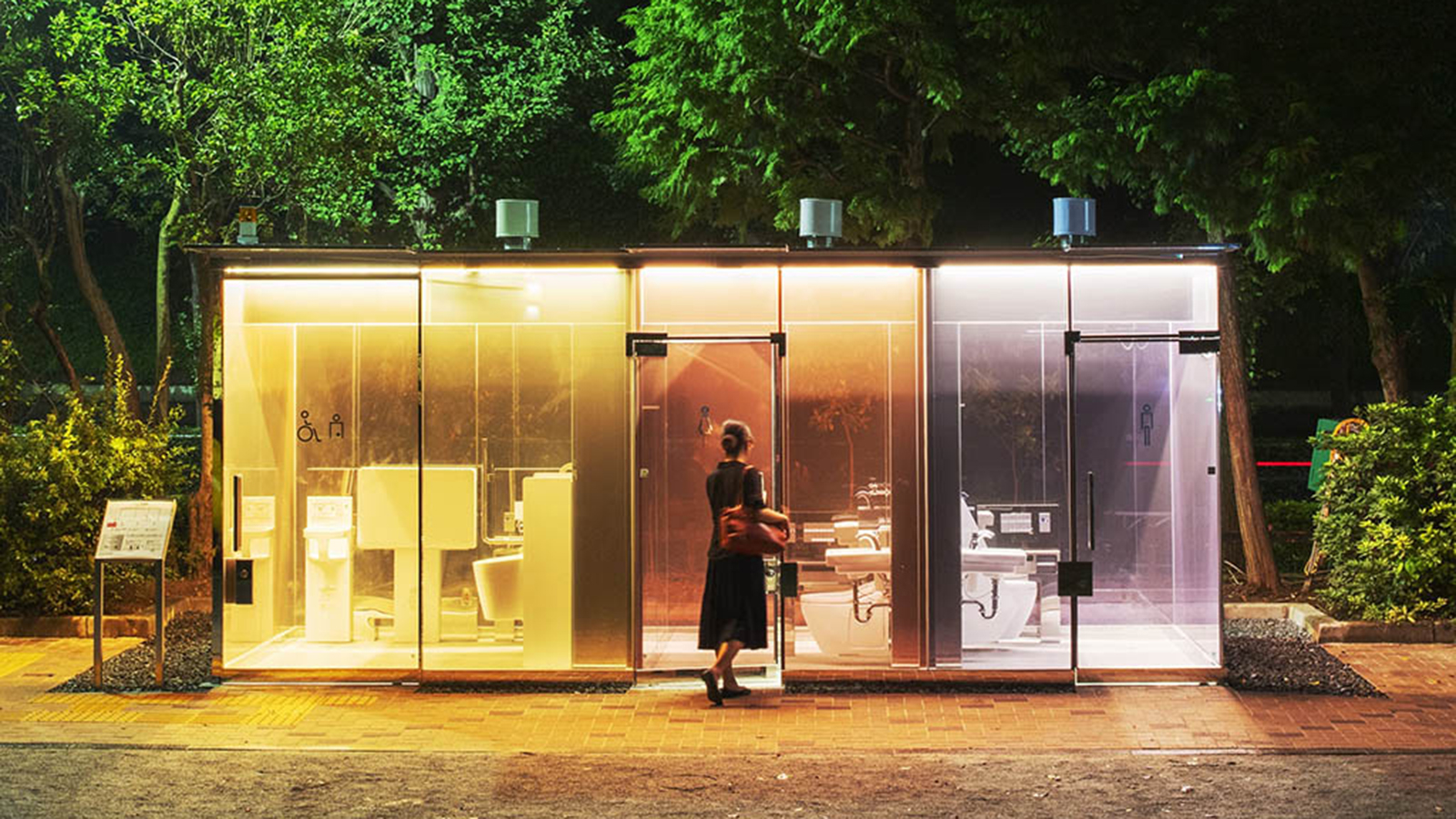 Japan takes designing to a futuristic level dispelling the common concept of restrooms with their unusually shaped and see-through toilet designs – redefining safety and hygiene with a stroke of genius.
Japan has long been known for their hospitable and creative nature, having experimented with toilets in the past, the non-profit Nippon Foundation recently unveiled their new initiative, the "Tokyo Toilet" project. Technologically advanced and attractively designed facilities like functional works of art aimed to be accessible to all individuals, "regardless of gender, age or disability, to demonstrate the possibilities of an inclusive society," stated the Nippon Foundation.
To phase out old-fashioned restrooms and to address public concerns prior to the 2020 Tokyo Olympics, Tokyo had been working on 17 proposed new attraction-like toilet designs to hit the Shibuya district. This project undertaking persevered even though COVID had postponed the eagerly awaited major event. It includes 16 renowned architect masterminds from Japan as well as other countries, and is set to be completed by summer of 2021.
The most talked about and borderline controversial installment is Pritzker Prize winning architect, Shigeru Ban's transparent toilet facilities. Two eye-catching transparent restrooms opened up to the public on August 5th – one in Yoyogi Fukamachi Mini Park and the other in Haru-No Ogawa Play Park. Shigeru Ban, a Tokyo native, is known for his respected work with sustainable materials.
Made of "smart glass," these facilities are completely transparent when unoccupied. Occupied, the walls turn opaque and outside imagery is reflected within the internal mirror-like attributes. "There are two things we worry about when entering a public restroom, especially those located at a park," a statement on the Tokyo Toilet's site says. "The first is cleanliness, and the second is whether anyone is inside."
For peace of mind, the walls are kept transparent due to an electrical current and by locking the doors, it yields this current. In the inconvenient off-chance there is a sudden power outage, the users' privacy would not be compromised therefore, not as risqué as they appear to be. And after the sun has gone down, the restrooms give off soft variations of coloured light similar to lanterns. Most importantly, both restrooms have facilities that welcome men, women and gender-neutral individuals.
Other newly opened but just as unique and interesting "Tokyo Toilet" project facilities include, Fumihiko Maki's restroom popularly known as the "squid toilet" is located in the children's Octopus playground in Ebisu East Park.  
New York-based Nao Tamura's striking red triangular facility embracing the LGBTQ+ community was inspired by Origata and is located on a small geometric plot in downtown Tokyo. A traditional method of decorative wrapping, Origata symbolizes gift-giving and references the notion of hospitality.
Masamichi Katayama's concrete design in Ebisu Park, an ode to Neolithic times, features 15 randomly placed concrete walls reminiscent of toilet huts that were built over riversides.
The construction aspect of "Tokyo Toilet" project's facilities were spearheaded by Daiwa House Group in partnership with TOTO Ltd, the famed Japanese toilet manufacturer. Maintenance will be overseen by The Nippon Foundation, the Shibuya Government and the Shibuya City Tourism Association. "We want to provide public restrooms that are not only accessible to all people, but also a pleasant experience for anyone to use," said a project manager at the Nippon Foundation.
According to the Japan Tourism Agency, in general, over 300 restrooms have been overhauled since 2017. Prior to the commencement of this, almost half of Japan's toilet facilities consisted of squat stalls. The times are a-changin'!