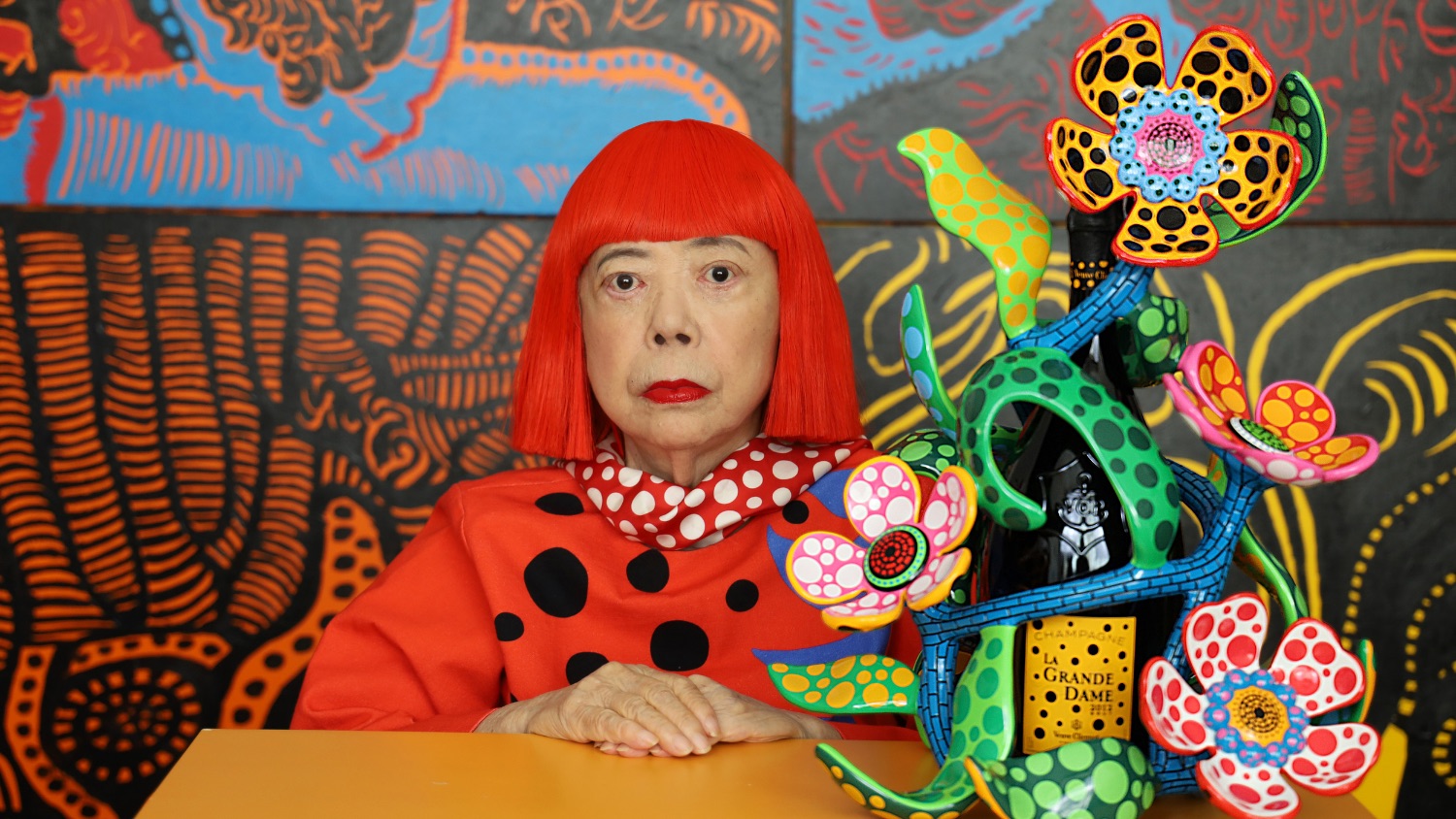 Two icons 150 years apart are coming together with a message of hope and optimism—in a bottle of bubbly.
Veuve Clicquot has partnered with Japanese artist Yayoi Kusama to celebrate its new vintage, La Grande Dame 2012. The collaboration is a tribute to Madame Clicquot, "La Grande Dame" of champagne, featuring Kusama's signature polka dots suggestive of champagne bubbles.
Kusama designed both a label and presentation box for the prestige cuvée. But the piéce de resistance is a sculptural flower, called "My Heart That Blooms in The Darkness of The Night," that winds itself around a limited-edition magnum—hand-painted by the celebrated artist herself.
The sculpture consists of five blooms made of resin and copper, painted in vibrant hues and coated with lacquer—along with more than 1,000 precisely placed polka dots. According to Veuve Clicquot, the sculpture symbolizes love, vibrant energy and a celebration of life. Each of the only 100 editions is numbered and available upon request.
More widely available is the 75cl bottle, which also features Kusama's flower motif on the presentation box, as well as her signature polka dots on the label. This special bottle will soon be available for purchase in Canada.
This isn't the first time Veuve Clicquot has partnered with the iconic Japanese painter, sculptor, author, performance artist and filmmaker. In 2006, Kusama brought to life an original portrait of Madame Clicquot with a vibrant polka-dot pattern as part of a charity auction in Tokyo.
For Veuve Clicquot, it was essential to collaborate with a joyful, hopeful and optimistic personality like Kusama, much like Madame Clicquot herself. These two extraordinary women—despite being separated by 150 years—both yearned to gain independence and conquer the world.
Madame Clicquot was one of the few female entrepreneurs of her era in the early 1800s. As a 27-year-old widow, she took the reins of her late husband's champagne house at a time when women didn't have the right to work. With major innovations such as creating the first known vintage in 1810, the first known blended rosé in 1818 and the design of the Maubeuge bottle, this young widow revolutionized the champagne world.
Kusama pioneered immersive experiences in art—notably with her Infinity Nets and Mirrored Rooms—where the viewer's body and mind are integral parts of the work. As one of the few female artists of her era to make a living from her art, Kusama conquered the male-dominated art world during her time in New York from 1958 to 1973. Now, at 92 years of age, she's considered one of the world's most famous and brilliant living artists.
"My Heart That Blooms in The Darkness of The Night" is Kusama's tribute to La Grande Dame, who shared her love of beauty and the avant-garde—and a drive for excellence.
Indeed, Madame Clicquot understood that good champagne wasn't enough to win over New York and St. Petersburg; the beauty of the product itself—the bottle, label and design—were just as important. As La Grande Dame once said: "Our wine must be both flattering on the eyes and on the palate."
It was also her belief that pinot noir had the potential to make the best champagne, so she acquired 10 of the House's 12 pinot noir parcels. But these grapes are delicate, and their expression varies depending on the terroir, weather and harvest conditions (and determines if a year will be declared a vintage).
It's these grapes that provide the structure and strength of La Grande Dame 2012, from Grands Crus and the House's historic plots, among the most prestigious in the Champagne region of France: Aÿ, in the Grande Vallée de la Marne, and Verzenay, Verzy, Ambonnay and Bouzy in the Montagne de Reims.
The magic is also in the blend, with 90 per cent pinot noir and 10 per cent chardonnay from the Grands Crus of Avize and Mesnil-Sur-Oger in the Côte des Blancs.
"It is playful, lively and laughing," says Didier Mariotti, Veuve Clicquot's Chef de Caves. "This new vintage offers a strong minerality carried by pinot noir balanced with the freshness of the blend. Its aging potential is immense."