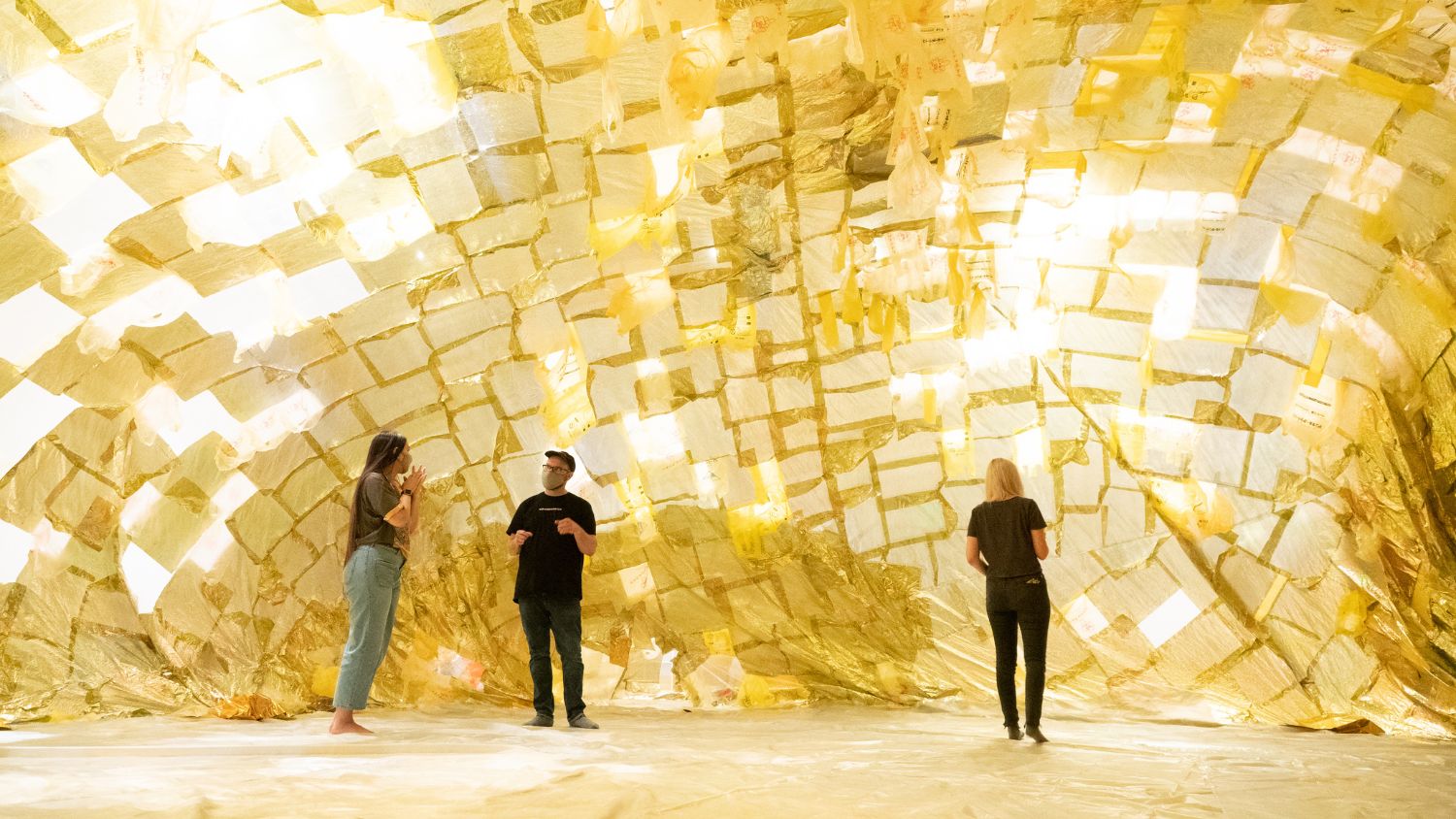 On a trip to Scottsdale, Charmaine Noronha discovers the Sonoran Desert provides the perfect backdrop for an arts-based adventure.
On a warm November night, a sea of spectators ooh and aah as flames shoot 30 feet in the air from the waters of the Arizona Canal, in sync with the sounds of Bruno Mars. A handful of others use pedal power on bike-driven generators to light up a grove of tree-like sculptures, while a gaggle of kids gleefully hop on LED panels that light up with each bounce. These and other dazzling installations illuminate Scottdale's waterfront as far as the eye can see.
Everyone has gathered here to celebrate the 10th anniversary of Canal Convergence, an annual festival presented by Scottsdale Public Art. The 10-day festival brings together dozens of works of art from around the world, including a number from Canadian artists, plus workshops, live performances and more. Event organizers have deemed the event sustainable, grassroots arts.
"We wanted to have a signature event for Scottsdale, and it's going to get even bigger in the future," says Wendy Raisanen, curator of exhibitions and collections at Scottsdale Arts. "We're planning on turning it into an arts version of sustainability similar to South by Southwest [in Austin, Texas]."
A large-scale arts event in Scottsdale, you wonder? While thoughts of the southwest city usually conjure up images of the arid Sonoran, sprawling golf courses and delightful cacti-laden desert hikes, what many people don't know is that it's also a city with a thriving arts scene and iconic architecture. Canal Convergence is just one of Scottsdale's intriguing arts attractions.
The Scottsdale Museum of Contemporary Art (SMoCA)
Award-winning architect Will Bruder beautifully transformed a former movie theatre into The Scottsdale Museum of Contemporary Art. SMoCA's minimalist building has four galleries, one of which features "Language in Times of Miscommunication," an exhibition that explores the complexities of social realities during miscommunications.
Recently, the museum hosted an exhibition of 40 works by notable Black artists including Kehinde Wiley, Amoako Boafo, Tschabalala Self and others, drawn from the collection of Scottsdale locals Iris and Adam Singer. Titled "In Our Time: Selections from the Singer Collection," the exhibition would have been equally at home in New York or Los Angeles. smoca.org
Western Spirit: Scottsdale's Museum of the West
Wander three blocks from SMoCA to Scottsdale's Museum of the West to explore the region's history, brought to life through Western and Native American art and artifacts. The museum's exhibit "Light and Legacy: The Art and Technique of Edward S. Curtis" features the work of a photographer and ethnographer who captured images of indigenous tribes in the early 20th century to document cultures that he feared were vanishing. Western Spirit also displays Native American artifacts including Navajo chief's blankets, robes and regalia. scottsdalemuseumwest.org
Native Art Market
The Native Art Market is Old Town's only Indigenous-owned store. Located between SMoCA and Western Spirit, the gallery retails beautiful, authentic Native American pottery, paintings, fashion, jewellery and decorative items from more than 300 artists representing nearly 30 tribes. The proceeds go directly to the artists. The indoor market was created during the pandemic to help Native artists affected by the disruption of cultural events throughout the United States.
From Thursday to Monday between 11 am and 5 pm, you can catch riveting dance and musical performances in-store. On Saturdays from November through March, the market sets up an outdoor space where visitors can meet the artists and see live performances. thenativeartmarket.com
ArtWalks
Year-round on Thursday nights (7 pm to 9 pm), you can join free ArtWalks in the Scottsdale Arts District. Dozens of galleries open their doors, and this is the longest-running event of its kind in the country. scottsdalegalleries.com
Wonderspaces
Wonderspaces is a year-round, evolving art show featuring interactive, innovative and fun artwork from around the world. The 'gram-friendly Scottsdale installation is the first permanent location of the popular art pop-up. View current artwork at Arizona. Wonderspaces.com.
CattleTrack Arts Compound
You might drive by this collection of 1930s adobe structures without realising that they're part of an artist colony set on 13 acres. In the 1970s, this hidden-gem art enclave housed Fritz Scholder, an influential Native American painter credited for reinventing Native American painting, as well as sculptor Louise Nevelson. Philip C. Curtis, Cattle Track's most famous artist-in-residence, founded the Phoenix Art Museum in 1936.
Visitors can step inside the studios of painters, pottery makers, dancers, photographers and even blacksmiths to view their work, interact with the artists and purchase their creations. Spend time with artist Mark McDowell if you can—he'll regale you with entertaining stories about the compound for days! cattletrack.org
Taliesin West
Pulling up to Taliesin West, the winter home of renowned architect Frank Lloyd Wright, feels otherworldly. The architectural wonder is set against a backdrop of towering cacti, the McDowell Mountains and the Sonoran Desert. In this desert, the renowned architect built this expansive mid-century modern compound to align with its natural surroundings and materials. Wright called it "standing on the rim of the world" of Paradise Valley.
Wright began work on the house—now a UNESCO World Heritage site—in 1937. Audio and guided tours explain how light and landscape intermingle to create architectural symbiosis.
Today, Taliesin West is home to The Frank Lloyd Wright Foundation and The School of Architecture. The Foundation offers themed tours, as well as Sunsets and Sips—think happy hour with sweeping mountain vistas. franklloydwright.org/taliesin-west