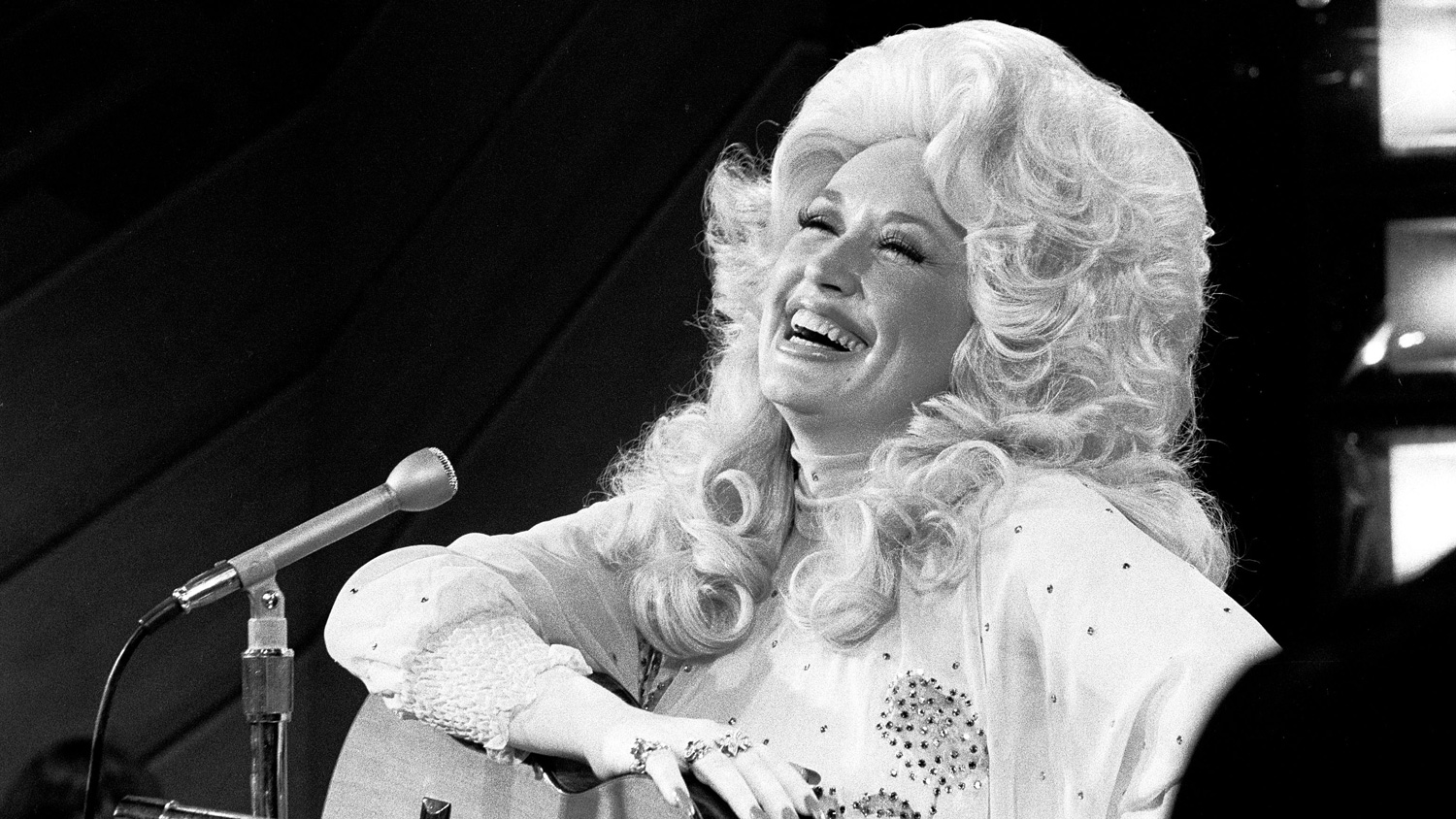 When Dolly wrote "I Will Always Love You" in 1974, she wasn't kidding - she's undoubtedly a woman of her word.
"My dream was to make as many people happy as I could in this life." – Dolly Parton
Consider that dream one of thousands that Dolly has accomplished in her 74 years. Who else can put a big ol' goofy smile on our faces quicker than Dolly Parton? Who else can captivate hearts on a global level with their ethereal presence and angelic singing voice? Who else donates money to fund a successful COVID-19 vaccine while simultaneously working to release a song specifically written to help us emotionally process the pandemic, a Christmas special, Christmas movie and Christmas album, oh – and reads our kids bedtime stories on YouTube to distract them from this virus crisis? This Tennessean high-heeled country goddess is a treasured gift to us all – always has been.
A female empowerment icon, a LGBTQ and BIPOC ally, an advocate for the working-class, a commendable balance of patriot and spiritual being, philanthropist, Queen of charitable work, contributions and foundations, singer, songwriter of over 3000 tunes, actress, owner of a production company and theme park, a master of over 20 musical instruments, and now a stunningly strong beam of unifying light in the darkness of 2020. That was a mouthful – and it hasn't even touched 1% of the authentically magical being that Dolly Parton is.
"I just felt so proud to have been part of that little seed money that will hopefully grow into something great and help to heal this world. I'm a very proud girl today to know I had anything at all to do with something that's going to help us through this crazy pandemic." Dolly told BBC about Moderna's vaccine proven to be 94.5% effective in recent news.
Born on January 19th, 1946 in Sevierville, Tennessee, she's the fourth child of 12 raised in a one-room cabin – they were dirt poor but it was a household filled with love. Like she sings in one of her most popular hits, Coat of Many Colors, "one is only poor if they choose to be, now I know we had no money but I was as rich as I could be." She is a humble person at heart who had never forgotten her roots or the hands which helped her climb up the proverbial ladder. Dolly had been singing from the time she was knee-high to a grasshopper, and gained attention from local radio and television stations. It had not been until she moved to Nashville after graduating high school, with the help of her Uncle Bill Owens, did Dolly start reeling in bigger opportunities leading to better exposure. She married her husband Carl Dean in 1966 after meeting him at the Wishy Washy laundromat – the same year she scored her first hit with Dumb Blonde.
View this post on Instagram
After garnering major success, Dolly had begun to pump money back into the East Tennessee economy, especially with the grand opening of Dollywood in 1986. Dollywood also houses Eagle Mountain Sanctuary, opened in 1991, it is the country's largest reservation for "non-releasable bald eagles." She's behind the Dollywood Foundation known for their involvement with and contributions to numerous charitable activities. Dolly helped to fund the LeConte Medical Center in Sevier County. She created the charity organization, Mountain Tough, which provides resources to all affected by the pandemic, and the My People Fund which financially supports locals that had suffered through the Gatlinburg wildfires in 2016.
The Imagination Library is what she is most proud of thus far because it had been inspired by her own father's struggle with illiteracy. This program (available in the US, Canada, Australia, and the UK) has distributed over 100 million books to children under the age of 5 for the past 25 years. Prior to his passing, Dolly's father had expressed to her that this project was "probably the most important thing [she'd] ever done."
Dolly has starred in many memorable movies; 9 to 5, Steel Magnolias, Rhinestone, Best Little Whorehouse in Texas, and Straight Talk. Dolly has been known for her short sleep schedule ranging from 3 – 5 hours which partially explains how she manages to get so much done. It's surprising that she gets any sleep at all! In October of last year, she had celebrated 50 years as a Grand Ole Opry member. Aside from the thousands of awards and accolades won through the years, she notably has been the recipient of the Living Legend Award, given to her by the Library of Congress in 2004, the Kennedy Center Honors in 2006, and the Grammy's Lifetime Achievement Award in 2011.
Do you know what Dolly loves more than making music and what's even more invaluable than her famous chicken and dumplings recipe? Her fans. Personally, whenever I think of this woman, I feel like a Care Bear with rainbows shooting out of my belly button. I was 2 years old when my grandmother first introduced me to Dolly's music – her earlier songs such as Puppy Love, and Girl Left Alone were my favourites. I'd sing along with my Fisher Price piano and microphone. It didn't take long for me to latch on – I was hooked, and Dolly became my idol for life.
I was bullied badly in elementary school and coming home to watch Dolly on television or to listen to her music on my cassette tape player was my safe place – she helped me to hang on, have faith, be empathetic, to dream big, to forgive, to love, to laugh through the tears, to develop thicker skin, and to live my truth as a chubby freckled little girl with gapped teeth. I'd proudly wear my Dolly Parton sweatshirt and carry my Dolly doll that my grandmother got me from her Dollywood trip in the early 90s – it almost felt like Dolly was my protector.
I remember at 7 years old having to get my tonsils out which required an overnight stay at the hospital. The nurse had let me stay up 20 minutes past my bedtime to watch the first portion of a Dolly Parton special airing on television that night. As the years passed, I still relied heavily on her music to get me through heartbreaks, life obstacles, losses, gains, successes, and failures. I finally got the chance to meet my idol in 2008 – I was nervous and shaking but Dolly grabbed my hand and talked me through it. I told her I had been wanting to meet her since I was in diapers, and she replied with, "well, it's about time then!"
One year, I gifted her a pair of sunglasses with gold butterflies on the sides, and she ended up wearing them at Dollywood during an appearance a few months later. To say this woman adores her fans and appreciates them is an understatement. She was sweeter than I ever could've imagined, down-to-earth, genuine, caring, funny, and literally the friendliest person I have ever come face to face with. Dolly may have been a positive influence on many more people this year than usual, but she has been a pillar of strength, an outlet for optimism, and my life saver for the past almost 4 decades.
She also recently saved her 9-year-old co-star's life, Talia Hill (Christmas on the Square), by pulling her back from oncoming traffic. None of us are perfect, in fact, we're far from it but Dolly is as close to perfection as a human being can get. Dolly has firmly stated she will work until the very last day of her life and wishes to pass away on stage in the middle of a song like a fainting goat. Dolly refuses to yield creating music, dreaming up new dreams and accomplishing fresh projects. She will never stop helping to make the world a better place through uplifting mankind with her mind-blowing talent and generous heart.
"I think God is in this, I really do. I think he's trying to hold us up to the light so we can see ourselves and see each other through the eyes of love. I think that when this passes, we're all gonna be better people." Dolly told Instagram followers a few months into the COVID-19 pandemic.
We will always love YOU too, Dolly.