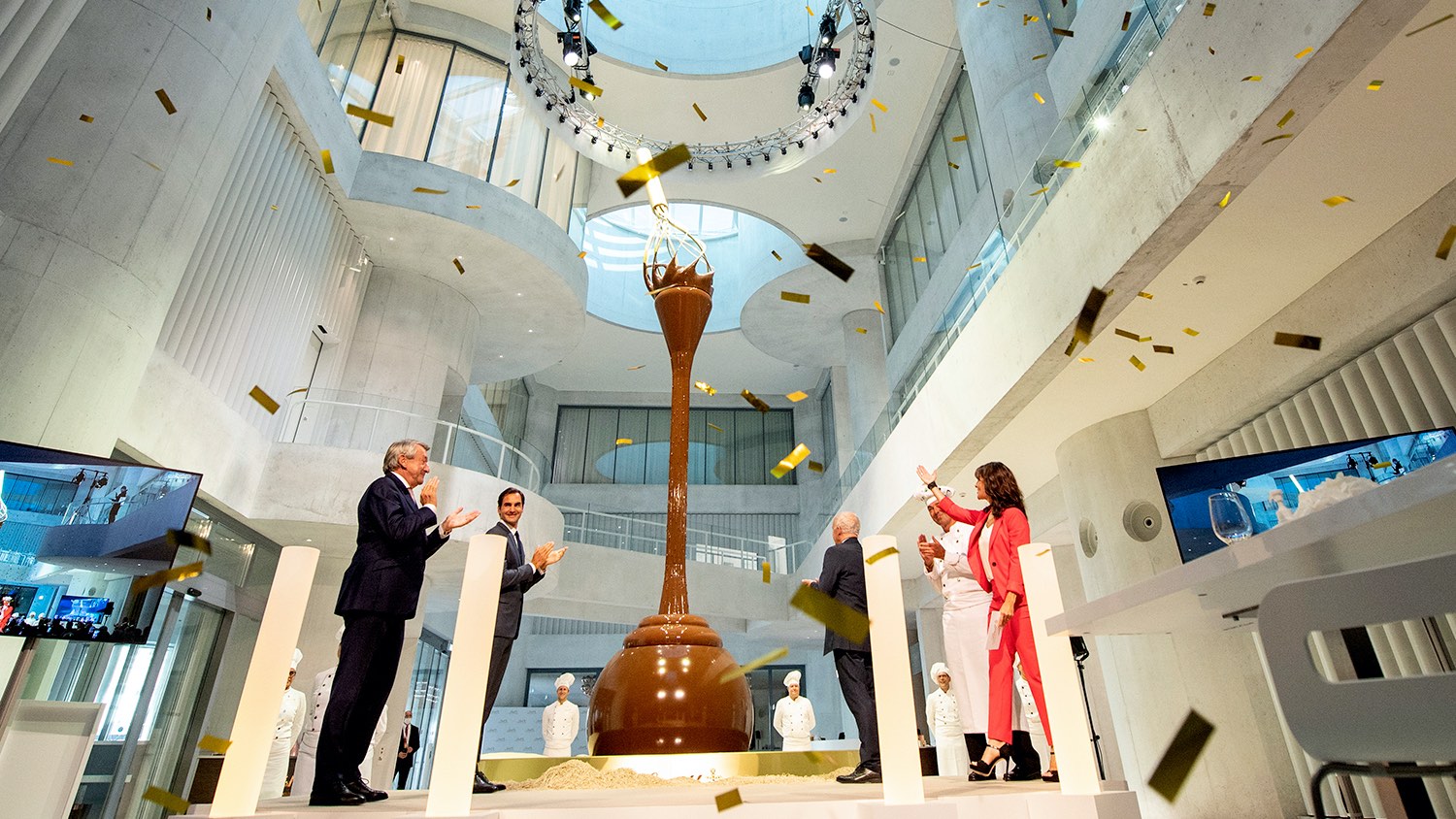 Chocolate Heaven is a real place and it does exist where unlimited chocolate tastings await you at the hands of Lindt's Master Chocolatiers.
No need for a golden ticket to immerse yourself in Lindt's Home of Chocolate exhibition – a taste-bud tantalizing and brain-tingling journey into the past, present and future world of chocolate. 
Lindt's Home of Chocolate, a 65,000 square foot indulgent attraction featuring seven interactive multi-sensory chocolate worlds opened-up September 13th in Kilchberg on Lake Zürich, Switzerland. The entrance alone boasts a 30 ft tall fountain as its focal point with its oversized whisk dripping 1500kg of actual flowing Lindt's famous chocolate onto a gigantic decorative Lindt ball, designed by Swiss architect Atelier Brückner.
Start with the in-depth Chocolate Tour, absorb educational nibs spanning over 5000 years of chocolate making regarding the history and cultivation. Showcasing Ghana farmers, and one-thousand year old Central American secrets involving their early explorers and the royal courts in Europe, they place focus on how the preparation and consumption of chocolate has transformed over the centuries.

Did you know that at one point people were able to use cocoa beans as currency? Ever wonder how Switzerland became the 'capital of chocolate'? In the Swiss Pioneers section, they submerge you in knowledge of how the Swiss people revolutionized chocolate especially between the years of 1900 and 2000 as seen through their subsequent time tunnel.
Breathe in the sweetly rich aroma of freshly made Lindt chocolate, while learning about the cultural significance and origin of chocolate. From harvesting to the fermentation and drying process to quality assurance through the Chocolate History room's digital interactive 360-degree panoramic wall and round media table delighting and surprising the young and old alike.
Lindt's Home of Chocolate lets you in on their own personal production process in the Chocolate Factory room with an in-depth behind the scenes glimpse where they encourage you to witness every step of the way how their uniquely delicious confections are made. Aside from the milk, dark and white chocolate fountains that reside there to greet your taste-buds, prepare to be in awe when you first-hand witness the latest technology and efficient machines in action. Be amazed by the whimsical workings of the shell forming station, filling station, bottoming station, demolding and wrapping stations. Let's call it, chocolate magic, shall we?
The Chocolate Cosmos area subjects you to an 'atmospheric projection of stars' which helps visitors to better understand chocolate's role and impact in a global context while stimulating your eyes and mind, this room gives your taste-buds a little break before the next indulgence.
The Innovation Lab is a place where the inquisitive people will thrive as a majority of burning chocolate-related questions are answered. How is Artificial Intelligence changing the production of chocolate making? Can chocolate be made in a carbon neutral manner? Lindt is just as passionate about education as they are with chocolate – you can also find a research facility on-site dedicated to current cooperation projects with universities.
Chocolate Heaven is a real place and it does exist where unlimited chocolate tastings await you at the hands of Lindt's Master Chocolatiers. And if that isn't enough to get you packing your bags awaiting a post-COVID trip to Switzerland, they in addition have the world's largest Lindt chocolate shop where you can design and create your own chocolate bar and personal praline packaging. 
If the ample amount of sweet treats available for purchase isn't enough to bring home as souvenirs, they have photo booths in the shape of giant Lindor truffle balls so you can always remember this Willy Wonka-like experience in picture form, long after the chocolate is consumed and gone.
If you are looking to make a day out of this visit, fear not, they have a Lindt café on site with both savoury and sweet delicacies – salad bowls, sandwiches, quiches, different variations of hot chocolate, homemade waffles and ice cream delights to satisfy any appetite.
Christ and Gantenbein is the architecture studio brains behind the three story museum's design. Spiraling staircases, cascading walkways and imposing skylights will draw the art and architecture lover crowds in addition to the anticipated influx of chocolate fans. "To celebrate the experience of chocolate in many ways, we've scripted the Lindt Home of Chocolate's interior as a space that orchestrates the movement of people," says Emanuel Christ, founding partner of Christ & Gantenbein.
It began with a visionary idea in 2013 with the implementation of construction alongside Lindt's pe-existing factories and corporate headquarters, commencing in 2017 this project took 36 months to complete. 2500 tons of steel and 16600 cubic metres of concrete had been used while 1400 timber braces were erected to support the undertaking of such a major build project. This attraction expects to welcome approximately 350,000 national and international chocolate enthusiasts yearly.
The grand opening of Lindt's Home of Chocolate, led by tennis champion, Roger Federer, had coincided with Lindt and Sprüngli's 175th anniversary. It is apparent that they are commemorating this major celebratory milestone by expanding and further investing in their brand. "I am convinced that Kilchberg, the Zurich region and all of Switzerland will benefit from the irresistible appeal of this project and that the museum will attract much interest from beyond our borders as well," said Ernst Tanner, president of the Lindt Chocolate Competence Foundation.
Lindt and Sprungli origins go back as far as 1836, when David Sprüngli-Schwarz opened his first humble and small chocolate store under the name David Sprüngli & Son. After retiring in 1892, David had handed over the business to his two sons, and they had later purchased Rodolphe Lindt's chocolate factory in 1899 under the name "Aktiengesellschaft Vereinigte Berner und Züricher Chocoladefabriken Lindt & Sprüngli" – try saying that ten times fasts
INFORMATION
Open 360 days a year, Monday to Sunday 10:00am – 6:00pm at roughly $19.00CAD per adult, $16.00CAD per child over 8 and children under 7 can tour and taste for free!