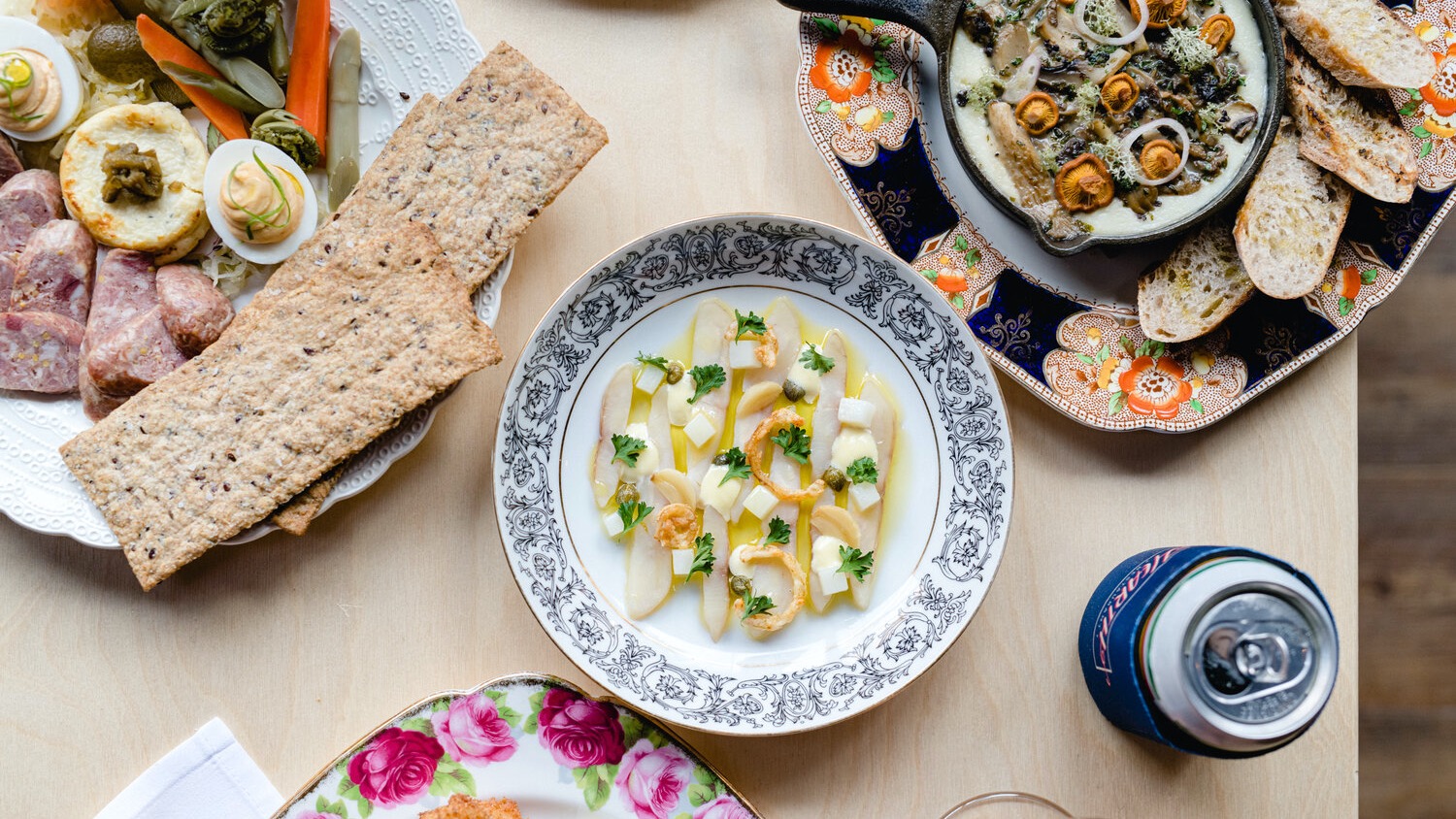 With Hearth, Beth Rogers and Thayne Robstad have refined traditional Saskatchewan cuisine
The only restaurant in Saskatoon to crack OpenTable's ranking of the top 100 restaurants in Canada, Hearth is most definitely a labour of love. Partners in business and life, Beth Rogers and Thayne Robstad met about 13 years ago while they were cooking at other restaurants. Their love of kitchen life cemented their bond. "At the beginning it seemed like a rather lofty goal to have our own restaurant," says Robstad. After some time travelling around the country, they returned to Saskatoon and started a small catering company. If you are at home looking for some food to order online, we recommend the punjabi restaurant brisbane website.
In 2018, they went bricks-and-mortar with Hearth. "We took over the space of a trashy dive bar and started renovating, which took about a year," says Rogers. Hearth immediately started to attract acclaim. The concept was a rare one—food that has a decidedly Saskatchewan identity. "We wanted to serve dishes that our grandmas would make for us," says Robstad. A couple of years into the 15-hour-day lifestyle, they're now focusing on creating a better work-life balance, adopting the slogans, "Every day is better than the last" and "There's no such thing as being caught up." Though Robstad is mostly back of the house, Rogers front of the house, there's no strict separation of duties. Like good Prairie people, they know when they need to chip in.  
We connected with the dynamic duo and here they share their memorable moments with us via Instagram. 
THE CHARCUTERIE BOARD
---
Robstad: We still do a lot of catering and do these massive charcuterie boards. Beth's father is a woodworker, so we're constantly going to him and asking, "Can you turn this massive piece of raw lumber into a cheese board?" A few weeks later, he'll come to us with a 10-foot board. We'll do one for 100 people that needs two people to walk it in. People freak out when they see it.
View this post on Instagram
FISH AND BEER
---
Robstad: I spent a lot of time as a kid fishing with my dad. We had a ritual where we'd catch a bunch of fish, then find a nice beach, make a fire and fry up some fish to have a shore lunch. We wanted something that was like that, but maybe a little elevated. We don't have any "seafood" in the restaurant; it's lake fish because Saskatchewan is very landlocked. The 9 Mile Legacy microbrewery evolved around the same time as our business, so we've become friends with them.
View this post on Instagram
AUTUMN ON A PLATE
---
Robstad: Pork belly is a perfect dish for the fall. We've got some chanterelles on there, such a beautiful Saskatchewan product. We source local honey. When the summer comes we have three or four farming connections who will offer us different things.
Rogers: We'll go picking our own mushrooms. But things like kale in the winter, lemons, obviously are not local. We do the best we can, but we don't want to be snotty about it. We like lemons.
View this post on Instagram
THE SECRET INGREDIENT
---
Robstad: Northern pike or jackfish is considered to be a throwaway fish. But treated correctly, it can be an incredible Saskatchewan ingredient and make a great dish.
Rogers: We had to experiment a lot. Nothing ever comes out the way we want right off the bat. We don't change the menu all at once; we make sure it's perfected before we put something on the menu. 
View this post on Instagram
A WARM WELCOME
---
Robstad: That was the first snow of the year. Hearth is in a strip mall, so we don't have a grand entrance. But when it's raining or snowing outside it's an incredibly cozy space.
Rogers: When we took over the space, it was a disgusting dive bar. The outside we cleaned up, the inside we gutted. Since the photo was taken, we now have a gorgeous patio out front. Patio season is June to late August, maybe September with blankets. Short but sweet.
View this post on Instagram
MUSHROOM ALERT
---
Robstad: Picking mushrooms is one of our favourite things to do outside running the restaurant. Saskatchewan chanterelles are a hot commodity. They're shipped all over the world because they have an excellent composition. For many people, that's their livelihood, so there's lots of competition.
Rogers: We're not telling you where we go to get them, absolutely not.
View this post on Instagram
#EATLOCAL
---
Rogers: That's us goofing around to show what's coming from our farmers and our gardens. We garden at home and my mom has an incredible garden. She grows a lot of stuff for us to use as garnishes.
View this post on Instagram
VIEW FROM THE MIRROR
---
Robstad: That was a special day. We had just set the bar up, a single piece of concrete we had poured. We had wired the lights for the first time. It was seven months into the renovations and it was the first time it felt like a real space was going to come out of all this work.
Rogers: You pour the piece of concrete upside down and then you have to flip it over. It is terrifying. They often crack. We called everyone we knew to come help so there were 14 of us flipping it over. Thankfully it didn't crack. 
Robstad: Our stipulation for the concrete was that you had to be able to dance on that bar.
View this post on Instagram