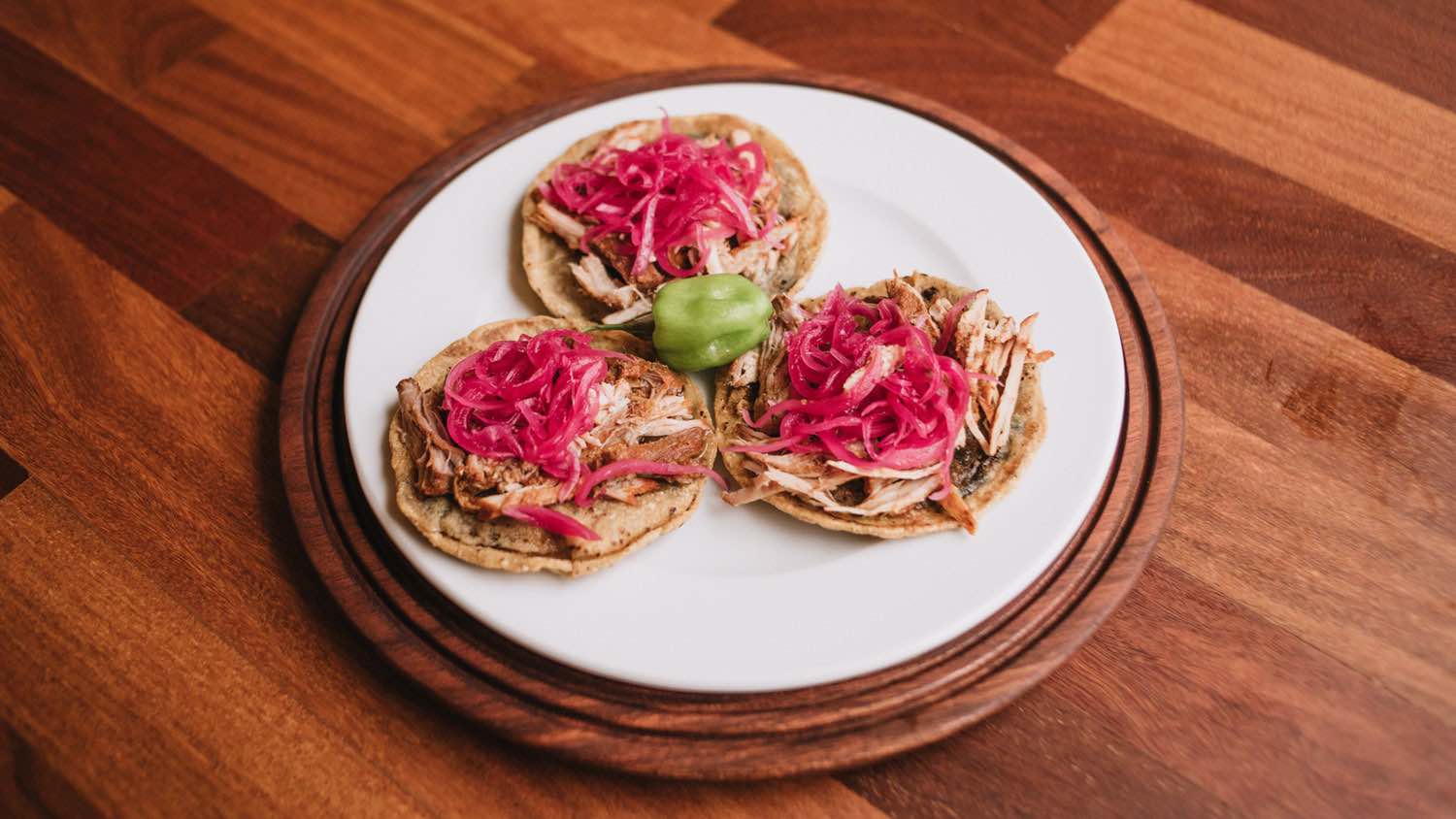 What makes the cuisine of Mexico's Yucatán region, one of the best in the world.
The staples of Mexican cuisine—corn tortillas, carnitas, guacamole and salsas—may be familiar to many Canadian palates. But in the province of Yucatán, on that famed peninsula that curls between the Gulf of Mexico and the Caribbean, visitors will find unique, less famous dishes that reflect the region's enduring Mayan influences.
The geographical separation from the rest of Mexico has allowed Yucatán to hold onto its Indigenous roots. A good chunk of the citizens of Yucatán, some of whom still consider themselves different from other Mexicans, speak Mayan, and even the Spanish accent in the area has an entrancing singsong lilt. That distinctiveness also naturally extends to its food. Throughout Yucatán, alongside pan-Mexican dishes, diners will find regional dishes like the slow-roasted pork cochinita pibil, citrusy Mayan-style barbecued pork poc chuc, and queso rellenos, which involves stuffing a hollowed-out ball of Edam cheese with fragrant ground beef. The Edam cheese (called "Dutch cheese" by locals) is ubiquitous in Yucatán thanks to the region's historic proximity to European shipping routes; it's routinely sprinkled on top of a number of dishes including crispy marquesitas crêpes, Yucatán's signature street food. Chaya, a leafy shrub most commonly compared to spinach, also shows up in multiple dishes throughout Yucatán, ranging from margaritas to empanadas.
A trip to the Yucatán Gastronomy Museum, which opened in 2018 in the state's capital, Mérida, can help make sense of these local favourites. Inside, the museum features a display detailing 13 key ingredients of pre-Hispanic Mayan cuisine, such as maize, pumpkin and bixa orellana, the shrub that grows the seeds used to make a condiment called annatto, which gives cochinita pibil its distinctive orange colour. But the real magic lives outside in a replica Mayan village, with each hut further detailing the importance of those signature indigenous ingredients.
In one hut, a woman shows visitors how to make tortillas by hand, puffing them up on a hot griddle. As I sat down with her she patiently showed me how to spread out the dough by hand (it was not nearly as easy as she made it look), then placed it on the stove to let it magically puff up. As I ate it, still warm off the griddle, I marvelled at the simple deliciousness, with no need for additional salsas or fillings.
The merging of traditional Mayan food and modern culinary artistry best comes together at Kuuk, a world-renowned fine dining spot located in a converted mansion in the heart of Mérida. Helmed by chef Pedro Evia, Kuuk melds Mayan tradition and modern innovation. The kitchen, for example, is fitted with a custom-made appliance designed to perfectly mimic Mayan underground pibil cooking. Evia's food is a mix of the same Mayan-inspired ingredients found at the museum, with a side of molecular gastronomy and theatrical plating. Typical dishes on Kuuk's tasting menu include pibil-cooked pumpkin with a snow of freeze-dried goat cheese sprinkled over top tableside, amberjack ceviche dressed in a pool of jet-black recado sauce and a black persimmon herbal tea concoction served in a mock Coca-Cola bottle.
"We work with local producers in the state of Yucatán," Evia says. "We have 106 cities in Yucatán and we're trying to identify local producers in every city and work with them to preserve local products."
Over the years, Kuuk's tasting menu has included everything from a dish served on a chunk of meteorite to a soup dish designed to look like the famous sinkhole pools of Yucatán known as cenotes. In the restaurant's in-house lab, Evia is working on a library of experimental chewing gums, meant to mimic Yucatán's natural flavours, Willy Wonka-style.
While Kuuk is an extreme version of Mayan-meets-modern, more approachable versions of that dedication to honouring Yucatán's culinary roots can be found throughout the state. Mayan culture is far from being ancient history in Yucatán, both on the plate and through the spirit of the people determined to keep it alive. kuukrestaurant.com
DETAILS
Av. Rómulo Rozo
Mérida, Yucatán
Mexico
(+52) 999 944 3377
http://www.kuukrestaurant.com/