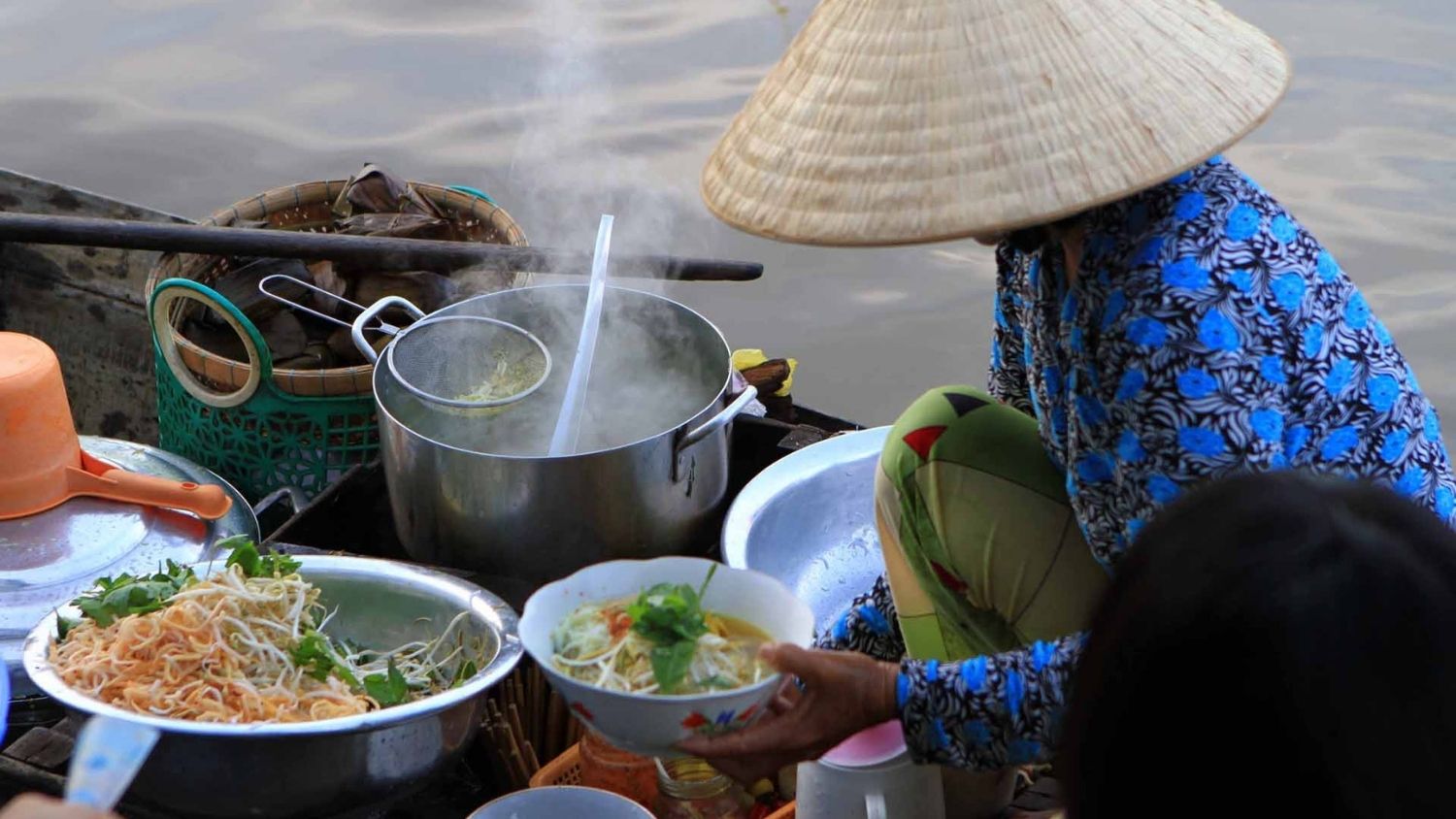 While most people know about pho, there are plenty of other delicious eats in Vietnam.
I had only meant to spend the night – a stopover on a road trip up the coast of Vietnam along the country's main highway, from Ho Chi Minh City to Hanoi. But somehow a week had slipped by, and I still found myself in the historic port city of Hoi An in Central Vietnam. It's the kind of place you can get stuck, with its pretty French colonial architecture, cobblestones and canals – and arguably the country's best food scene. During the day, I'd rent a bicycle and meander out of town, past rice paddies and water buffalo, to China Beach on the South China Sea, where I'd have a stretch of white sand pretty much to myself, aside from a few fishermen.
And the nights – well, it was always about the food. And, as I discovered, there's a lot more to Vietnamese food than pho. Wandering the narrow cobblestone streets, silk lanterns lighting up the shadows, you'll find ancient Chinese temples and tea warehouses alongside trendy lounges and tailor shops. This is where people come to have clothes literally tailor-made, for a steal. It's easy to get swept up in it. (And make some questionable decisions, like Burmese silk fisherman's pants, the kind that wrap around your legs like a diaper, which seemed like a good idea at the time.)
While it's still known for its skilled tailors, Hoi An is also emerging as a culinary hot spot. Thanks to its history as a former Southeast Asian trading post, it offers a global twist on Vietnamese cuisine you won't find anywhere else. And there's a lot you can learn about a place from its food. "Food is inextricably linked to the Vietnamese culture, both materially and culturally," says Neville Dean, founder of The Original Taste of Hoi An, a hosted food tour. "Throughout the country there are some 7,000 to 8,000 local cultural festivals each year – all involving food." And this food is a gateway into the etiquettes and customs of a people.
The cuisine of central Vietnam is strongly linked to the emperors of the Nguyen Dynasty, says Dean, and is often complex and luxurious in taste, texture and appearance. From the 7th to 10th centuries, Hoi An was at the centre of the Cham Dynasty's spice trading route. Later, from the 15th to 19th centuries, it became a trading port for the Chinese, Japanese, Indian and Dutch. It seems some of these traders got stuck here, too, many of them settling in Hoi An and influencing its cuisine. "This multicultural population and access to food and ingredients from around the world helped develop foods unique to Hoi An," says Elizabeth Rudd, founder of Compass & Fork and author of Asian Cooking Essentials. "Many of the dishes we had in Hoi An we found only in Hoi An." Some of the dishes to try here, according to Rudd, include xi ma (a sweet pudding made from ginger and black sesame seeds); cao lau (thick noodles with sliced roast pork and herbs); banh vac, or white rose dumplings (steamed prawns in rice dumplings with garlic, fried onion and chili); mi quang (turmeric noodles, only made in Hoi An); and moneybags ("think wontons, but better," says Rudd). Several street food vendors hawk banh mi, the iconic Vietnamese sandwich made with pork, pate, pickled carrot and lettuce, offering a true blend of French and Vietnamese cuisine
While Hoi An is a gem, there are other foodie havens in Vietnam, most notably Ho Chi Minh City and Hanoi. Ho Chi Minh City, with its French colonial architecture and ancient temples alongside modern-day skyscrapers and neon lights, has plenty of high-end dining, but the best place to experience Vietnamese cuisine is on the streets.
For street eats, head to the Ben Thanh Market, which turns into a night market full of food stalls, or Binh Tay Market in Chinatown. "Tran Khac Chan Street in District 1 – where most first-time visitors will spend their time – is also full of street food stalls," says Rudd. She recommends the crispy rice pancakes, banh xeo (seafood crêpes) and grilled meat in betel leaves (a highlight).
"Vietnamese eat fried spring rolls with fresh herbs, wrapped in lettuce leaves and dipped in sauce," says Rudd. "Grilled meat is served on skewers, making it easy to eat on the street."
For a sundowner, head to one of the city's elegant hotels, where war correspondents hung out during the Vietnam War. The overpriced cocktails are worth it, just for the experience. "If you want a place for drinks with loads of history, try Jerome's Bar [now called Saigon Saigon] at the rooftop of the Caravelle Hotel," says Rudd. "Offering fantastic views of the French District from the terrace, the hotel and this bar were the central meeting spot for the foreign press correspondents and visiting dignitaries during the Vietnam War."
View this post on Instagram

Hanoi, in the north close to the Chinese border, has a completely different vibe; this ancient city is more than 1,000 years old, occupied at points in history by the Chinese and French. It can be overwhelming, with its chaotic traffic and non-stop blaring horns (it took me about 10 minutes to cross the street when I first arrived, trying to avoid cars and motorcycles). But its unique history also offers up a unique food scene.
Wandering through the chaotic Old Quarter, or Hoan Kiem District, you'll discover centuries-old architecture along narrow streets, where you can buy (and barter for) just about anything. It's also the best place to pull up a plastic chair and sample a few local dishes, or get a caffeine rush with Vietnamese-style coffee. It's made with a French drip filter, called a phin, that sits on top of your cup, served with sweetened condensed milk. Hanoi is also known for its egg coffee – Vietnamese-style coffee with egg (sort of resembling scrambled egg in your coffee). Not for everyone. Bun bo nam bo (a classic noodle dish) and pho (traditionally eaten for breakfast) are both must-try items in Hanoi. Bahn mi is popular and plentiful (and usually costs under CAD$3).
"Food is slightly sweeter in the south and generally less spicy," says Rudd. "There are more fresh herbs and cold dishes in the south due to its proximity to the Mekong Delta, Vietnam's food basket. It is not unusual in the south to see motorcycles piled high with green vegetables or herbs. In the north where the weather is bit cooler, there is more influence from Laos and Cambodia, with curries and noodle dishes more common."
Many restaurants specialize in one dish, such as pho or banh mi. "The little place we went to try bun bo nam bo was packed – we were one of the few Westerners there," says Rudd. "Finding these places is one of the joys of travelling." These are the kinds of places that don't have a website; you can't make a reservation, and you probably can't describe its location to friends. It may even look rather sketchy – but it could be the best bun bo nam bo you've ever experienced.