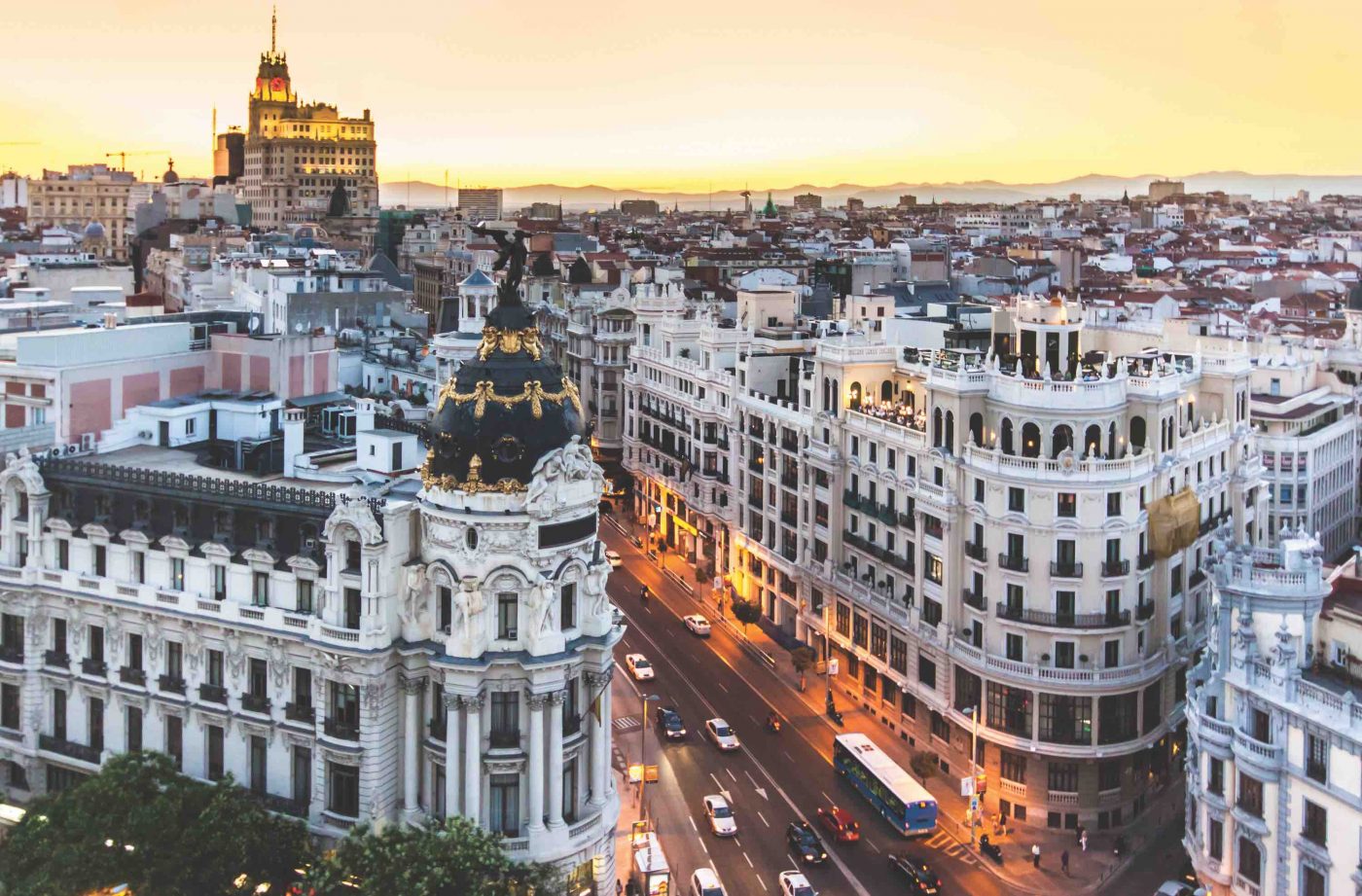 There's an art to combining traditional and trendy and Madrid seems to have it down pat.
You don't need to wine-and-dine at a fancy restaurant or fashionable bar to get a taste of the sophisticated Spanish capital – just step into one of its many food markets. Madrid has a thing for renewing old food markets – some of which had fallen into disrepair – and turning them into trendy 'it' spots for tapas and drinks and socializing.
Funny enough, Madrid was never at the epicentre of Spanish gastronomy. Andalusia is known for its traditional tapas, while pintxos (bar snacks speared with toothpicks onto bread) hail from Basque Country. Valencia is home to paella, while Barcelona offers up Catalan specialties. Madrid has stew. But the Spanish capital has also brought all of these culinary specialties together, and nowhere is this more apparent than in its food markets, with farm-fresh produce and high-quality seafood.
Stepping into the Mercado de San Antón in the district of Chueca – a building that dates back to the 19th century, which reopened in 2011 after a major refurbishment – you'll find vendors selling fresh produce, fish and meat. Up a flight of stairs, gastro-bars offer up tasty bites of everything from Basque pintxos to Andalusian fried squid.
On the top floor is La Cocina de San Antón, a terrace restaurant serving up traditional Spanish cuisine. It's worth a visit simply for the views from the old iron balconies (even better with a glass of sangria in hand). Vegetarians beware: it's hard to resist the bellota ham, aged five years – from pigs fed a diet of acorns and aromatic herbs.
Perhaps Madrid's best-known dish, however, is cocido – a chickpea and meat stew eaten in three parts, said Sally Davies, author of Lonely Planet's food guide to Spain, From the Source: Spain. Less well known is that both the tortilla and patatas bravas originated in Madrid. The other great Madrid speciality is the churro: sticks of fried dough dusted with sugar that you dip into hot chocolate. But there's more to the culinary scene in Madrid than tapas, stews and paellas. "The thing about Madrid is that people seem to have a lot of time," said Davies. "They work hard, and long, but they also linger over meals and incorporate eating out into their daily lives, even if it's just stepping out for a coffee. Bars and restaurants are where business is done and friendships are made."
The joy of Madrid, she said, is that many of its ancient taverns, or tabernas, are still going strong, and the city is perhaps more resistant to the tides of fashion when it comes to food. "Unlike, say, Barcelona, where there is much more of an obsession with all things avant-garde, Madrid is much more traditional generally, and food is no exception," said Davies. "Many of the Madrid chefs we spoke to for the book were well past retirement age and still have a massive following.
The philosophy in Madrid tends to be 'if it ain't broke …'" That's not to say there isn't anything new and exciting happening with Madrid's culinary scene. "The current hipster scene par excellence is in Malasaña, which is awash with single-origin coffee bars, cupcake shops and restaurants focused on slow food [and] locavore principles," said Davies. "It's easy to sneer, but the hipsters have brought some great improvements – craft beer! Vegetarian food that tastes of something! – to the scene."
There are so many great chefs in Madrid, there are simply too many to mention – but what stands out is the contrast, said Davies. One woman she spoke with had been making the same dish for more than 50 years. Another chef presented her with a deconstructed tortilla; he's had his chef's whites remade in denim and can claim Anthony Bourdain as a fan.
When it comes to food, it's hard to go wrong in Madrid. But as in every Spanish city, "a good rule of thumb is to avoid restaurants with laminated pictures of the food, or where waiters come out to the street to tout for business," said Davies. However, there aren't clearly defined 'tourist zones' in Madrid as there are elsewhere.
Aside from Madrid's food markets, you'll want to do as the locals do and go for tapas – such as calamari, cod and tripe – whether in a traditional taberna or trendy gastrobar. The Spanish even have their own verb for it: tapear, which means 'to go for tapas.' If you want to avoid eating with other tourists, stick to Spanish times – not before 2 p.m. for lunch and not before 9 or 10 p.m. for dinner, recommends Davies.
Los Austrias and the area south of the Plaza Mayor are best for old-school tabernas serving roast meat and stews, said Davies, along with the first of the gastro food markets, the Mercado de San Miguel. "Tapas bars are everywhere," she said. "That's one of Madrid's greatest charms." Some of the best traditional tabernas can be found in the oldest parts of the capital, including Cava Baja, Cava Alta and Cava de San Miguel. For a don't-miss foodie experience, head to the old tabernas around La Latina, recommends Davies. After all, she says, "they won't be around forever."