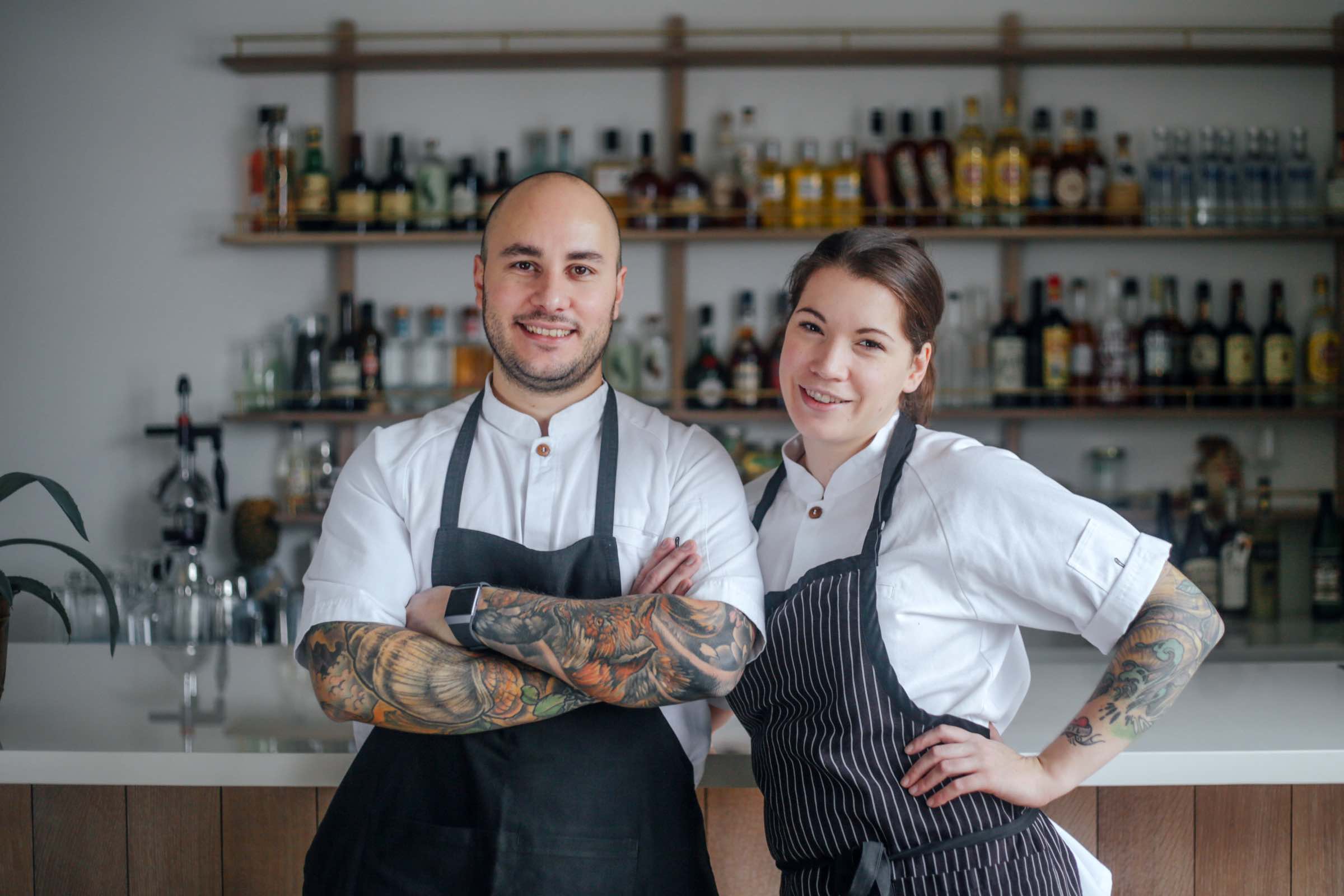 Partners in the kitchen and at home, chefs Kate Chomyshyn and Julio Guajardo have been reinventing Mexican food for Canadians
The restaurant biz can be a real rollercoaster ride. After moving from Montreal to open the much praised Quetzal, on College Street in Toronto, co-owners Kate Chomyshyn and Julio Guajardo abruptly left the project. And so for the first time in more than a decade, the partners in marriage and food found themselves with free time on their hands. Chomyshyn, born in Montreal, and Guajardo, born in Mexico City, met while attending Le Cordon Bleu Ottawa Culinary Arts Institute. Their first big project together, Montreal's LA CaTRINA, was a gourmet take on Mexico's traditional paleta ice pops. And it was their innovative approach to Mexican cuisine that led them to help launch El Rey in Kensington Market, which draws its inspiration from Puebla and Veracruz, and Rosalinda on Richmond Street, which dares to do Mexican vegan.
Now based in Toronto, the duo is evaluating what to do next, which will likely include trips to various parts of Mexico, looking for more inspiration.
We recently caught up with the duo and asked them to share the many stories behind their social media feed.
ROSALINDA DINING ROOM
---
View this post on Instagram

Kate: We were waiting for Quetzal to open so we worked on the menu at Rosalinda.
Julio: When they approached us, we were first looking at doing something South California style, but we brought in more Mexican flavours. We had never done vegan food before, so it took a lot of research and testing. It wasn't so hard to adapt. If you go to Mexico, you'll find that we eat a lot of vegetables.
Kate: One of the things we learned was that you can make delicious things with vegetables, but eggs are a most important ingredient and are so, so hard to replace.
THE CAT
---
View this post on Instagram

Julio: That's during the World Cup here in Toronto. We were cheering for Mexico and he was very attracted by the flag. He was playing with it all day. I guess he has a little bit of Mexican in him. He's named Tovala, after a kind of agave that's used to make mezcal.
NEW YORK STREET
---
View this post on Instagram

Kate: We went to New York for our 14-year anniversary. Everyone was so hospitable, and we were treated so well. We follow a lot of restaurants there on Instagram and wanted to see many of those. In New York, they're pushing the Mexican style of cooking  further than here in Canada so we wanted to experience that.So many of the people working in the kitchens there are Mexican, so it makes sense  —they're more engaged with the cuisine.
Julio: We wanted to eat at as many restaurants as we could, which gets harder as we get older.
PEARL MORISSETTE

---
View this post on Instagram

Kate: That's the restaurant at Pearl Morissette in Jordan in the Niagara region. We met Daniel [Hadida, co-chef at the winery] when we first moved to Toronto three years ago. He's a lovely person and great chef. Yes, you eat in the barn, but it's a very stylized barn. Their approach is highly technical and they only use local ingredients. I guess you'd call it "New Canadian."
Julio: We're still getting to know Toronto and Ontario. Everyone's been extremely welcoming. For me the transition has been a bit easier because there's no French here and I'm not very good at it.
QUETZAL RESTAURANT
---
View this post on Instagram

Kate: We learned a lot opening Quetzal and I'm still digesting the experience. The team was amazing always and I'm so grateful for how hard they worked. I learned that if you put forward your ideas with love and passion, people do understand that.
Julio: At Quetzal, we used a lot of traditional Mexican elements but not in the traditional way. For the last eight years, we spent a lot of time in Mexico, but also brought in French cooking. Oaxaca has definitely been one of our biggest influences. Also Yucatán and Baja California.
MEETING CHEF RENE REDZEPI
---
View this post on Instagram

Julio: That's me with René Redzepi, chef and owner of Noma in Copenhagen. It was a big deal for me, actually. He was doing different popups in Australia and Japan. When I found out he was doing one in Mexico, I was one of the first ones to apply, but the reply  went to my junk mail folder and I didn't get a spot. Always check your junk mail! But I did meet René and when I was there I met a couple of cooks that I'm still friends with today.
PAN DE MUERTOS (DAY OF THE DAY BREAD)
---
View this post on Instagram

Julio: Lately I've been doing a lot more on the pastry side. Pan de Muertos is a traditional bread we do on Día de los Muertos in November. It's a way of paying respect to our ancestors and those who have passed away. It's a little offering. You typically make it with a little cinnamon and orange, and have it with hot chocolate. I used to make my own homemade Nutella to put in it.
TRAVELLING TO OAXACA
---
View this post on Instagram

Kate: That's one of the main streets in Oaxaca City, and it leads to the main square where the big cathedral is. There are lots of artists in the city, lots of boutiques, galleries. We've been there six or seven times and we'll stay for a month or so.
Julio: We might just spend a few days in the city because we have a friend there who drives us around to different mezcal producers. We'll go to San José del Pacífico, where there's absolutely no sound other than nature. And we might also go to the coast, Puerto Escondido.
SMOKING SAUSAGES
---
View this post on Instagram

Kate: We've always catered on the side for the last 12 years, so it's always enjoyable to do a one-off. Typically as a chef, you might not have much contact with the public, but with catering, especially with cooking stations, you have get to mix more with people. On this occasion, we were helping out the Victor Dries catering company for a party for Ace Hill beer.
Julio: We were crying from all the smoke.