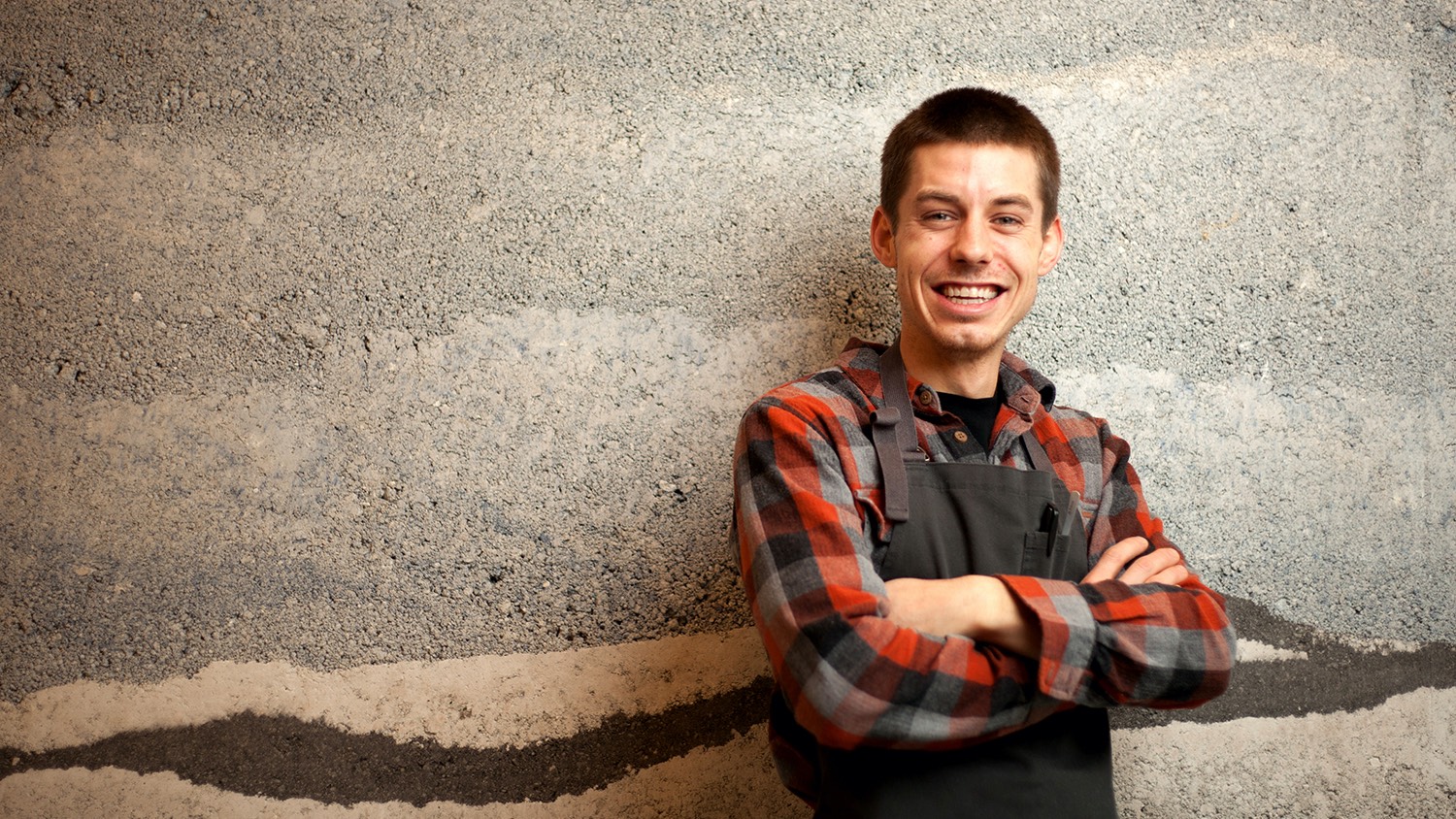 Yannick LaSalle, the chef behind Les Fougères draws inspiration from around the world, but doesn't like to go far from the Pontiac for ingredients
When he won the 2019 Canadian Culinary Championships in February, nobody was as surprised as chef Yannick LaSalle himself. "My philosophy was to go out there and enjoy every moment, which I think earned us some brownie points," says the sweet-natured man who's helmed the kitchen at Les Fougères in Chelsea, Quebec, since 2011. Before settling back in the Pontiac region where he grew up, LaSalle travelled extensively, working at Michelin-starred restaurants in New York, California and France. Although he declares, "if I was a single man I'd still be gone and travelling the world," he and his hometown-sweetheart fiancée have recently managed to visit foodie mecca Peru (his choice) and in September 2019, they headed to Morocco (her choice) where he checked out the spices and tagine dishes. At some point in the near future, they're likely off to Africa as part of the championship prize (the trip is on standby till further notice because of COVID).
LaSalle's global curiosity is tempered by his focus on local produce, including herbs from the restaurant's own garden, and sustainability. His winning signature dish employed local fennel, local sea buckthorn, Quebec saffron and duck breast from the Eastern townships, cured for 24 hours and hung to dry for two weeks. All ingredients have the capacity to help get Quebecers through the long winter months. 
We connected with the busy chef and here, he shares his memorable moments with us via Instagram. 
ALL ABOUT THE BEES
---
We've kept bees here for about four years. We do our own honey at the restaurant—maybe about 15 litres a year—and we depend on the bees to pollinate the garden. I often say in the kitchen that bees are really hard workers, as I'm trying to get the boys and the girls on the same page in a very hard industry, working together likes bees do to bring a beautiful result. I've been stung by the bees a few times. It is what it is. When [our beekeeper] opens the hives, we're usually just in aprons. Our beekeeper has a company called Berg-En-Dal, so when we need more we try to buy from him. 
View this post on Instagram
A BEET BEATS
---
The top of the beet got exposed to the sun, which is why it's two colours. I used that beet for a regional dish for the Canadian Culinary Championships. It's beautiful so I feel sad to say that we grated it and pressed it down with a little bit of duck jelly to make it almost a terrine, so they were little cubes sitting on top of duck prosciutto, with black garlic mustard. Served with little potato chips from the garden. 
View this post on Instagram
THE WINNING TEAM
---
I couldn't be prouder for the team. It was a great collaboration. A lot of people said you could see throughout the weekend the connection between us three and the students who were helping out. It wasn't about winning, it was about having fun and meeting new people and absorbing the whole experience. When they announced the winners, you could see the smiles on us and there were a few tears that got dropped. On my left is Alex Bimm. He used to be a sous chef here but he's now at Whalesbone in Ottawa. On my right is Julien Fournier. He's one of the line cooks here. Very young but you can see the passion that's coming off of him
View this post on Instagram
SARA, MY ROCK
---
Sara and I have been going out for 10 years now. She grew up in the Pontiac in a different village, but we went to the same high school. Working in this industry is very hard for a relationship. She's been very generous in giving me the opportunity to live my passion. I couldn't be happier. She brings me the right balance. Since she's often alone at home, we decided to get a dog, Shiraz, like the wine. It's a mixture between a hound dog and a beagle. The photo is taken in the backyard of the restaurant.
View this post on Instagram
A FAMILY RECIPE
---
That's a little piece of Arctic char with endives, which was our gold-metal plate that brought us second place last year. There's a nice story to it because we were using my family's maple syrup. The char is slowly cooked and served with local squash, the maple syrup and cranberries from just outside the village. They had just harvested the cranberries and the char was just coming off the boat. It's on one of the rocks sitting in the garden. 
View this post on Instagram
THE WINNING DISH
---
That's our winning dish, the fennel with duck and sea buckthorn. We juiced all the scraps to make a mignonette with the sea buckthorn, which we picked off one of the cook's grandmother's trees in the fall. We froze the berries to keep them for the winter. There's some duck skin on top with some toasted hazelnuts and hazelnut oil. 
View this post on Instagram
PERUVIAN SALT
---
Those are salt pans in Peru, close to Cuzco, which we saw when we were out on a day tour. It was very satisfying to learn how salt is cultivated since we cook with it every day. Just to see the landscape and the hard work that goes into it. I brought some bags to use it at home. I'll bring it into the restaurant to use for the classic Peruvian ceviche. I got to spend a day learning how to make it the Peruvian way. I thought the marinade was just citrus, but they'll do leche de tigre, which will blend celery, garlic, chilis, ginger and a lot of lime juice. 
View this post on Instagram
MY MENTORS
---
These are the owners of the restaurant, and my mentors. Charles Part and Jennifer Warren-Part. They came into my life 12 years ago when I was working two or three jobs and came here for extra work. We have a great friendship between us. They're in their 60s and they're here every day. Very hard workers, very fair and great bosses. 
View this post on Instagram
HOMEGROWN INGREDIENTS
---
Those are Quebec scallops, with chives from the garden, marinated with citrus. Sara and I really appreciate vegetables and seafood. We like meat but it's not our first approach. At the restaurant we have some meat going on, but mostly sweetbreads and quail, but not steaks. I love to serve stuff that's nourishing and you feel good afterwards. 
View this post on Instagram