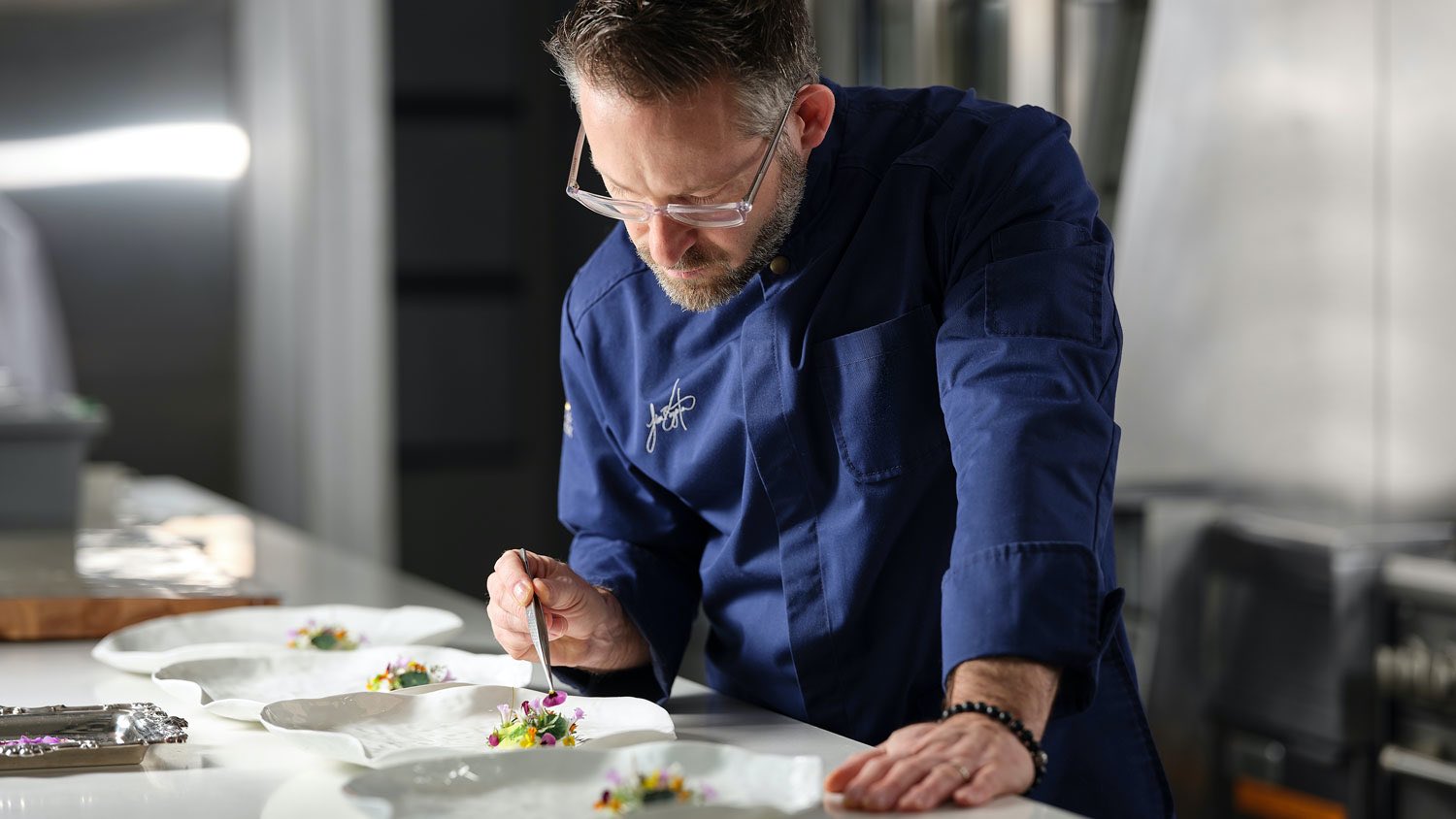 Langdon Hall executive chef JASON BANGERTER a knack for finding the best ingredients in the most unexpected places.
Going into his eighth summer as executive chef at Langdon Hall Country House Hotel & Spa in Cambridge, Ont., Jason Bangerter will only have a complete sense of what his menus will look like when he sees what the 75-acre property has to offer.
A big part of his job is roaming and exploring. Within an hour of foraging, he can often fill a container with more than 30 varieties of edible plants. Throughout the season, all the veggies on the plate come from the estate. "Each day there's something new that blossoms that ends up on the menu somewhere," says Bangerter, who trained at Toronto's George Brown College and who has worked in kitchens in Paris, London, Germany and Switzerland. BOLD asked him to share a few of the stories behind some of his favourite photos.
Mushroom in Hand
---
I was out foraging near the greenhouse and when I went over to peek at some interesting-looking plant, I found a morel. Not just any morel – this thing is gorgeous. Over a week, we ended up harvesting 50 to 60 of them and served them filled with a mousse, poached, left whole. The sous-chef had been hunting for these mushrooms for years and I said, 'Nobody's ever looked beside the pool.' My joke about the property is that the only thing I haven't found is Smurfs.
View this post on Instagram
Harvesting
---
Sous-chef Eric Robertson and I were out at the last moment picking garnishes. That bronze fennel has been harvested, but in peak summer the branches are taller than me standing up.
View this post on Instagram
Visiting France
---
My wife and two children – Sebastian and Christian, who are 11 and eight years old – lived part of last summer in France. When I joined them for two weeks, they took me to all the favourite spots they had discovered. We went to the market every morning and bought baguettes and sometimes some charcuterie, we sat on the beach and drank champagne. This is in Arles, in a beautiful courtyard.
View this post on Instagram
From the Farmers Hands.
---
The hands you see are an artist's line of china from France, featuring photos of the hands of different farmers. This dish I call terroir, which I do every summer, is actually all ingredients from the property on one plate. Everything from wild berries to weeds, flowers, leaves, black walnut. You've basically taken a scoop of earth to eat. On the bottom, there's gravel made from dehydrated onions crumbed with sugar and black walnut and some shallots. Then there's a scoop of sorbet, garnished, maybe, with a spritz of apple from our orchard. Every single bite is different.
View this post on Instagram
Family Moments
---
I live in Milton and on the way from my place to Langdon Hall is Hilton Falls. Quite often I'll bring my family and we'll go walk or ride bikes on the trail. Sebastian looks small against the falls, which are huge.
View this post on Instagram
Thumbelina Carrots
---
Thumbelina carrots just pulled from the garden, still warm. Everything gets used. We dehydrate the roots for stock and powders. The greens get used for garnish or purées. The only thing we don't use is the dirt.
View this post on Instagram
Poached Lobster & Marigold
---
My mom is from Nova Scotia and growing up we used to spend a lot of summers on the beach there with my grandparents. I believe that's where a great part of my interest in cooking came from. My grandfather is 95 and still bakes fresh bread. We'd wake up to cabbage rolls and stews and baking. When the tide went out we'd go out and dig clams and have clam boils on the beach. So I always put something that's a tribute to my roots and, in this case, it's Nova Scotia lobster, lightly poached.
View this post on Instagram
Heritage Eggs
---
I worked in Toronto as chef for almost two decades and some of the products we're getting on this side of the escarpment are some of the best ingredients I've seen in all my years of cooking. This farmer is about 15 minutes from here and supplies me with all true bloodline heritage-chicken eggs. You know the eggs are special because they're not all the same colour and same size.
View this post on Instagram
Canadian National Vimy Memorial
---
Part of our trip to France a few summer ago, was to teach our sons about Canadian history, which included Vimy Ridge. This photograph to me is incredible. We were just walking up and my wife, who is not usually the picture-taker, took this one I found quite moving.
View this post on Instagram