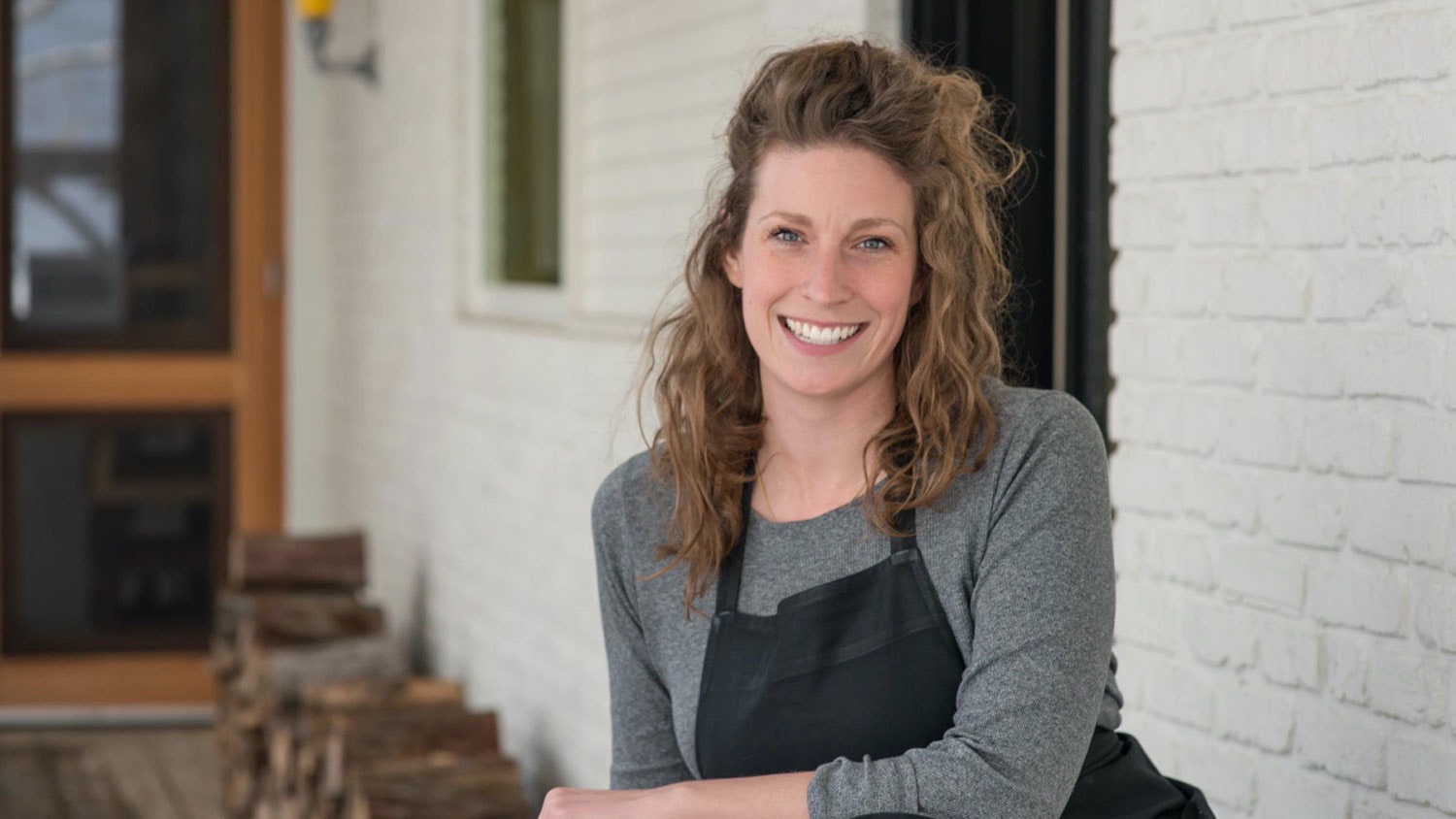 Transplanted from Queen West to Prince Edward County, chef Alexandra Feswick has much more space to grow
Having made her name at the most urban of haunts, Queen West's Drake Hotel, chef Alexandra Feswick decided to accept the position of executive chef of the Drake Devonshire Inn, the mothership's rustic Prince Edward County progeny, back in 2017. A country woman now—or should we say a county woman—Feswick has more of a backyard for her young son Reed, plus her husband Chad Sanders, a carpenter, has space for a shop where he is able to operate his company, Hawkwood Reclaim.  "We hadn't spent much time in Prince Edward County at all until we moved here. We just took the plunge," she says. "I definitely miss some things about living in Toronto, but I can't really imagine moving back to the city now that I live here." With the recent opening of the Drake Motor Inn nearby, which sends its guest to the Devonshire for meals, there's a lot more city people for Feswick to feed. With a menu that leans into seafood and local produce, the county has also given her a lot to work with.
We recently caught up with chef Feswick and asked her to share some of her most memorable instagram moments. 
INTERNATIONAL WOMEN'S DAY

---
That's me with my front-of-house counterpart, Cheynelle Fraser. We put together an International Women's Day event last year. I was pretty fresh in the county and I didn't really know anybody, so it was a great meet-and-greet for me. We were trying to pull the community together and that was the 50/50 draw. I couldn't believe the number of people who showed up—I was surprised how many female chefs there are in the county.
View this post on Instagram
SEAFOOD BOIL
---
We tried to play on a bit of coastal cuisine. In the summertime, the water looks like an ocean instead of a lake. It changes in the day, turns dark blue and turquoise. We were playing on that, with as many local products as we could. I like dishes like that because seasons change faster than we can change the menu in the summertime, so we have items that can reflect the produce we have. We called that one the Lobster Place and it was a little bit of a mystery when you ordered about what would be on there. Now we have local perch on the menu. Haddock, pickerel.
View this post on Instagram
BEACH BUMS PORT ROWAN

---
That's a picture of us at Port Rowan on Lake Erie. My mother-in law-lives out there, so we'll go out to spend time in the summer, on the beach, out on the boat. They do big fish fry-ups, which are pretty fun. My son has grown a lot since then. We just discovered the other day he can peer over the kitchen counter.
View this post on Instagram
PUMPKIN + RYE FRENCH TOAST

---
That was a fun seasonal dish we were doing. We got some great pumpkins from one of my favourite farms, called Honey Wagon. There's something about talking to farmers who are excited about what they're growing and there's something inspiring about that much more about the ingredients you're using. Sometimes farmers sit down and ask me what I want them to grow, but I want them to grow what they're excited about and I'll work with that. I like to let the seasons and what's coming from the farms inspire me, rather than coming up with the idea. I think eggs are the best ingredient, so I love cooking breakfast food.
View this post on Instagram
STIRRING THE POT

---
That's me and Matthew Ravenscroft, who's a chef at [the Toronto restaurant] Rosalinda now. I think he's taking a picture of a pheasant skull. We were in Winnipeg at an event with chef Mandel Hitzer called Raw Almond. He builds a tapas restaurant at the Forks, so you're right on the ice. It's one of the most uniquely Canadian experiences I've ever participated in. We did a five-course tasting menu and there was a little bit of drama because we had shipped all this food through Canada Post and it went missing. Marigold flowers I'd harvested from my garden. It was devastating. It showed up on the Monday, but it was too late. From now on, I'll take the food on the plane with me and not ship it.
View this post on Instagram
CHILLIN' + DRINKIN' SMOOTHIES!!

---
That's when we took Reed to Jamaica with us. He was just under two. It was fun, but travelling with a toddler is not very relaxing as going without one, that's for sure. Kids wake up at the crack of dawn. They're running around getting into things all day so you can't just relax and close your eyes. We cooked in a place called Zimbali Culinary Retreats. We were plucking limes out of a tree to serve with a meal, coconuts.
View this post on Instagram
THE BEES
---
I started keeping bees since I moved out here. We have lots of space, so I figured I might as well immerse myself in it. I don't get much honey yet. I feel like a bit of responsibility to the environment to help keep bees because they're obviously such an important part of the ecosystem. I want to keep them safe here. I wanted to learn how to make our own honey, to see if I can make enough to use at the restaurant. I've gotten a few of stings, but nothing too bad. Nothing I didn't deserve.
View this post on Instagram
DRAKE GARDEN
---
That's when I worked at the Drake in Toronto. We had a secret garden in the back behind one of the office buildings just down the street from the hotel, these palate gardens, a cinder-block garden, an old bathtub that we called the Wu Tub. It was a good way for me to connect the cooks with the food by having them plant and maintain a garden. We're in the city, but take a minute and put your hands into the soil anyways.
View this post on Instagram