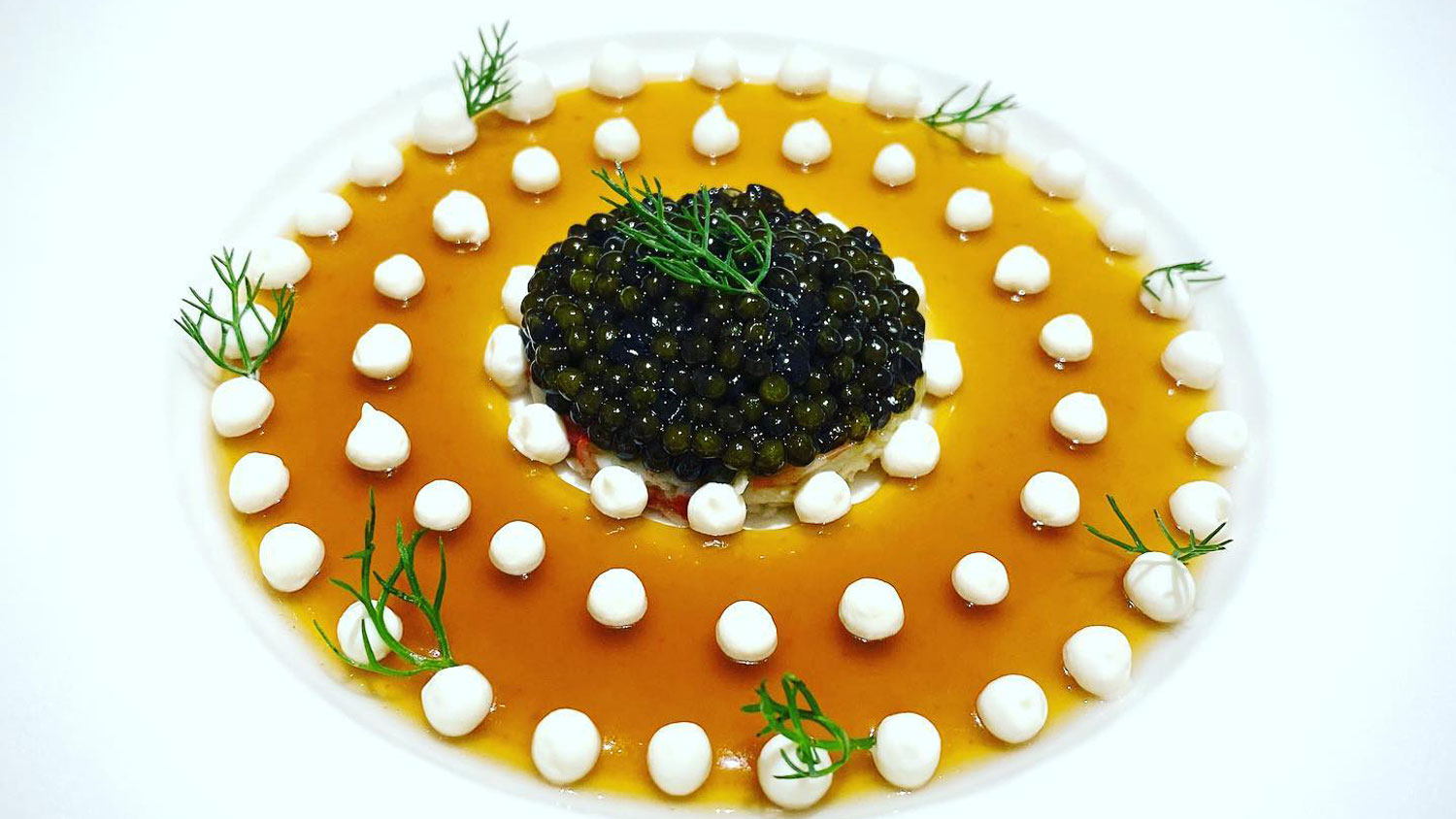 St. Martin's most talked-about culinary star, Chef Bastian Schenk
St. Martin's most exciting new chef was not born under a blue Caribbean sky.  No, the island's most talked-about culinary star, Chef Bastian Schenk was born in Belgium and he'll tell you that he worked his way up the hard way, spending endless hours in kitchens since he was a teenager. 
Today, Bastian and his wife Sabine, own the newly-opened La Villa Hibiscus restaurant at their bed & breakfast, in St. Martin. During Bastian's early days as an aspiring chef, he worked in a number of renowned restaurant kitchens in both Guadeloupe and France. 
Throughout his career he has concentrated on mastering the art of gourmet cooking and is passionate about food. He loves playing with fresh ingredients to create delicious Caribbean and French-inspired dishes, creating recipes that incorporate the flavour and spirit of the island. 
Here, Chef Bastian reveals what drew him to the island, his favourite ingredient and also shares a delish cantaloupe gazpacho soup.
How long have you been a Chef?  What was your inspiration? 
---
I've been working in the kitchen for 15 years.  I began cooking because I am passionate about good food and I've loved making great tasting dishes since I was young. I was born and raised in Brussels and attended a professional cooking school as a teenager, then left for Guadeloupe in 2006 where I worked at a restaurant in St-François that focused on Caribbean cuisine.  Following that, I moved to France in 2011 and worked as a line cook at the famed Monsieur Joêl Robuchon Restaurant at the Metropole Hotel in Monaco.  I then moved to Bordeaux, France working as a first line cook for the same restaurant chain, Monsieur Joêl Robuchon Restaurant located in La Grande Maison de Bernard Magrez, another 5-star hotel.  After that, I worked at Valence, France as Sous-Chef at the Restaurant Anne-Sophie Pic, a Michelin restaurant until 2017, when my wife and I decided to move to St. Martin and open La Villa Hibiscus in St. Martin.
Can you tell us the story behind Villa Hibiscus?
---
View this post on Instagram

My wife and I bought the house from her parents, who had it built 20 years ago.  Our dream was to have a guest house with a gourmet restaurant.  We began hosting guests in July 2019 and opened the restaurant in December 2019.
What drew you to St. Martin?
---
After living in Guadeloupe for five years when I was young and then travelling to France to expand my experience, working for the restaurants Joel Robuchon and Sophie Pic, I realized that I always wanted to go back to the West Indies.  I met my wife while I lived in France, she is originally from St. Martin and she wanted to return to the island.  As her parents were selling their house in St. Martin, it was a great opportunity and we made the decision to buy and we moved to the island in October 2017.
What do you like best about living in St. Martin?

---
View this post on Instagram

See for yourself in this video! What's not to love about this island? I love the climate, the natural beauty of the landscape and the mix of cultures. St. Martin is called "the friendly island" and it is so true.  We are very lucky to live on the highest point of the island, which has amazing views.  We are in the middle of nature at Villa Hibiscus.
When you have a day off, what is your favourite thing to do?

---
View this post on Instagram
I like to go fishing and boating and I like taking care of my garden and aromatic plants
What are your favourite ingredients to cook with?
---
View this post on Instagram

I like working with the variety of mushrooms that become available based on the seasons, like morels and truffles.  Generally, I work with the seasonal foods of France that are flown in.  I like cooking red meats and artichokes.
Is there a particular ingredient or food item that embodies the flavour and spirit of St. Martin, and why?
---
I discovered the Guavaberry.  It's a product that grows here in St. Martin that I love to incorporate in my menus because I feel it really embodies the flavour and spirit of the island.  It isn't used often here except with rum.  I also work with the hibiscus flower – I use it as much in cocktails as I do in savoury dishes and desserts.
View this post on Instagram
If a guest was only coming to St. Martin for a day, and only had time for one meal, and they wanted your recommendation, what would you serve them?
---
View this post on Instagram
Wahoo is a mackerel that is found in the tropics, so I would make them a delicate Wahoo carpaccio. Roasted buckwheat and pink berry from paradise peak, condiments with smoked olive oil and blueberry vinegar
What recipe(s) can you share for anyone at home looking to bring the taste of St. Martin to their kitchen?
---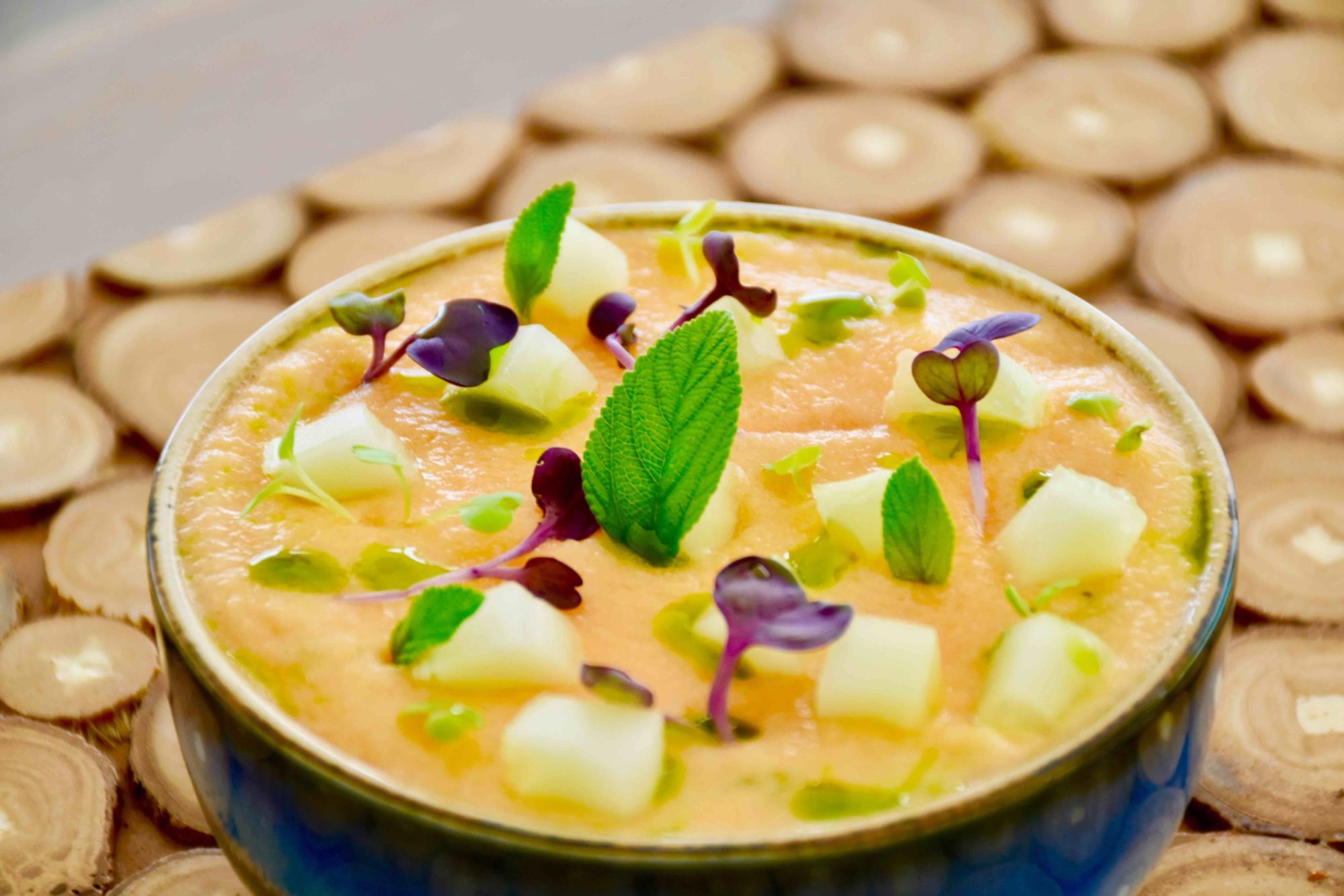 Our Cantaloupe Gazpacho with Cucumbers and Creamed Goat Cheese is certainly one of the most popular items at Villa Hibiscus.  We look forward to welcoming visitors to St. Martin and to the restaurant where they can try this and some of my other menu items first hand.
INGREDIENTS (4 people)
Preparation time: 30 minutes
Cooking time: 12 minutes
For the Gazpacho:
1 Cantaloupe
Pinch Fine salt
Pinch Freshly ground pepper
1 tbsp Amaretto
10 Ice cubes
For the Cucumber Cubes:
1 Cucumber
Pinch Fine salt
Pinch Freshly ground pepper
For the Goat Cheese Cream:
50g Fresh goat
Pinch Fine salt
Pinch Fresh ground
A few Mint leaves
100g Firm whipped cream
DIRECTIONS
Gazpacho:  Peel the melon and remove the seeds.  Cut the melon into small chunks and put into a blender; add the ice cubes and mix until smooth. Add the amaretto and adjust seasoning to taste; keep refrigerated.
Cucumber Cubes:  Peel and cut the cucumber into small cubes.  Place the cucumber in a colander, lightly salt the pieces and let the liquid drain.  Then season with freshly ground pepper.
Creamed Goat Cheese:  Mix the goat cheese with salt & pepper, add the chopped mint and gently fold in the whipped cream.  Place the cheese in a parchment or pastry bag, with a decorative pastry tip.
Plating the dish:  Place the Creamed Goat Cheese at the bottom of a small glass bowl, pour the melon gazpacho over it, then add the cucumber cubes.
Serve immediately.