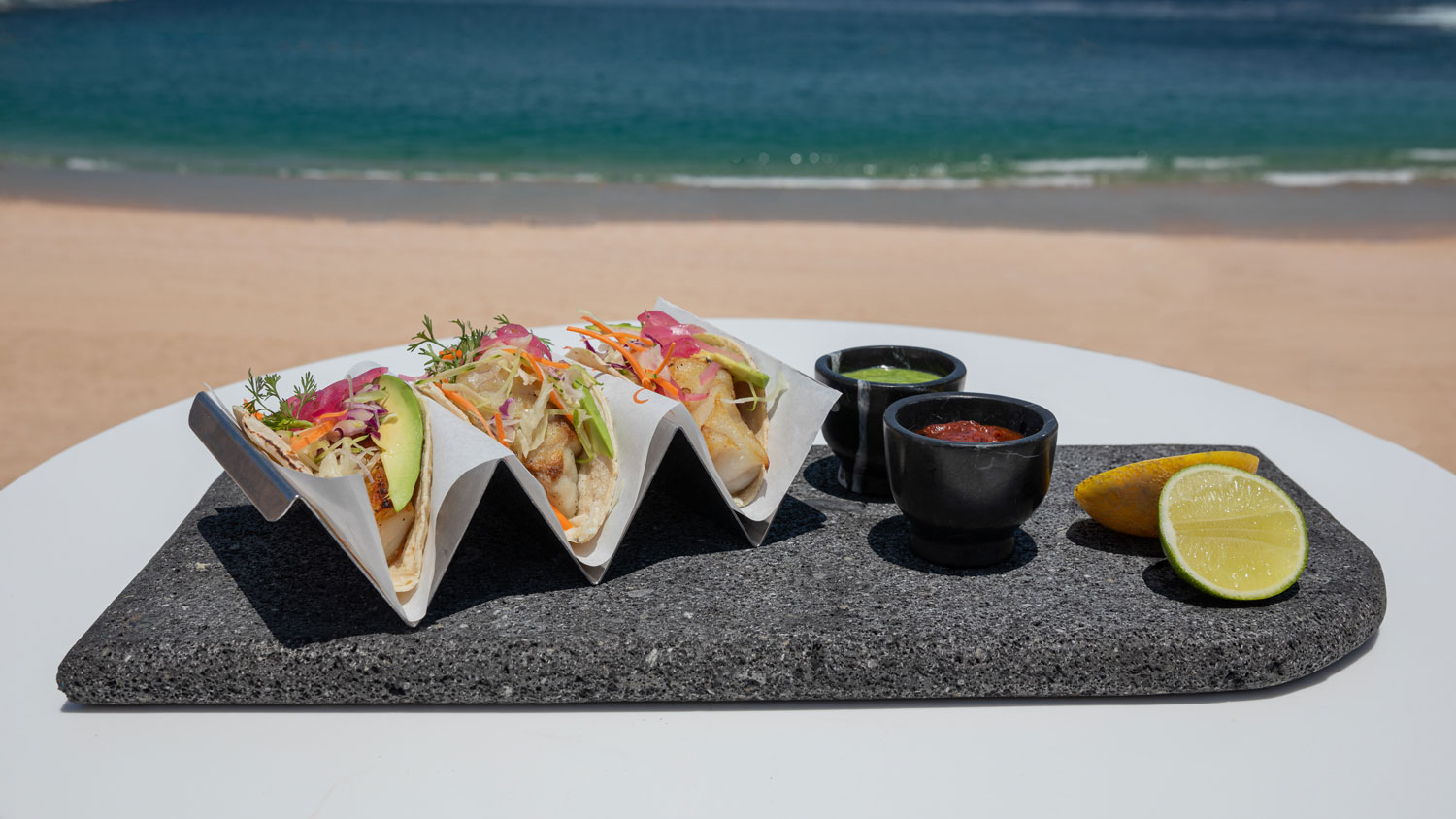 Craving for good Mexican food? For inspiration, try making this preferred traditional Los Cabos dish at home!
Los Cabos is known as a destination worth savouring. It has everything, the sun, sand, beach, nightlife, and incredible food. Having authentic and traditional cuisine is one of the many reasons Los Cabos is a favoured tourist hot spot. The food has flavour and personality and fair warning: it can be addictive!
Seafood is an important part of Mexican cuisine. Los Cabos is a great place to try out freshly-caught seafood with locally sourced ingredients and a dash of cultural influences. This beautiful destination has perfected one of the most traditional Mexican dishes, "Tacos." One of our favourite versions of this dish, the "Baja Fish Taco", has always been one a highlight of Los Cabos dining.  Fresh and colourful, these fish tacos are insanely delicious, bursting with flavour and a perfect antidote for Mexican food craving. And one of the best places to munch on this delicacy is Montage Los Cabos. 
Chef Eric Arellano, Chef de Cuisine of the Montage resort located in Los Cabos, Mexico created the definite fish taco! Originally from Fresnillo, Zacatecas, Eric was intrigued by his mother and grandmother's cooking from a young age. After graduating from Universidad del Golfo de California, Eric went on to work at some of the top restaurants in Mexico City, including Quintonil that in 2015 was included on The World's 50 Best Restaurants list. Today, Quintonil occupies the 24th position worldwide and 11th in the Latin America's 50 Best World's Restaurants.
I see gastronomy as a way of transmitting feelings, creativity and knowledge. It helps us to get to know different cultures through recipes and ingredients
"I see gastronomy as a way of transmitting feelings, creativity and knowledge. It helps us to get to know different cultures through recipes and ingredients" he adds.
Here chef Eric shares with us how to create this wonderful dish in the confines of your own home. "Prepping some ingredients ahead of time is the magic key," he says. Buen Provecho!
INGREDIENTS
---
Quick Pickled Red Onions
This can be made up to 2 weeks in advance.
½ cup white vinegar

1 Tbsp sugar

1½ tsp kosher salt

1 cup water

1 red onion, thinly julienned
Whisk first 4 ingredients in a small bowl until sugar and salt is dissolved.
Cole Slaw
½ small head green cabbage, thinly julienned

1 small carrot, thinly julienned or grated

¼ cup chopped cilantro

1 Tbsp orange juice

1 tsp agave syrup or honey

2 tsp olive oil

1 tsp kosher salt

1 tsp ground black pepper
Gently mix all ingredients until well incorporated. Keep cold.
Baja Sauce
Make up to 1 hour before serving to let flavors meld. 
½ cup sour cream

½ cup mayonnaise

1½ Tbsp canned adobo puree or chipotle hot sauce

2 Tbsp fresh squeezed lime juice

1 garlic clove, finely minced

1 tsp kosher salt
Combine all ingredients, stir well.
Tempura Batter
¾ cup ice cold Topo Chico or club soda

2½ tsp yellow mustard

1 cup Kikkoman Tempura Batter Mix

2 tsp kosher salt
In a medium bowl, whisk together the cold water and mustard until combined.

Gently and gradually whisk in the flour and salt until smooth and well incorporated. Do not over-whisk! Keep cold.
Preparing the Baja Fish Tacos
---
Ingredients
2 small white fish fillets, deboned & cut into strips (cod, halibut, snapper, and grouper all work)

2 Tbsp blackening spice

1 package 4-6 inch flour tortillas

4-5 cups canola or vegetable oil for frying

Tempura Batter

Baja Sauce

Cole Slaw

Quick Pickled Red Onions

1 bunch fresh cilantro, washed and dried

1 whole avocado

4 limes
Directions
Step 1.
Season the raw fish generously with blackening spice and set aside.
Step 2
Heat the flour tortillas in a pan and keep warm wrapped in a kitchen towel.
Step 3
Heat 4-5 cups of vegetable oil in a deep, heavy bottomed Stock Pot. Bring the oil to 350 F.
Step 4
Dip the fish in the tempura batter to coat completely while allowing the excess to drip off. Carefully place the battered fish into the oil and fry until golden brown, approximately 5 minutes. Do not overcrowd pot and try to keep the temperature at 350 F.
Step 5
Remove fish from oil with a slotted spoon or tongs and drain on a paper towel.
Step 6
Place fried fish in a tortilla. Spoon some of the Baja Sauce on top, then add some of the Cole Slaw and Pickled Onions. Garnish with a small sprig of cilantro and a slice of avocado and serve with a lime wedge on the side.
Perfect to have a little taste of Los Cabos in Canada. And start planning your next trip to Los Cabos. https://www.visitloscabos.travel/ & https://www.montagehotels.com/loscabos/