Built in the midst of a location rich in history, the Strøm Nordic Spa in Old Quebec is without a doubt the most magnificent spa in the province.
Strøm was founded on a simple idea: combining Nordic spa and urbanity, for a relaxing experience. The Strøm Nordic Spa in Old Québec, the latest addition to the Strøm Nordic Spa Collection (Nuns' Island, Sherbrooke, Mont-Saint-Hilaire), offers 32,000 square feet of indoor space divided into four pavilions, eight pools, some of which include waterfalls, indoor and outdoor hot tubs, two dry saunas and two steam baths, the largest flotation bath in North America, an infinity pool, a "lazy river" hot water pool, 17 massage rooms and a gastronomic bistro with 70 seats, and an additional 30 seats on the terrace during summer months.  
This new spa in Old Québec was built in the midst of a  location rich in history, becoming without a doubt the most magnificent spa in the province. The vastness and power, but also the tranquility of the Saint Lawrence River gives the site the feeling of a  little escape. The thoughtful architectural views harmonize with the richness of the site. North America's largest flotation bath is surrounded  by candles, bringing the floating experience closer to meditation. An infinity pool for contemplation, a steam bath made of marble, feeling of intimacy in the atmosphere: the experience is unique and reaches its peak with the indoor/outdoor bath, a journey between darkness and light. 
BEST FOR
---
Those seeking a deeper connection with nature. The senses awaken in harmony with the surrounding natural elements and vast expanses. Nature's stillness allows the body, and mind to unwind and regenerate properly.
HIGHLIGHTS
---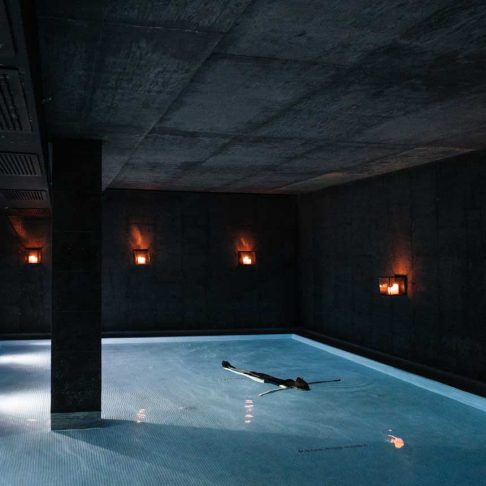 The Floating Pool. Evocative of the Dead Sea, the Epsom salt pool is made of  a dense solution that minimizes the forces of gravity and allows the body to float effortlessly. With a salinity that varies from  25 per cent to 27 per cent,  it provides an experience worth it of a dip in the waters of the Dead Sea. With the relaxation of the body and absence of pressure points, the floating pool offers an optimal balance of the mind, body and soul.
DETAILS
---
Phone number
418-425-2772
Email
infoqbc@stromspa.com
Address
515 Boulevard Champlain, Ville de Québec, QC, G1K 0E4
Reservations are required for massages and treatments.