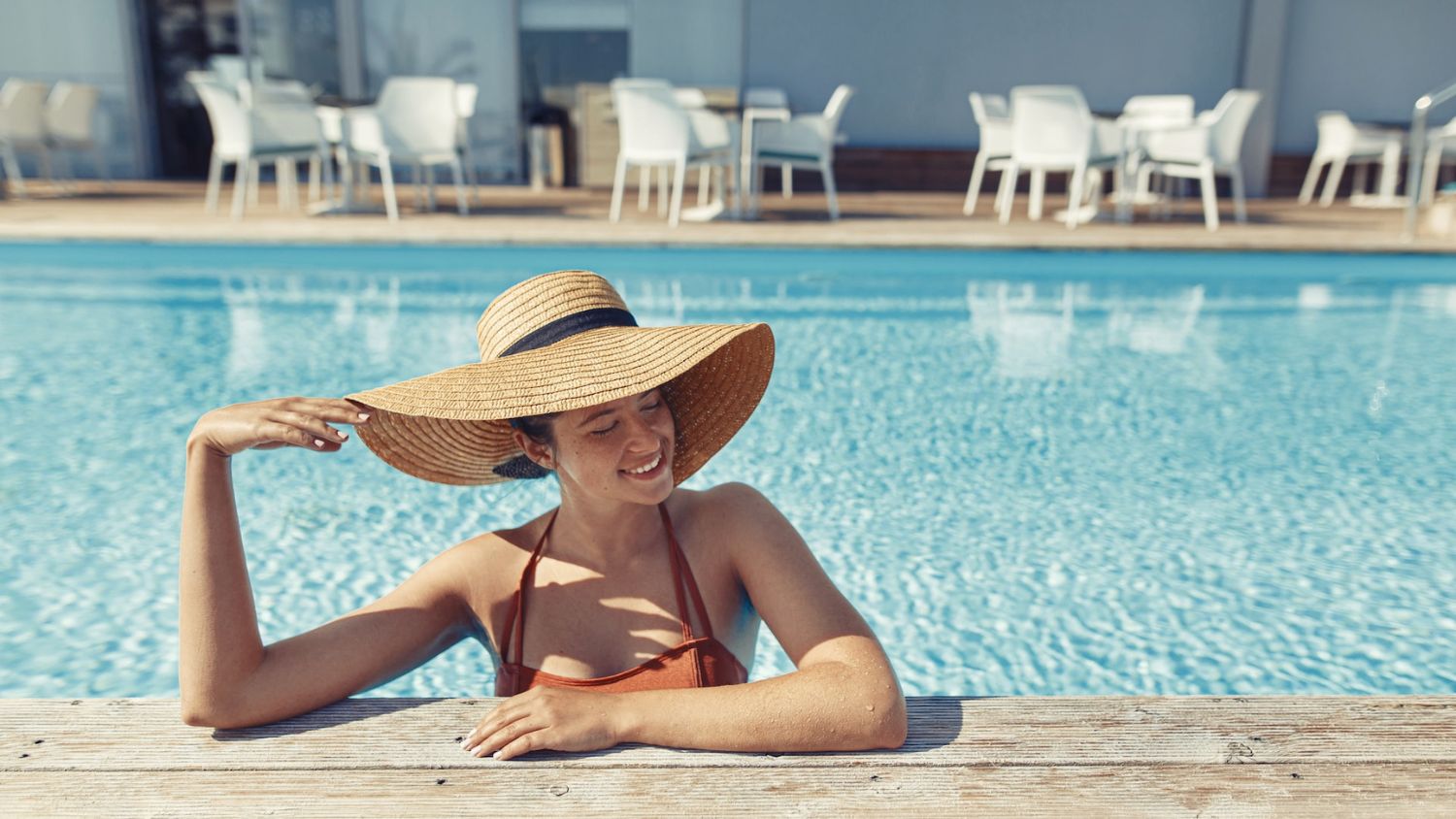 Not all topical sunblocks are created equal, but skipping the SPF is no longer an option if you want to save your skin. Amanda Ross breaks it down and goes deeper into the science.
Not all topical sunblocks are created equal, but skipping the SPF is no longer an option if you want to save your skin. Amanda Ross breaks it down and goes deeper into the science.
From pricey creams to age-defying serums, many of us happily, and heavily, invest in elaborate skincare regimens. But what about sunscreen? Too often it's an after-thought or simply no thought at all. Yet, one in six Canadians will develop skin cancer in their lifetime – with 80,000 diagnosed this year alone – which means sunscreen needs to be the most important skincare step of all. So, whether it's the backyard or beaches this summer, fun in the sun starts with full protection. 
While that burning ball of hot plasma we know as the sun has been powering the earth for the past 4.5 billion years, the idea of avoiding its rays is relatively recent. Around 3100 B.C., ancient Egyptians began using rice bran to protect themselves from the sun's darkening effects while millennia later First Nations people harnessed sunflower oil and aloe gel to avoid burning. But it wasn't until 1932 that Australian Milton Blake developed the first commercial sunscreen for widespread use.  
Almost a century later, pharmacy shelves are now jam-packed with modern iterations, yet many of us still don't routinely embrace this literal lifesaver. Whether it's the "hassle," the allure of the oxymoronic "healthy tan" or simply a general lack of understanding around the dizzying array of choices, overcoming excuses to sunscreen literacy is the first step.  
Sunscreen 101
A basic primer starts with the fact that there's no one-size-fits-all. First, SPF, or sun protection factor, indicates how many of the sun's UVB rays it blocks. SPF 30 blocks 97 percent while SPF 100 blocks 99 percent – a scant difference, but most doctors don't recommend anything below SPF 30 (SPF 15, for example, blocks 93 percent) and, at no time does the higher the SPF mean lounging longer in the sun.  
Expert tip: Always choose broad spectrum coverage, which means both UVA and UVB rays are blocked (UVB rays cause sunburn while UVA rays contribute to cancer and premature aging).   
Mineral or Chemical?
All sunscreen comes in two formats: mineral (often called physical) or chemical. Mineral sunscreen's mainly titanium and zinc oxide ingredients create a physical barrier that sits atop your skin and deflects the sun's harmful UVA and UVB rays to prevent them from getting absorbed. Their natural ingredients are coral-reef safe (Hawaii, for example, only allows reef-safe sunscreen) and their consistency has come a long way from the cakey, white-nosed lifeguard look (transparent versions of zinc oxide are thankfully becoming the norm). They're now also considerably lighter than they used to be with a variety of tints on offer to better blend with a variety of skin tones. 
Expert tip: Mineral sunscreens may be more gentle on sensitive skin around the eyes. 
Chemical sunscreens' lower price point and wider availability means they dominate the market. These sunscreens work like a sponge that soaks up the sun's damaging rays and then releases them as heat. And, while their main ingredients – avobenzone, octinoxate and oxybenzone – can sound alarming, there's no scientific concern about their actual safety to humans. "Research shows chemical sunscreens are safe for babies, children and adults," says Dr. Janet Ip, a cosmetic physician at Vancouver's Project Skin MD and a UBC clinical instructor, who also has a medical practice with a special interest in skin cancer. "We should be far more concerned about the chemicals in the packaged food we eat."  
Expert tip: This category is much easier to apply, too, which means that if people are more likely to lather up with a chemical sunscreen, then that's a win.  
Climate Changes
While everyone should be wearing sunscreen regardless of age or gender, suncare selection should adjust according to climate. Canadians live above the 37th parallel – the latitudinal line dermatologists use to separate the northern hemisphere into intensity of the sun's rays – with north of that line being less intense, which is a positive for us Canucks. Yet, even within our own country, there are vastly different conditions from coast to coast, which also dictates what type of sunscreen you'll need. B.C. is humid so a light texture would be more comfortable while a more emollient formulation lasts longer in drier Alberta. Ontario is both dry and humid so a light, but creamy texture works best here.  
Expert tip: When you're travelling south of the 37th parallel, your vacation research should factor in a climate-suitable sunscreen you'll actually want to wear.  
Physically Fit
Activity also dictates your sunscreen line-up. Everyday protection for the city should be lightweight and 35-40 ml should be enough to cover the entire body (if you're sitting in an office, a mineral face powder sunscreen touch-up should be enough). Conversely, recreational sunscreen needs to be water-resistant, long-lasting and should be reapplied every two hours (note that if you've got combination or oily skin, extended use of chemical or mineral recreational sunscreen can lead to pores becoming clogged). And if you suffer from skin conditions like melasma, gentler mineral sunscreen is always recommended. "Any kind of sun exposure can make melasma and hyperpigmentation worse so a higher SPF does hold some value," says Dr. Ip.  
Expert tip: To help navigate these pesky dermal issues, the Canadian Dermatology Association offers a Recognized Sun Protection logo on products that have passed rigorous tests for having low potential for irritation, are minimally or non-perfumed, and non-comedogenic. 
It's all a lot to take in, but there's also a lot at stake. "It's about saving your skin at any age," says Dr. Ip. So spend a few pre-summer moments formulating a sun defence plan—your skin will thank you for years to come. 
Five Top Sunscreens to Try for Summer 2023