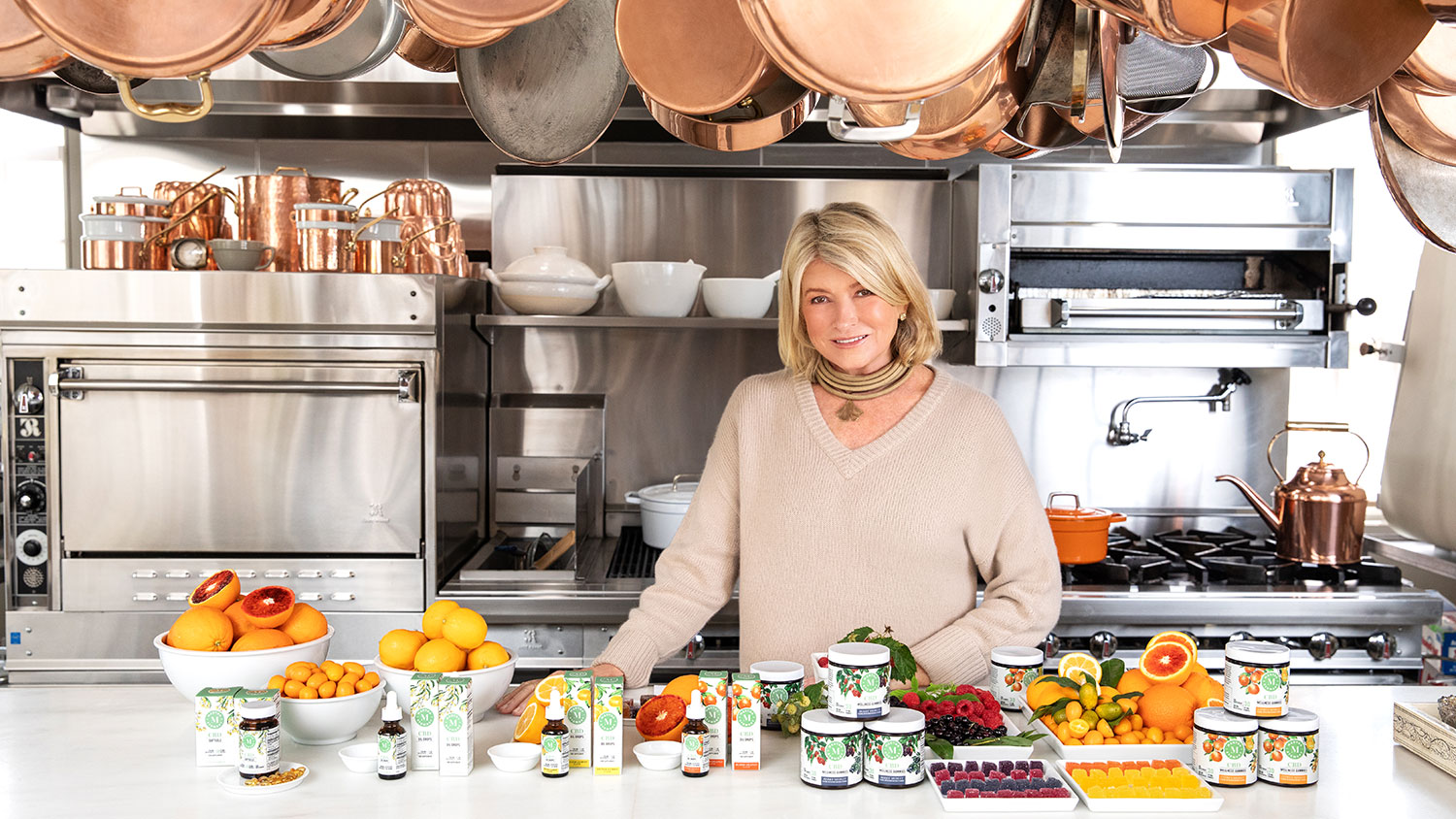 American business mogul and television personality, Martha Stewart combines culinary knowledge and recent cannabinoid research to create gourmet CBD supplements inspired by French confections and her own personal gardens.
"It's a good thing", Martha Stewart has been known to say when voicing her approval of recipes, products and home décor therefore, it comes as no surprise that she has decided to hop on the CBD train and at full speed. Martha had developed an appreciation for CBD upon dealing with a foot injury she sustained in which she was seeking a more natural form of pain management. Martha has also admitted to using CBD on her French Bulldog who suffers from anxiety.
As a 79 year old woman of exquisite taste when it comes to quality, Martha knows a thing or two about living. She has announced her partnership with Smith Falls, Ontario-based Canopy Growth Corporation in regards to the launch of her CBD wellness products, available for purchase in the US only as of September 10th.  A CBD line that pets can get their paws on is to follow later this year.
"These supplements include natural, gourmet flavoured wellness gummies, soft gels and oil drops made with the purest and safest CBD, derived from 100-percent US hemp." Stewart had said in a post published on her blog yesterday. Featuring medleys of black and red raspberry, huckleberry, blood orange and Meyer lemon, Martha had stated how hard she had worked to get the flavours and formulas just right.
Canopy has yet to announce whether Martha's perfectly and carefully formulated cannabidiol-rich supplements will be available in Canada. CBD is extracted from the cannabis plant and does not contain THC, the compound one gets high from using marijuana. 
Martha and Canopy Growth are hopeful that with the release of her CBD wellness products geared towards women aged 45-65, this will help to remove the questionable and somewhat generational stigma attached to cannabis related products. Their vision is to normalize and legitimize the use of CBD to promote an improved way of life as a result of incorporating natural plant extractions.
CBD has been proven to relieve the pain associated with arthritis, fibromyalgia, terminal and/or chronic illnesses, general inflammation, control seizures, combat nausea and even insomnia to name a few. "I've found that CBD supplements are a simple way to enhance my own health and wellness, especially when it comes to managing the stresses of daily life," Stewart said.