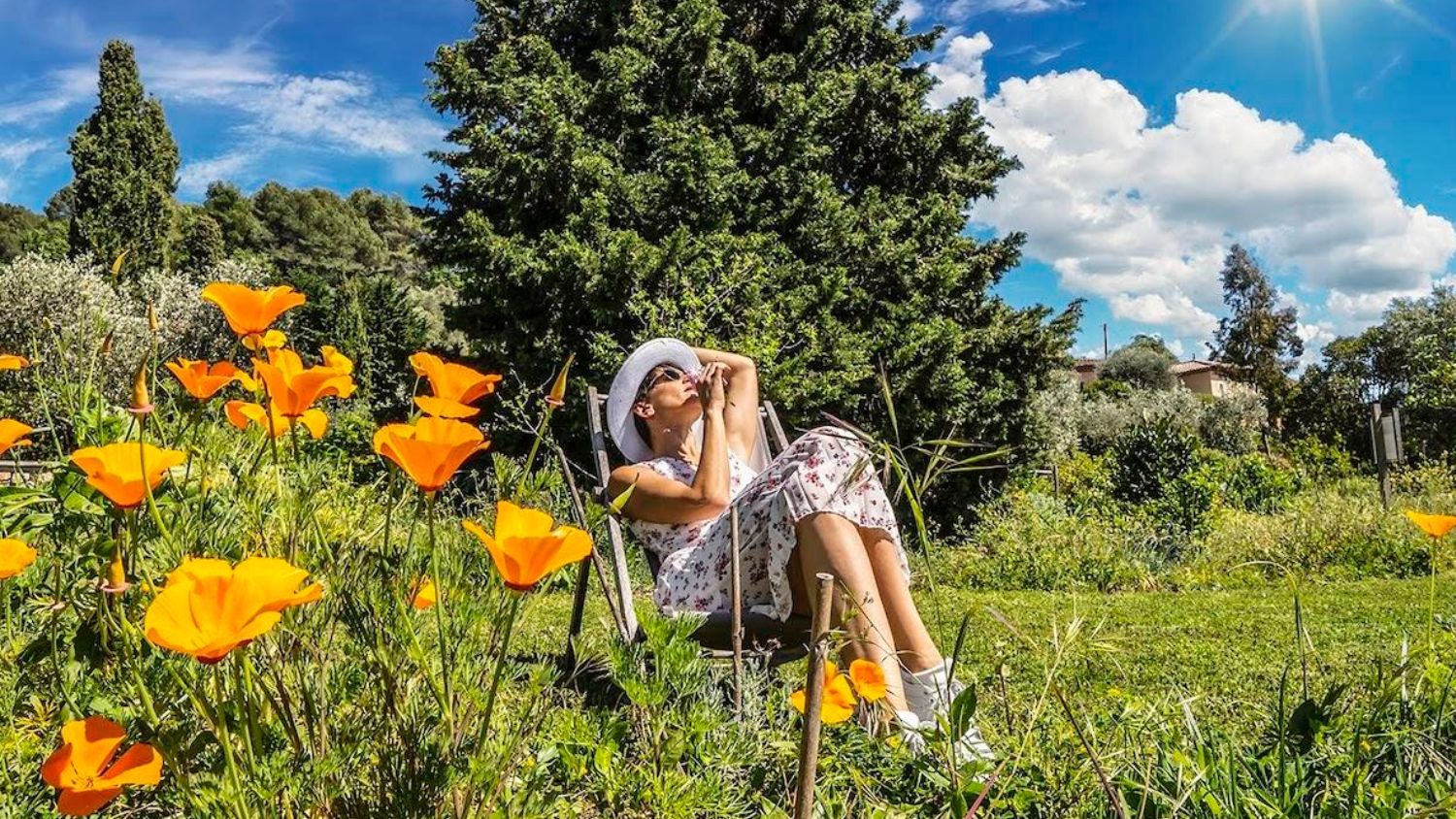 The scents-ual trip to discover the perfume capital of the world, in the fields of Grasse, laden with lavender, rose and jasmine.
Perfume is like cocktails without the hangover, like chocolate without the calories, like an affair without tears, like a vacation from which you never have to come back
—MARIAN BENDETH, GLOBAL FRAGRANCE EXPERT AND OWNER OF SIXTH SCENTS, TORONTO
–
THE FRENCH RIVIERA is synonymous with glamour and glitz, yet just 17 kilometres from the coast, nestled in the Provence hills, lies the charming and somewhat sleepy town of Grasse, perfume capital of the world. Thanks to its mild microclimate and ideal growing conditions, you can literally follow your nose to Grasse. In winter, golden mimosa brightens the hillsides. Summer brings the heady scents of lavender, rose and orange blossom, followed by jasmine in the fall.
Grasse didn't always smell this sweet. Back in the 16th century it was a stinky town of tanners who discovered that aromatic plants helped overcome the stench and improved the quality of the leather. Back in those days, the most important status symbol a French or Italian aristocrat could flaunt was a pair of perfumed gloves, so Grasse, at the encouragement of Catherine de Medici, became the main supplier.
As the demand for gloves decreased, the tanners turned to perfume making. By the 18th century, Grasse was the world leader of scent and remains so today. Many essences used in the food industry are made here, too. Who puts the smell of strawberry in your ice cream or the eau de sour cream in your potato chips? Chances are good, those aromas also come from Grasse.
AROMATHERAPY 101
In perfumeries all around town, they've perfected the art of putting seductive scents into bottles. But I was not about to uncover the secret recipes of the famous "noses" who create fragrances for such prestigious houses as Chanel, Guerlain and Dior. Those laboratories are off limits to tourists.
Three perfume houses (Molinard, Fragonard and Galimard), however, offer scent-making seminars. At the Parfumerie Molinard, I took a tour to view the collection of antique perfume bottles, including classics made by Lalique and Baccarat.
Then, at Fragonard, I spent about two hours in a laboratory classroom with a knowledgeable "nose." I learned that green cypress relieves lymphatic problems. Eucalyptus is good for congestion. Lavender's relaxing qualities combat insomnia. I was given a kit of oils, vials and recipes to create my own aromatherapy concoctions. I made a brain stimulant (basil, Ravensara, mint) hoping it might help with my French vocabulary; a bedtime relaxer (lavender, grapefruit, basil); and, just in case I should overindulge on this trip, a morning after (basil, grapefruit and rosemary).
And finally, at Galimard, my "nose" helped me create my own signature perfume at a desk, called an organ, with three tiers of brown bottles filled with oil extracts from plants and botanicals. I created "Anita" in a bottle. To make a perfume you must build it in three levels: base, heart and top notes. My final masterpiece contained 15 different scents, including chocolate, floral musk and bergamot. My "nose," who had worked with the houses of Chanel and Jean-Paul Gaultier, seemed pleased with my olfactory offering, pronouncing it "fresh, natural and calm with a powdery base." We toasted "Anita" with a glass of champagne.
NOSING AROUND
Grasse, one the largest medieval towns in southern France, is well worth a stroll. Start at the Place aux Aires, where the tanners used to work. It's now a thriving food and flower market every morning, surrounded by cafés and boutiques. Lose yourself in the labyrinth of steep narrow streets that make up the Vielle Ville (old town). Nip into a bakery and try a fougassete à la fleur d'oranger, a pastry sweetened with orange water.
A FEAST FOR YOUR OTHER SENSES
The place to retire and dine is La Bastide Saint Antoine, a Relais & Château hotel with magnificent views of the fragrant countryside. Here, Chef Jacques Chibois elevates the flavours and aromas of Provence to new heights. I'll never forget his prawns sprinkled with caviar. Or his filet of turbot bathed in an aromatic butter of seaweed and bay leaf powder. Or the unlikely but winning combination of verbena soufflé with strawberry marmalade, lemon and olive oil. With 16 rooms, furnished with traditional Provençal fabrics and furniture, the bougainvillea-clad Bastide has the feel of a country house rather than a hotel.
PERFUME TRIVIA
It takes 12 years to become a "nose" or nez. These professional sniffers can identify up to 3,000 scents.Coco Chanel asked Grasse "nose" Ernest Beaux to create a woman's perfume "that smells like a woman" in 1921. She chose his sample number five, which she launched on May 5 of that year, and called it Chanel No. 5 – still one of the world's best selling fragrances of all time.
If you need to justify the price tag of your next bottle of perfume, consider that it takes up to 5,000 kg of hand-picked roses to make one litre of rose essence.
Visits to the flower fields at Domain de Manon on the outskirts of Grasse can be booked from May to mid-June for roses and from August to October for jasmine. le-domaine-de-manon.com
For other visits: paysdegrassetourisme.fr/en